Start of Main Content
Kellogg's Pride Week: Creating Spaces of Inclusivity and Allyship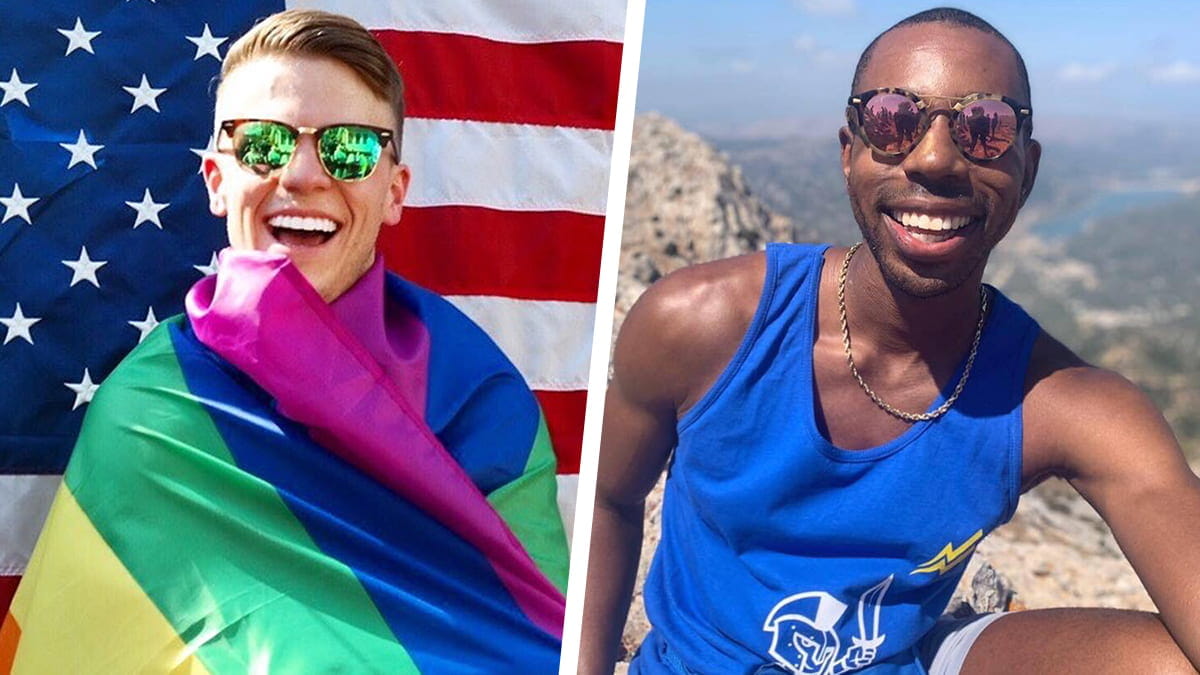 Inside Kellogg recently had the opportunity to connect with Pride Week Co-Chairs Adam Wolford (2Y 2021) and Jamal Little (2Y 2021) on their experience as co-chairs and what Pride at Kellogg (P@K) has meant to them throughout their time as students. Here's their story.
Tell us about your leadership journeys to Kellogg.
Adam: I have considered business school ever since I was an undergraduate. I was studying Chemical Engineering and knew that path was not one I wanted to take due to the lack of interaction with other people and the decisions being made on the business side. After I realized this, I pursued a career in consulting where I started to become more engrossed in the business world and begin my first role in managing people. I realized during this role that I lacked a lot of the business knowledge that was required to be an effective people manager and leader. Based on this, I spent time honing my story to understand my goals and applied to Kellogg.
Jamal: I'm more of a non-traditional MBA student. I spent most of my career before business school in politics and the public sector doing political communications. As I started to think through my long-term career goals, I realized, just like Adam, that I lacked fundamental business knowledge. I knew I ultimately wanted to pivot into marketing roles and thought business school would be a great way to bridge my previous work experience with where I want to see my future self professionally.
What does Pride at Kellogg mean to you?
Adam: To me, P@K is a safe space and community for me to express myself both personally and professionally. Admittedly, prior to business school, I had a limited network of queer people that I engaged with. P@K provided me the opportunity to not only meet likeminded people professionally, but also personally. It sometimes can be a struggle to manage a queer identity and a professional identity and for so long I believed they needed to be separate things. Through my interactions with the P@K community, I have learned that these things are better blended and showing up as my complete self at work is how I can best serve the world.
Jamal: There's so much diversity within the LGBTQIA+ community and I really appreciate many identities represented within P@K. We can always learn so much from everyone's varied experiences, identities, backgrounds, etc. Reflecting upon my time as a member of P@K, I value the intentionality around creating safe and welcoming spaces to allow yourself and others to be authentically yourself.
What made you want to join P@K and specifically take on Pride Week at Kellogg?
Adam: Last year, Pride Week was a powerful and transformative week for me at Kellogg. As it was at the start of school when I was still being introduced to many of my classmates, I was concerned about how the week would be received. I knew it would be fun because I would be closely engaged with my queer classmates and celebrating ourselves as well as having tough discussions about our identities. However, what shocked me was the overpouring support and participation from our ally community. What I saw in the hub, both having tough conversations and celebrating spaces for the queer community at Kellogg, was extremely humbling and heartwarming. This culminated during the Drag Showcase when I watched my cis-straight classmates step out of their comfort zones (and into a nice pair of heels!) to show up for the LGBTQIA+ community at Kellogg and provide their support.
Jamal: Before business school (and similar to many others in P@K!), I've never been a member of a queer group or organization. One of my goals when I came to business school was to become actively involved in Pride@Kellogg and form a strong queer community.
But I have to RT Adam. There's so much buzz and excitement around Pride Week — particularly among the ally community — it's truly electric! As someone who's never performed drag before, it was amazing to step out of my comfort zone along with my section mates. We practiced together, got our makeup done together, learned how to walk in heels together. It was fabulous.
While Drag Showcase was an amazing time (my favorite night at Kellogg), there was still this educational component to the week where there was this shared sense of learning. I distinctly remember during last year's sold out Drag Showcase, a video about an introduction to the queer community played. I looked around while it was playing, and It seemed like the auditorium was silent and all eyes were glued to the projector screens. When our amazing co-Presidents spoke to us about the opportunity to lead Pride Week, I knew I couldn't turn it down.
What did Pride Week mean to you when you first began as a student at Kellogg and what does it mean to you now?
Adam: I attended Drag Showcase as a prospective student during the P@K Diversity Weekend. This experience provided me with an overwhelming sense of fun as well as close community with my queer future classmates. When I matriculated to Kellogg, I was very excited for the week and figured it would be a time for me to continue to deepen bonds with my queer classmates. What I realized after the week, and even more so now in planning the events, was the power of the week in activating not only our community but our ally community. To me, seeing the whole Kellogg community show up for P@K has been one of the most rewarding experiences I have had at Kellogg.
Jamal: I, too, attended P@K Diversity Preview day as a prospective student and remember being in awe at so many students as Drag Queens and Kings during TG. I wasn't able to attend the show that night but left with such a great impression about both Kellogg and Pride Week. P@K doesn't just exist on the fringes—it's fully integrated into Kellogg's culture.
How is the programming for Pride Week building on what's come before?
Adam: We were left big shoes to fill from Billie's Pride Week last year. She really did a great job showing the complex and intersection nature of our community and I was proud to be selected to fill the position after her. With the restrictions of COVID and the current environment surrounding social justice, we saw an incredible opportunity to create new panels while maintaining the integrity of the goals of Pride Week to show P@K as a community, grow our ally base and ultimately celebrate queer leaders. The programming this year was heavily focused on the intersectionality of our community, showing members of our community who are not always highlighted, and emphasizing how to be an ally — not only to our community but beyond to all marginalized communities.
Jamal: After experiencing last year's Pride Week as more of a participant and co-chairing this year's, there's so much intentionality around celebrating pride and educating allies. To echo Adam, that means understanding there are classmates, faculty, and staff at Kellogg who are on different parts of their allyship journey. There's programming around the history of drag, around the international LGBTQIA+ experience, and more. Hopefully we put together a week where there's something for someone to educate themselves and grow.
How is this year's events informing you as P@K leaders and the programming you curate?
Adam: We spent a lot of time in the Spring brainstorming with the P@K Exec team what we wanted to bring to the Kellogg community during Pride Week. We wanted to not only be thoughtful about the world we are currently living in, but also what our community was asking for. We knew from our engagement survey that our Bi community did not feel seen, which is why we pursued that as a topic for Hear My Story. Additionally, we knew there was a broader, global call to action for allyship and we decided highlighting this in our Allyship in Action panel was the best way to highlight how to not only be allies for the queer community but for all marginalized communities, as well. Ultimately, we decided that our week needed to.
Jamal: I applaud our Allyship team and the rest of the Pride Week committee for being very deliberate as we thought through how Pride@Kellogg can also shed light on structural and systemic injustices facing other communities. Many members have multiple identities; their sexual orientation, gender expression, or gender identity is just one aspect of who they are. With that, we wanted Pride Week to also reflect the state of the world outside of Kellogg.
What do you hope to foster among the Kellogg community as a result of Pride Week?
Adam: For me, the biggest goal of Pride Week was to begin the conversation about how we can create spaces to highlight those in the Kellogg ecosystem who don't always feel comfortable in business settings or the world. I believe we have started this conversation through our programming for Pride Week but it definitely does not stop here as we are just reaching the tip of the iceberg. I hope that from this week we foster a hunger to understand more and to continue to operate as allies not only for communities we belong to but also communities we don't. I, by no means, think our suggestions on allyship are perfect but it is not a perfect process and part of the process is making and learning from mistakes. Out of Pride Week, I hope that everyone at Kellogg feels like there is the space to try and fail and try again and continuously improve and be better allies!
Jamal: Business school is two years when the stakes are relatively low for you to take risks, fail, and educate yourself. Like Adam said, the work does not stop here. I hope Pride Week is another opportunity among many for members of our Kellogg community to recognize there are opportunities to learn about individuals who have experiences and backgrounds that differ from your own. That may mean taking some time to educate yourself, attend programming other clubs will have throughout the year, or simply reaching out to someone for a coffee chat or socially distant walk. There's no way to be a perfect ally, but as someone mentioned in one of the panels this week, all we want you to do is try.