Start of Main Content
Introducing Kellogg's 2Y Class of 2022: A Creative Group of Leaders Poised for Impact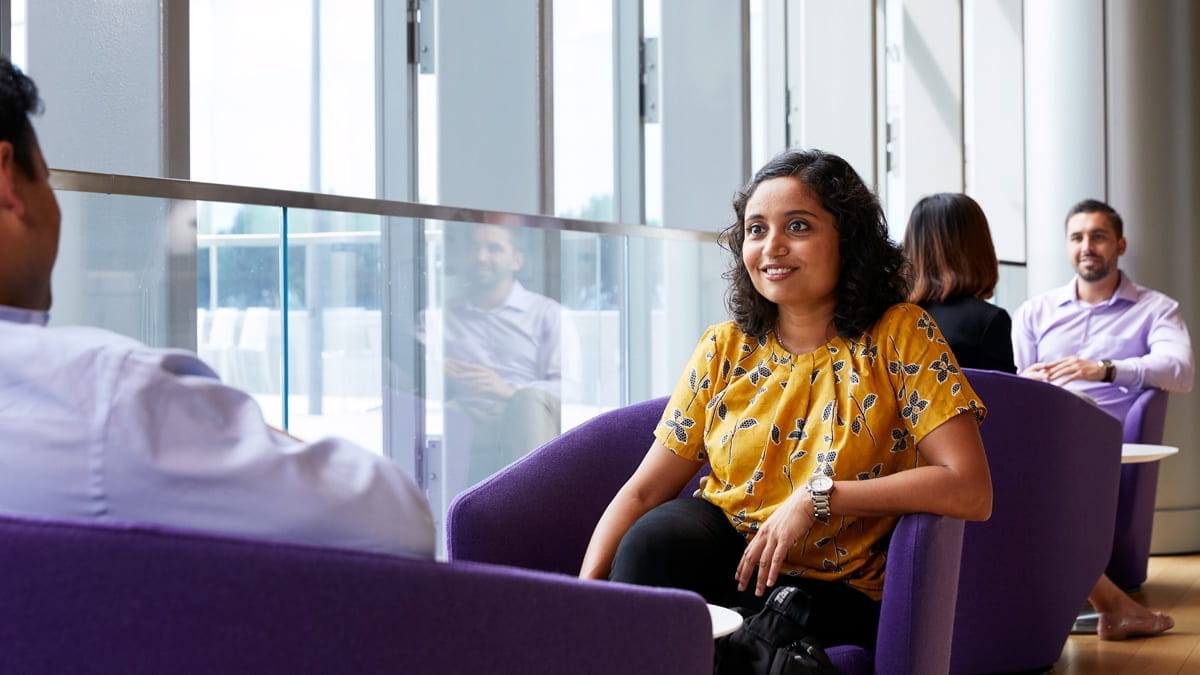 by Kate Smith '98, Assistant Dean of Admissions and Financial Aid
With the start of the Fall quarter at Kellogg, the students in our Two-Year MBA Class of 2022 are embarking on their MBA journey at a time when the need for agile, creative and empathetic leadership is stronger than ever. In fact, we heard from many applicants who viewed this time of disruption as the ideal time to pursue an MBA.
Kellogg saw incredible demand for a spot in the Class of 2022, with a total of 5,813 applications to our two-year MBA program, an increase of 54% year over year. We saw a surge in demand from impressive applicants and more people chose to come to Kellogg than we expected during this uncertain time — as a result, we are thrilled to be welcoming a larger class of 559 students this year. This is a tremendous endorsement of our unique strengths: Kellogg thrives on developing empathetic leaders who can navigate periods of disruption precisely like this one.
With a larger class, this talented group of students benefits from more diverse perspectives in their networks, and also in the classroom and in their careers — a larger class allows us to offer additional specialized electives, and to continue to attract one of the broadest arrays of companies that recruit at any business school.
Building a diverse class remains a top priority at Kellogg. In fact, we're thrilled to welcome a record number of 224 women, as well as 62 underrepresented minorities and 146 international students with passports from 48 countries. And we'll continue to partner with current students to make sustained progress in fostering a diverse and inclusive community.
The quality of our class continues to be incredibly strong. Our students bring a 730 median and 727 mean GMAT, a 163 median GRE (for both verbal and quant), and a 3.6 mean GPA. The class comes from a wide range of industries — from financial services to tech to healthcare — and is grounded in a mix of academic backgrounds including STEM, humanities and economics. You can view the full breakdown of data on our Class of 2022 here.
Just as importantly, these students have made a tremendous impact in their careers and their communities — and their perspectives will enhance the collaborative, creative environment that Kellogg is known for. The class includes:
Alfredo, a former #1 ranked tennis player in Mexico who now coaches a tennis academy for children in underserved neighborhoods
Justin, who executed a high-profile counterinsurgency operation in the United States Army that reclaimed 25 kilometers of ISIS controlled territory in Afghanistan
Christianne, who created a tool that enabled BlackRock's team to increase sales of Active Equity Funds by $58 million
Sebastian, who created Chile's first Registry of Women for Boards of Directors which contributed to the 31% increase in the number of women on the boards of the 75 most-traded companies of Chile
Taylor, who was on the U.S. Olympic Rowing Team and took home a gold medal in the 2012 Olympic Games in London.
Kate, who designed the first Pride-themed can for Bud Light and spearheaded the launch of Bud Light Seltzer
Now that Fall Quarter is underway, our Student Experience colleagues are laser-focused on ensuring our class has an enriching, immersive hybrid learning experience — whether students are physically in the classroom with faculty in the Global Hub or participating virtually. Kellogg is fortunate to have one of the newest facilities in the industry, with a massive three-story atrium, Spanish steps, and large classrooms with 13-foot ceilings that have plenty of space to interact, in a safe, socially distanced way. I've talked with so many students in the past few weeks who are energized about taking courses and meeting their classmates in-person.
My admissions team and I, meanwhile, are digging into the latest round of applications to recruit the class that will join us in 2021. For a glimpse into life at Kellogg, schedule a virtual student coffee chat or check out our new applicant video series.