Start of Main Content
GCC Series: A Leadership Incubator and a Community for All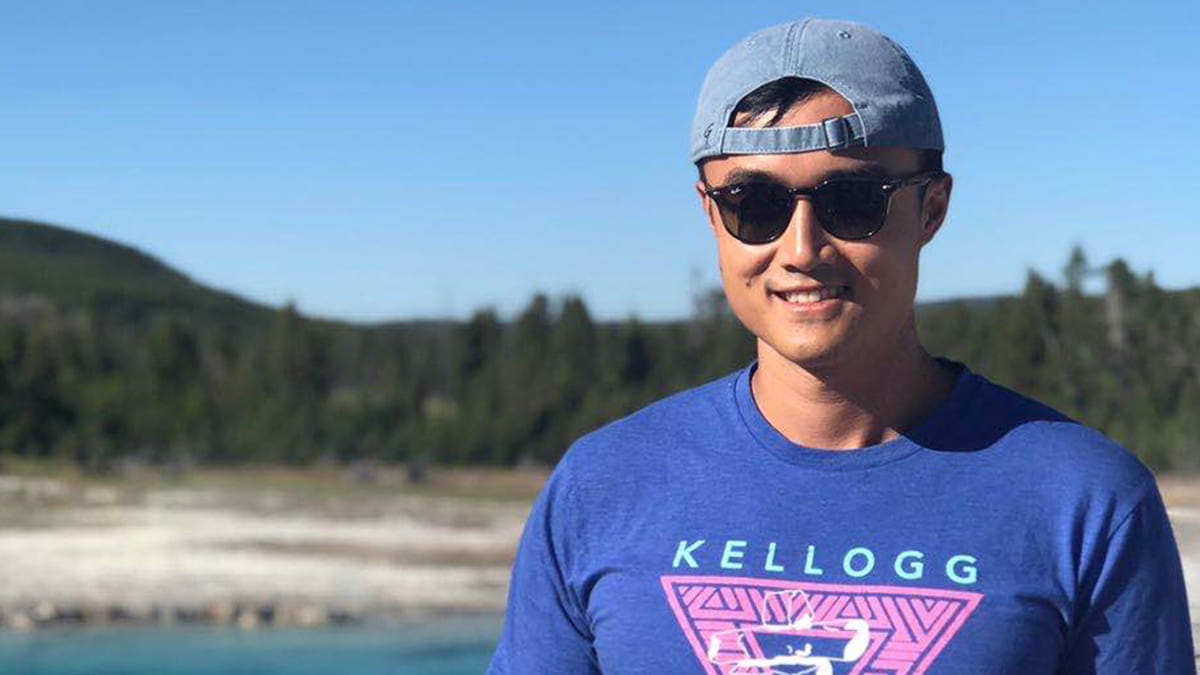 Jun Yin (2Y 2020) shared with us the impact Kellogg's Greater China Club (GCC) had on his experience as a student at Kellogg, especially when he took on the role of co-president. Jun's blog post is part of a series from representatives of Kellogg's Greater China Club. Click here to view all the posts in this series!
Tell us about yourself and why you wanted an MBA.
Before Kellogg, I was an engineering manager working in the automotive industry in Shanghai. I did my undergraduate in Shanghai and obtained a master's degree in Paris, both in automotive engineering. I made my decision to pursue an MBA the moment I realized "I knew too much about too little;" I can name all the parts in an engine but nothing in a balance sheet. One part of me wanted to become better equipped for my next career, while the other part was just curious to explore new possibilities in a safe environment and on a well-connected platform.
At Kellogg, I was a co-president of the Greater China Club (GCC) and a member of the Automotive Club and the Impact Consulting Club. Upon graduation, I will join Mckinsey's Shanghai office as a management consultant.
Why did you decide to be a GCC President?
At Kellogg, students can decide whether they want to apply for club leadership positions by the end of their first year. For me, it was an easy decision, as GCC has always been a significant part of my Kellogg life. Specifically, I had three reasons I wanted be a GCC President:
The first reason is the urge to pay back. GCC was the community that I could pull energy from during the "darkest days" of my intense recruiting process. GCC members from previous years helped us first-years generously–not only to better prepare us for interviews but also to support us emotionally and gain clarity during the overwhelming first-year of being an MBA. Therefore, I wanted a meaningful opportunity to pay back the community by serving as a president.
The second reason is more personal: I saw my best way to contribute to diversity & inclusion at the school level was to facilitate quality conversations between the Chinese community and the rest of the school. More specifically, I wanted students from both sides to have more in-depth discussions of cultural, political and business topics related to China and the U.S.
The third reason was that GCC itself is a versatile platform to do great things. For example, we have many exciting events to host throughout the year, like the Greater China Business Conference, an annual event that brings senior alumni across the U.S. and China to Kellogg to share their latest insights on various cutting-edge business topics. Additionally, GCC also received abundant funding and administrative support from the school to launch new initiatives each year. Over the years, GCC established a solid reputation within the Kellogg community as each year the GCC leadership team expanded GCC's influence substantially by launching new club events.
Lastly, I have to admit that I wouldn't have been able to run to be a GCC President without the right team. It's a well-established tradition to have three presidents for GCC. Initially, I did worry that the responsibility would be too big to shoulder if I ran for GCC President alone. But Siwei and Lisa, my other two co-presidents, joined me to run as a slate of three. We shared the same vision and had complementary skill sets. Having met the right people at the right time, the rest became easy.
What do you think is the mission of GCC?
GCC's mission is to "build a supportive and dynamic community for students from greater China and students interested in the culture and business of this region." To break it down, I think these are the three most important pieces:
A community for all: As a regional club, we are first and foremost a home away from home for students and their partners who came from the greater China region, a community where people share the same background and possibly share some of the same challenges during their MBA journeys. Just as important, GCC is also a window for students from outside of Greater China region to acquire knowledge, insights and cultural exposure about China. Many GCC's events, such as the Greater China Business Conference and the Lunar New Year Gala, are created to serve both groups and, most importantly, to bridge broader and deeper conversations in between.
Professional and Personal Growth: "Growth" had been a keyword in Kellogg's admission essay for years and a core part of GCC's focus, as well. In addition to offering academic and career support to its members, GCC also strives to help its constituency grow in a personal sense; to look introspectively into ourselves and to experience our culture and our country through the lenses of Kellogg's diverse, international community. Greater China Heritage Week (a themed week featuring a series of events around Chinese culture and business landscape) and China Trek (a student-led trip for non-Chinese students to visit China) are all centered around this goal.
A Leadership Incubator: Each year, GCC invests heavily in new thoughts that have the potential to reinvent ourselves. As a club, we want to make sure every member who has great ideas can access necessary resources to implement their ideas. In fact, we encourage each member to come forward with new ideas, whether it is as grand as to formulate and execute a new GCC club initiative from scratch or as small as practicing telling a Chinese joke in English.
You mentioned GCC is a window for students to learn more about China. Can you tell us more? What's your take on inclusion and diversity?
My take on inclusion and diversity is simple: we need to become active listeners to our differences. It is easier said than done, though. Overwhelmed by fragmented information from the internet every day, we need to resist our natural biases to avoid clinging to our comfort zone and be receptive to differences. This is particularly challenging for many GCC members, including myself. This is partly because of the focus of conformity and harmony in Asian culture and partly because it is the first time for many of us to experience being a minority in a diverse society. In GCC, we recognize and celebrate the differences, whether it is a difference in your political stand or a difference of your national origin.
China has been a hot topic in the U.S. business schools. Conversations around China and U.S.-China relationships happen every day inside and beyond the classroom. Our goal is to make these discussions more informed, more open and more in-depth.
A good example of our work is a debate we cohosted with Kellogg's European Business Club on "China or U.S., which is the EU's best bet for post-Brexit success?" Our goal was for the Kellogg community to reflect on both sides of the arguments and shape their own views by challenging and being challenged by their classmates. Another example is a panel talk we cohosted with Kellogg's Africa Business Club related to a China's investment project in Africa, a truly exciting event where professors and researchers shared facts and well-supported views on this controversial topic to Kellogg students.
What was your proudest achievement in GCC?
It was a panel talk called "Coming from the billions," which we cohosted with the Indian Business club. The idea was to share personal experiences about growing up in populated developing countries like China and India. We believe these personal stories will add human touch and a sense of genuineness for students from other countries to see and not just the things they read about China and India.
It was the first time we featured personal stories as a panel talk. As an organizer and a panelist, I wasn't sure if we could do it well until the very end, when we had fun and informative discussions with the audience and received many follow-up questions days after the events. A friend told me she loved the idea that we can have fun and learn something meaningful all at the same time.
What was your biggest surprise as GCC president?
I was surprised to learn how easy it was to organize a club event at Kellogg. For many of the events we organized, the success oftentimes hinged upon whether we could get the guest speakers to participate. Many speakers we invited in the past were heavy hitters in their industries and we didn't think they would even respond to our emails. Yet they did, regardless of whether they were alumni or not. I felt the student email domain was so powerful that many speakers became generous about talking to MBA students out of respect for Kellogg's name. Furthermore, Kellogg staff and IT system are top-notch and allowed us to minimize the attrition on budget and logistics to solely focus on the core part of the event. Collaborations with other clubs were easier than expected, as well, especially because the idea of "Inclusion and Diversity" was so widely shared among club leaders. Looking back, even the moonshot projects would have turned out to be successful. My only regret is that I didn't pursue them.