Start of Main Content
GCC Series: A Box of Chocolates and a Scoop of Gelato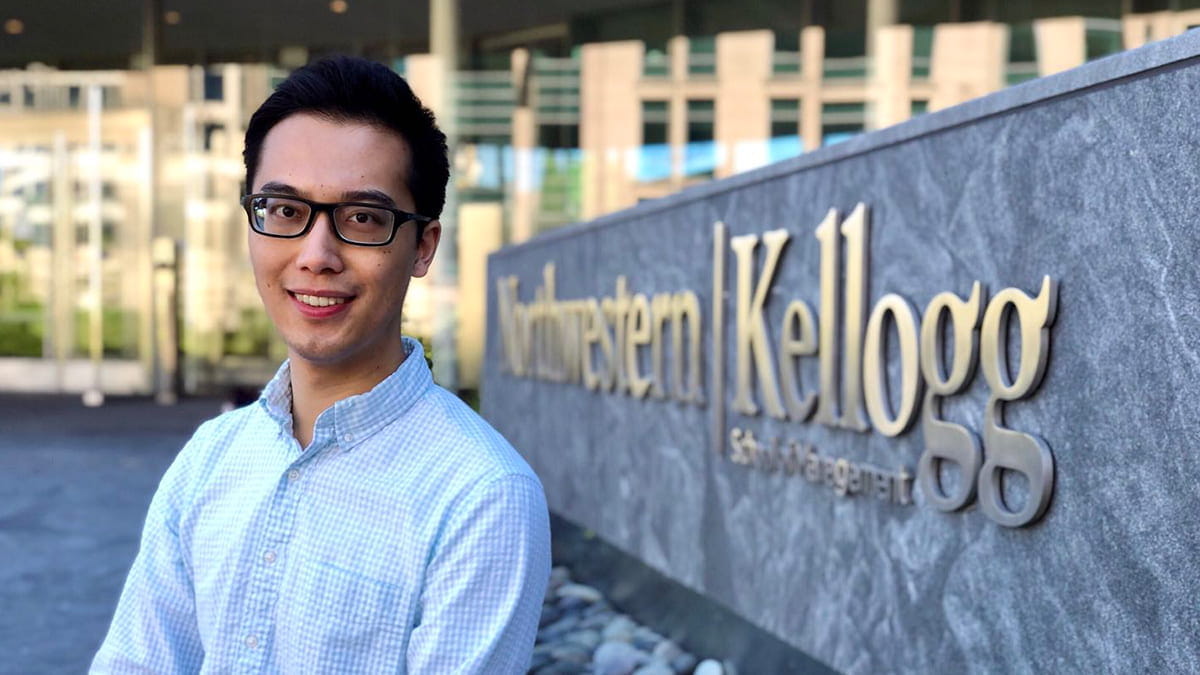 This blog post is part of a series from representatives of Kellogg's Greater China Club. Click here to view all the posts in this series!
By (Evan) Hao Chen (1Y 2020)
The budding green of spring outside my window brought me back to the time when I first came to this beautiful town last year, full of curiosity and expectation because I had never studied nor lived abroad. I was lucky to come here with a company sponsorship, which allowed me to explore freely in order to make the most out of my Kellogg journey. I wanted to use my time at Kellogg to become a well-rounded, global person, embracing the unknown world through different perspectives, cultures and values. In a way, my Kellogg journey was like a box of chocolates, I never knew what I was willing to get but I was willing to explore.
What I finally got was a box of chocolates in the first three quarters and a scoop of chocolate gelato in the last one.
The first three quarters at Kellogg
I took great joy in the profound chats with my friends because they opened windows to different life around the world: cannabis businesses in Thailand, DTC e-commerce in Russia, hospital systems in Chile, real estate development in the Philippines, public funding for dating in Singapore, energy projects in the EU, entrepreneurship of the luxury industry in India, and more. I could feel their minds and hearts – excitement or regret – through the stories they shared. In the meantime, close bonds were seeded and sprouted. I've often recalled those sparkling moments and said to myself: It was those deeper conversations with genuine curiosities that made these memories still fresh in my mind, whereas over-socialization would leave me nothing but a series of passing events. That is not real chocolate, but candy with chocolate flavor.
In class, I valued what I could learn rather than what my grades stood for. I was grateful to learn from the professors and courses that truly interested and inspired me. I enjoyed the clash of perspectives in Professor David Besanko's class "Public Economics for Business Leaders" when we discussed different countries' policies addressing critical issues at the intersection of society and business. We were taught to use our talent and skills with wisdom, prudence, modesty, generosity and a sense of community. I could sense a start-up CEO's responsibilities coming out of Professor Carter Cast when he role-played an interim CEO trying to lead the tough transition of a tech company in the "Launching and Leading Start-ups" class. His class can teach you how to navigate the canvas of the start-up world, but more importantly, Carter will show you what characters make a seasoned leader. Beyond the knowledge and skills, I think the open-mindedness and good character we internalized from those experiences helped brave adversity and bewilderedness and make me a better, global person.
During the first three quarters I also traveled extensively to experience the world. Some of my best travel memories include the mind-wandering of Inka Civilization when walking in Machu Picchu with my KWESTees, exploring the richness of humankind in the anthropology museum of Mexico City, applying my negotiation skills in Jamaica, flying a nine-seat jet in Puerto Rico, and treading on the Yin & Yang onsen in Noboribetsu of Hokkaido. When you are obsessed with interesting stories and rich lores in every corner of the world, you will be tempted to be there and experience them on your own.
Opening my mind during COVID-19
With the spread of COVID-19, I learned that the pandemic may ground our foothold, but it won't ground our minds. It freed up more time for me to read extensively and think profoundly. The life stories of Michelle Obama, business and politics in Russia in the 1990s, and principles and examples of good and bad strategies, all of which had made each day pass by meaningfully. The way of interpersonal engagement may change, but I can always adapt and my quest of understanding the world can continue. My Kellogg experience is still full of chocolates, just in a different form of gelato.
Some words of advice
At the crossroads of graduation, I wanted to say a few words to all of the incoming Kellogg students when I looked back at my experience:
Be intentional: Know exactly what you want to do/be and sort out your priorities. Do not let FOMO get into your head.
Be open and respectful: What you know or have learned in the past is only a perspective (some of them may even be wrong), but you can always help to build a common ground in your cohort based on facts and rigorous reasonings through the lens of different ideas and values.
Be vulnerable: Surround yourself with a group of good friends – local or global. Trust and open yourself to them and learn from each other.
Be flexible: Things won't always go with what you have designed or expected. Step back and get around it.
Be reciprocal: Pay it back and pave it forward – "the rose's in her hand, the flavor in mine"
Lastly, always remember that you are absolutely unique and I hope everyone will find the way to make the best of your time at Kellogg.