Start of Main Content
Five Ways to Challenge Anti-Black Racism Using Design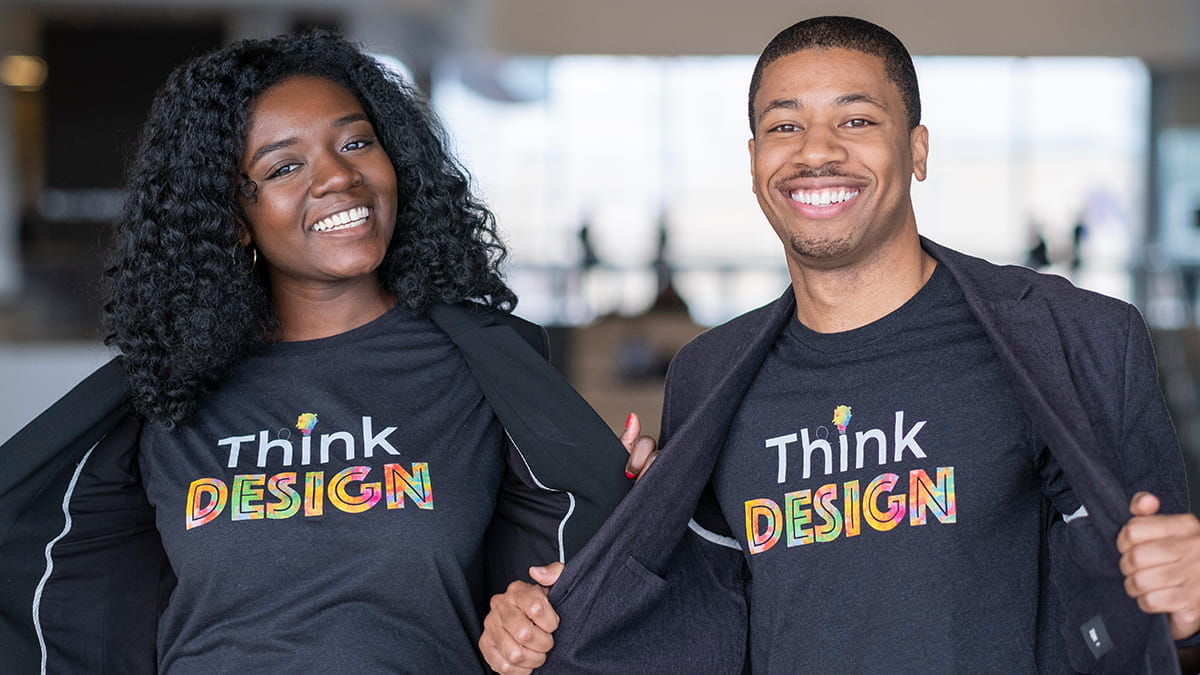 By Marvin Harris, Jr. (2Y 2021) and Hannah Anokye  (MMM 2021)
Anti-Black racism is an insidious problem in this country. It is steeped within the systems that many of us take for granted, and often unseen by the privileged majority. For Black business students who have experienced overt and covert racism – both in the world and in the workplace – it is an unignorable reality.
As the first pair of Black co-presidents to lead the Innovation and Design Association (IDEA) at the Kellogg School of Management, we believe that design and innovation can be leveraged to tackle societal issues that have stemmed from years of systemic inequality. Design thinking is a process for human-centered problem solving used to create innovative products, services and systems. It is now imperative to examine and rethink how we can redesign existing inequitable systems.
Here are five concrete ways we can use design to challenge anti-Black racism:
1. Understand the design of anti-Black systems
Taking action begins with the admission that systems within our society that generate and sustain oppression are by design. For centuries, the structural inequality in healthcare, housing, education and other systems have defined Blackness as marginal. To combat anti-Black racism, designers must interrogate these systems to deepen their understanding of the nuances and complexities of the Black identity and use the insights to ignite solutions that are more equitable and just. The Creative Reaction Lab employs this model to catalyze Black and Latinx youth to design interventions that will dismantle structural racism. In September 2019, Creative Reaction Lab convened 25 Black and Latinx youth to develop interventions to address gun violence in the St. Louis region. Their theory of change can serve as a model for all designers—push problem-solving methodologies to incorporate those that center the dismantling of broken, anti-Black systems.
2. Challenge empathy bias in the design thinking process
Empathizing—the ability to see the world through other people's eyes, feel what they feel, and experience things as they do—is the first and most fundamental step in the design thinking process. However, our ability to empathize is often biased by our personal connections, beliefs and perceptions. Further, our empathy often ignores the situational context that impacts broader communities and populations, leaving less room for designers to grapple with the systemic structures that reinforce inequality. Consider the healthcare system and the disproportionate impact that COVID-19 has had on Black communities. An empathy-led approach would have designers deep-dive with Black COVID-19 patients, discover how they feel about quality of care and resources available (or lack thereof), and design solutions that prioritize their individual needs. However, to fully combat anti-Black racism, the goal should not just be to humanize their experience, but to also confront biases that leave us blind to the policies and narratives that buttress a racist system. Doing so will reveal "insights" that yield intentionally designed equitable solutions. 
3. Hold leaders in the Innovation & Design space accountable
There have been a significant number of articles, presentations and even entire conferences that have addressed and documented the lack of diverse designers. But the gap is still stark. Many top design firms remain predominantly white with few Black members on staff even when diversity is shown to improve business performance. As practitioners, we bring unique perspectives to the table and benefit from the ability to share perspectives with our end users. It is important that Innovation & Design leaders recognize, employ and amplify the perspectives of Black designers by actively building diverse teams to strengthen the scope and creativity for more impactful outcomes. As future innovative leaders, hold yourself and your future leaders accountable to their recent public commitments to diversity and inclusion as well as their stated mission and values.
4. Take a page out of a comic book
Afrofuturism is a practice that allows us to reimagine a better collective future through engaging in imaginative and visionary thinking informed by Black culture. "Black Panther" is a great example of the unique combination of science, technology, history and philosophy that Afrofuturism enables. The comic and movie featured technology that one could only dream of, expanding our view of the possible for 134 minutes, and allowing us to flex our creative muscles in a fresh way. Afrofuturism can thus be leveraged as a lens to aid in the design of inclusive technologies, services and systems. An example of the use of Afrofuturism within academia is the work of Lesly-Ann Noel, Associate Director of Design Thinking for Social Impact and Professor of Practice at Tulane University, who developed "Design Thinking for Students of Color" at the Stanford d.school and designed the "Designer's Critical Alphabet" cards.
5. Co-design and co-create
While ethnography (the practice of observing and studying the end-user in context) is an important and major tenant of design thinking, this research method has the dangerous potential to allow teams to design for a user rather than with a user. This leaves the end-user out of the most important and impactful parts of the design process, which often perpetuates blind spots that exist outside of the community. To combat anti-Black racism, designers should both center the voices of the marginalized and collaborate with community stakeholders to actualize the solution. While interview notes and insights are helpful, lived experiences and true perspectives go even farther. Ker-twang, a design agency focused on alleviating challenges related to poverty, routinely practices co-design by centering and building for low-income populations. A recent case study of their work on increasing earned income tax credit claims in Miami details how they work with the end user throughout the entire process: beginning with in depth ethnographies, continuing with iterative user input in the design process, and incorporating their voices throughout each component of the implementation plan.
At its core, design is about problem-solving. If we believe design thinking is the right tool to spark innovation and contribute to business growth, it must also be used to examine the same innovations, institutions and mindsets that promote inequality. Design can be a powerful tool used to reimagine products, services and systems to ensure they mitigate the causes of anti-Black racism.