Start of Main Content
How an Alumna's Winery Is Turning to Those in Need During COVID-19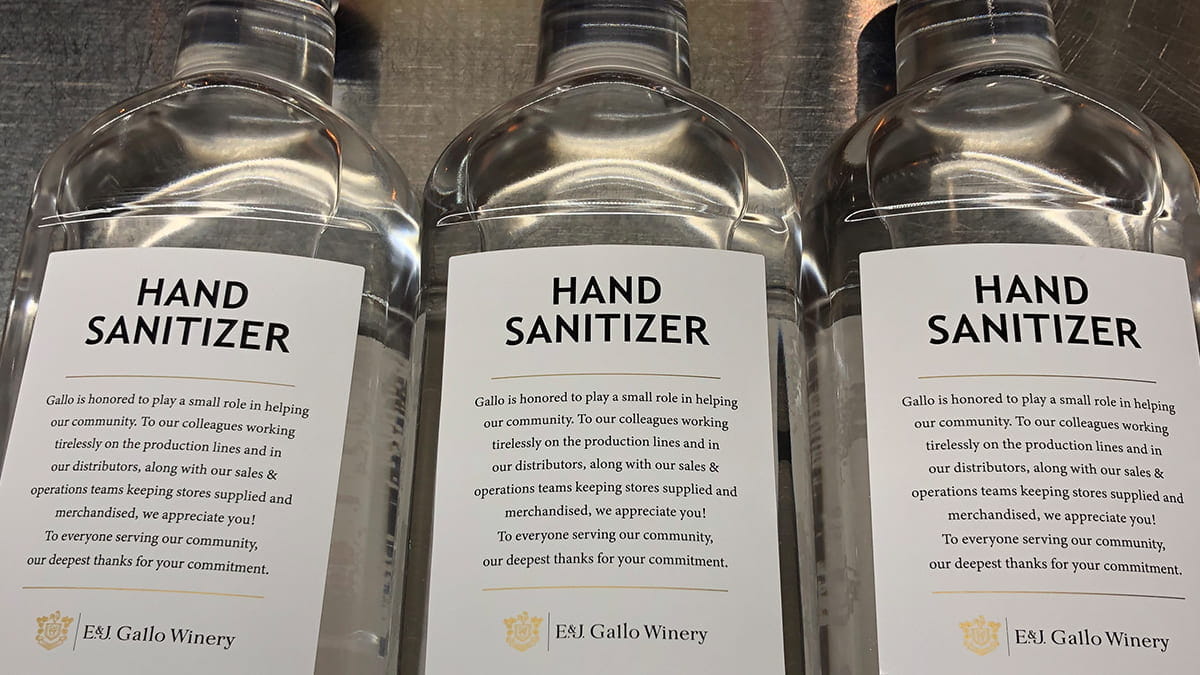 By Stephanie Gallo (2Y 1999)
Chief Marketing Officer, E. & J. Gallo Winery
In times of great need, we must  act with enormous flexibility, empathy and compassion. Businesses across the country and globe have been forced to dramatically reduce their services or close entirely. E. & J. Gallo Winery very quickly understood that we must devote our passion and resources towards supporting the needs of our business partners, consumers and communities.
One of the most inspiring things for me was seeing how quickly our employees came together with meaningful solutions and ideas during these unprecedented times. We are all part of a greater community. That has never felt more true than when you see your colleagues dedicating themselves to executing brand new charitable partnerships within a matter of days and volunteering hours of their time, all to ensure our communities are supported. An example of this is our Gallo Hand Sanitizer project.
A pivot to produce hand sanitizer
With retail shelves bare, both our frontline employees as well as our local communities were in desperate need. Within days, we were able to convert a hand bottling line at our Spirits plant to begin producing hand sanitizer, staffed entirely by Gallo employee volunteers. Through these efforts, we have distributed thousands of cases of hand sanitizer, both within our organization as well as to Offices of Emergency Services throughout California and Washington. Through these donations, much-needed hand sanitizer is being provided to medical and healthcare professionals, first responders, and other high priority users, such as nursing homes.
Continuing our effort to support first responders, our Liberty Creek brand has always been dedicated to serving those who serve us, especially the countless first responders on the front lines. Liberty Creek donated $100,000 to First Responders Children's Foundation, an organization providing immediate financial support to families of first responders impacted by COVID-19.
Expanding the breadth of support
We also recognize that many of the people who are having the toughest time right now are on-premise workers. These front line restaurant servers, sommeliers, chefs, bartenders and beverage directors have long supported us and our business. Now, it is time for us to support them.
Within our sales organization, we have launched a multifaceted program called ROAR — Rescue Our Amazing Restaurants. I love this program because, like the hand sanitizer, it inspires people to get engaged and involved on an individual level, helping support critical needs within their own community.
ROAR works across two fronts: supporting our restaurant partners that have shifted to take-out and delivery to survive, as well as helping those who are struggling with food insecurity. ROAR encourages our sales teams to use their expense account budgets to order meals from their local restaurant accounts, then donate those meals to someone in need: That might be a food bank, a senior citizen who is isolated at home, or even a delivery to first responders or healthcare workers as a gesture of thanks for their hard work.
To help on-premise employees, Barefoot Wine announced a $300,000 donation to Children of Restaurant Employees (CORE), an organization that supports food and beverage service workers with children. Additionally, New Amsterdam Vodka and Pink Whitney leveraged their partnership with Barstool Sports to launch a "Support Your Local Bartenders" t-shirt program. With 100% of the net proceeds going to the United States Bartenders' Guild Foundation's Bartender Emergency Assistance Program, over $150,000 has been raised to date.
For many wine servers and sommeliers, education is critical to their professional development and personal goals. To help ensure this community can maintain access to education during this time, Gallo's premium wine division made a $100,000 donation to GuildSomm. This joint donation was made on behalf of J Vineyards & Winery, Louis M. Martini, Orin Swift, Pahlmeyer, Talbott Vineyards, Whitehaven and William Hill Estate Winery.
Commitment to the community and culture of E. & J. Gallo Winery
Finally, one of the most important communities we all have right now is our colleagues. We are committed to maintaining our culture, camaraderie and sense of teamwork as well as ensuring our colleagues feel safe and supported during this time. We are building community within our teams with initiatives like virtual happy hours, guided tastings and by sharing tips on staying focused and motivated while working at home. We also make sure to share our biggest inspiration: the gratitude and appreciation we are receiving from our consumers. When someone knows their work is connecting with people, it's recognition that all their efforts are meaningful and important.