Start of Main Content
A Coach's POV: Empowering EMBAs to Achieve Lifelong Career Goals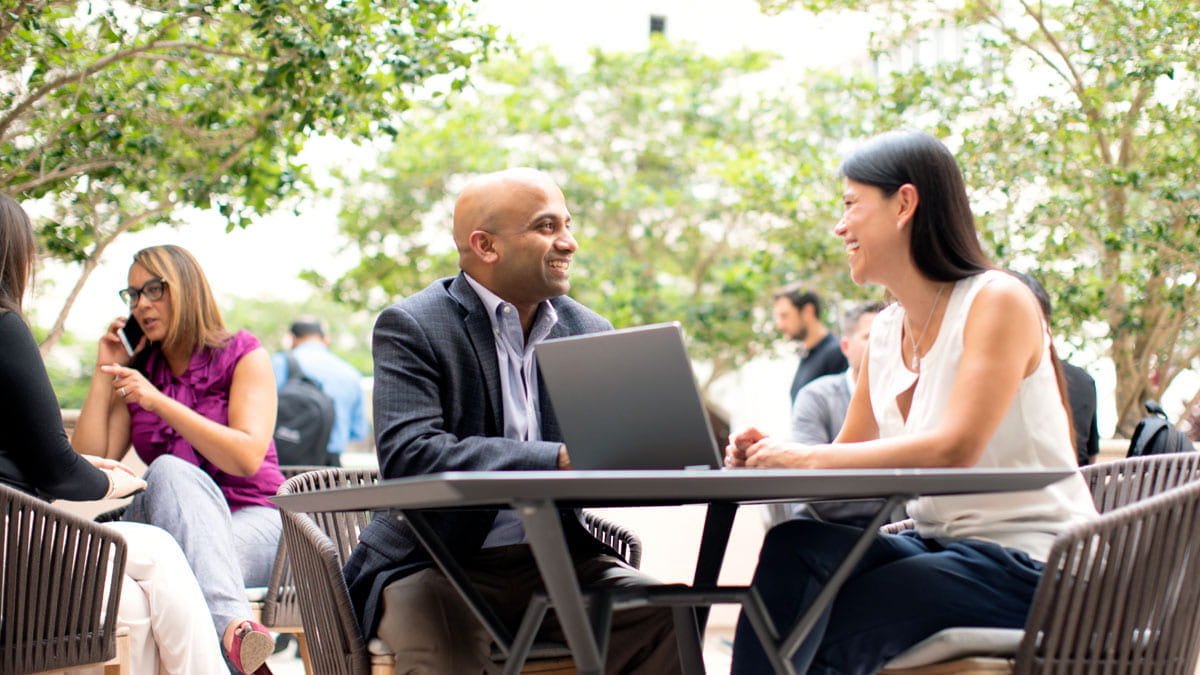 When Steve Lanchak, an executive MBA career coach, retired from his 33-year career in management and technology consulting, he entered into a period of reflection, not certain what his next would be. "What became very clear to me," said Lanchak, "was that I enjoyed working with my teams and watching my people grow, achieve success, get promoted to partner and go on to have very satisfying and rewarding careers." This realization launched a new path towards coaching Executive MBA students at Kellogg. Below he discusses the unique priorities of the Executive MBA student, his holistic approach to coaching and how the Career Management Center not only supports students to execute their career goals – but empowers them for a lifetime.
 The diverse career goals of Executive MBA students
What I love about working with EMBA students is that no two are ever alike. They come from diverse backgrounds, they are at varying levels in their careers, and their career needs run the gamut.  For instance, some of my students are in their early 30s. Others are in their 50s or early 60s. Obviously, the career needs vary tremendously at these extremes.
For some EMBA students, it is largely centered on advancing their careers faster and further. Others are focused on trying to figure out "what they want to be when they grow up" – I am not kidding, I hear this the most from very successful, mid-career executives that have suddenly picked their head up, looked around and said, "What am I doing here?" For students in the later phases of their careers, such as our senior physicians, their goals are to envision and plan for the next stage in their careers. For some, this might mean giving up their clinical practice and moving into administration or perhaps venture capital.
A holistic approach to career growth
Our approach to career coaching goes beyond the obvious transactional stuff, such as helping with resumes, reviewing LinkedIn profiles and doing mock interviews. We believe in taking a relationship-based, holistic approach to the individual that is focused on helping them discover who they are in terms of their values, strengths and goals. I have learned through the course of my career that when your career is in alignment with who you are as an individual you will prosper.
When this occurs, getting up and going to work ceases to be burden. You find yourself leaning into challenges and you start communicating more broadly and effectively. So, it is more than just helping them find a job or even switching careers. It is really focused on getting to know them over time and helping them to take a step back and reflect on what is truly meaningful to them and translating that into potential work opportunities. These potential work opportunities can take many forms:
Students may be very happy with where they are currently working and what they are doing. In these instances, we focus on how they can advance faster and further in their organization and how they can more effectively manage up and down.
For students who are focused on either changing industries or job functions, we help them understand why they feel the need to change and objectively evaluate the other options available to them and avoid the "grass is always greener on the other side" trap.
Lastly, for the students with entrepreneurial opportunities, we focus on giving them frameworks, connections, and tools to help them start an enterprise that is suited to their backgrounds, talents and capabilities.
By taking a holistic approach to their career, they not only find a good job, but they find themselves in a career that will offer them long term satisfaction and happiness.
Beyond coaching: the breadth of Kellogg's career resources
We meet with each new student during their First Quarter and, in that discussion, we describe the vast array of resources available to them at Kellogg. Since they will not be able to absorb it all, the student's first step is to help us understand what they specifically are trying to get out of their Kellogg experience – in other words, what do they want to have at graduation that they don't have upon starting the program. Knowing this information about a student is key to our success as coaches because our job is then to give the student a roadmap for achieving these goals. Alongside their tailored "roadmap" are the resources, or "roadside attractions," they will need to take advantage of in order to arrive at their destination/goal. These "roadside attractions" fall into four categories:
1) Faculty – We encourage them to reach out to our faculty members on a one-on-one basis
2) Other EMBA students – We encourage networking not just within their cohorts, but across all of the active cohorts between Evanston and Miami, which are nearly 500 students that are leaders in their fields and wanting to broadly network themselves
3) Alumni – Roughly 60,000 Kellogg alumni, from all walks of life, are located all over the world and willing to support current students
4) Our wonderful CMC Library – Home to a vast array of materials, databases, books and periodicals, the CMC Library greatly aids students during their career execution phase.
Putting the holistic approach to practice
I had a student that wanted to shift into a new industry and literally start over by throwing away 15 years of deep experience in his current industry. By using our holistic coaching methodology and taking a step back to understand what was truly driving this desire, we discovered that he was dealing with a management team and culture that was a complete mismatch for his personality and work style. By utilizing our various diagnostic CMC tools, I was able to help him understand his work style and job culture requirements. I worked with him to understand that not all the companies in his industry have the caustic culture of his current employer, and I was able to get him to focus on the many other companies within his current industry and to evaluate them based on their cultures. Consequently, he was able to land a similar role in a competitor and feels much more appreciated and comfortable at that new company – and best of all, he didn't need to take a pay cut by starting over in a new industry. In fact, by helping him negotiate his offer, he was able to get a 26% increase in his compensation.
A lifetime of empowerment
I'd have the say the most notable attribute Executive MBA students acquire after coaching is resourcefulness. What sums up our coaching strategy is best stated in the old Chinese proverb: "Give a man a fish and he will eat for a day, teach him to fish and he will eat for a lifetime." When students come to us, they are trying to achieve a particular goal. Of course, we help them with that, but more importantly, we give them the tools, techniques and perspective to tackle their career challenges whenever and wherever they occur.
I might also add that what we provide to our students is applicable beyond the workplace. For example, we spend a lot of time discussing their values, professional/personal goals, understanding what they are good at and discovering their blind spots and hidden strengths. This level of self-knowledge can help them maintain positive relationships throughout their lives and provide a framework for dealing with non-career challenges, choices and decisions. We believe that career satisfaction is linked to life satisfaction, and by giving them tools that they can reuse beyond Kellogg empowers them to be resourceful in all aspects of their life.