Start of Main Content
A Kellogg Startup Applies Filtering Technology to PPE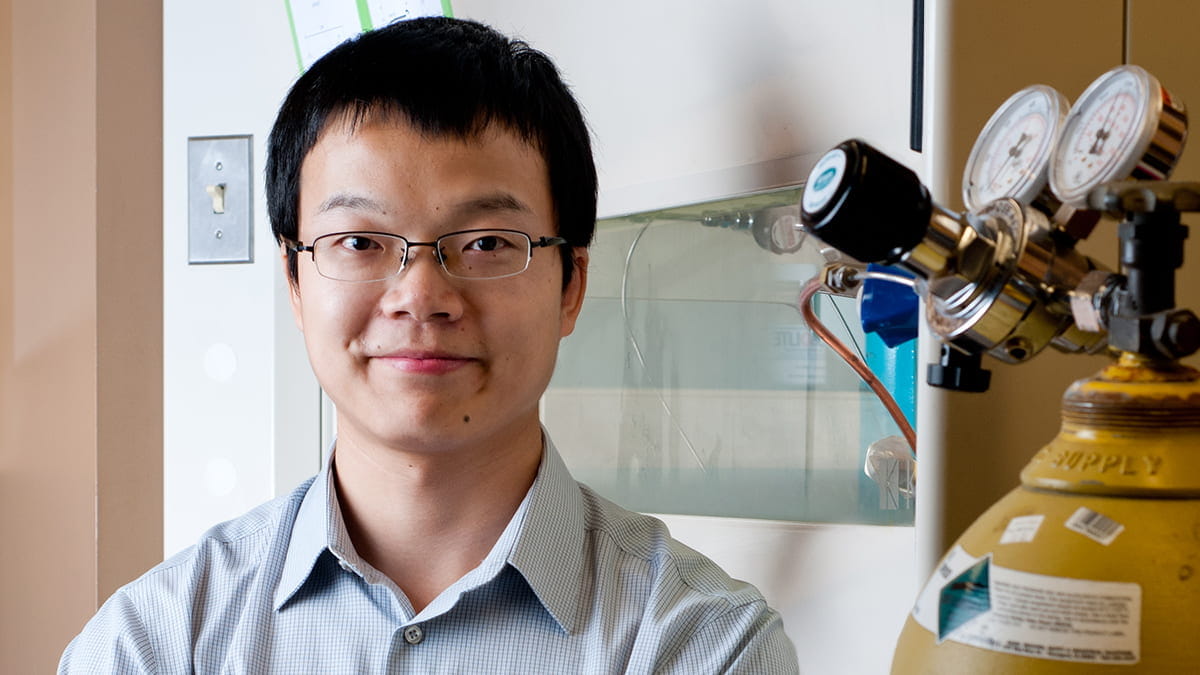 Inside Kellogg had an opportunity to speak with Will Zheng (E&W 2020, Zell Fellow 2019) about how his startup, Serionix, made the extraordinary pivot to apply its filtering technology to PPE in order to support frontline healthcare workers. Here's what he had to say. 
Tell us about your startup.
My startup, Serionix, is commercializing ColorfilTM, a color-changing air filter. Originally designed for astronauts' spacesuits, we now use it in smart HVAC air filters that remove unpleasant odors and toxic chemicals from the air and change color when it's time for replacement.
Can you share a little about yourself as an engineer, entrepreneur, and what led you to cofound Serionix?
When I started graduate school, my research was focused on developing next-generation materials for water and air purification. My advisor had commercialized over 100 innovations with six products named after him, and he continually encouraged us to work on research topics meant to solve real-world problems.
During the 3rd year of my Ph.D., the EPA decided to regulate a contaminant in drinking water called perchlorate that is very toxic to babies and pregnant women. Our group happened to have a filtration technology that was 100 times better than any product on the market. My lab-mate James Langer and I decided to launch a startup to commercialize this research.
As we started our customer discovery, we were inspired by Larry Gies '92 and his filtration company, which helped us realize that our technology was well-positioned to solve key pain points in the air filtration industry. This really built the foundation of where we are today.
Your company was recently awarded several contracts from NASA to apply Serionix's filtering technology to their next-generation space suits. Can you tell me more about that collaboration?
NASA is still using 1980s-era spacesuits, but they have recently begun updating their suit design. They've had challenges with toxic gas buildup, which poses a huge risk to an astronaut's health. Since an astronaut up in space doesn't have the luxury of just opening the windows to let things air out, we worked with NASA to help them build filters specifically to remove toxic chemicals for astronaut safety. Our original project was so successful that we have now expanded the scope of this collaboration in a series of six competitively selected contracts.
What brings you to pivot from air filters for spacesuits to consumer's homes?
The launch of Colorfil as a consumer brand was possible because we had our ears open and listened when the opportunity came to use our NASA technology to address pet odors. My cofounder's friend complained that his cat was marking and urinating to the point where it was causing significant strain on his family. We built him a filter, eliminated the odor issue, and saved his marriage (or at least his cat!).
Just a few weeks ago, NASA asked Serionix to make a remarkable pivot to apply your filtering technology to develop face masks in response to the COVID-19 outbreak. How has that pivot impacted you and your team?
We had previously looked at using Colorfil to make a self-indicating, antimicrobial facemask, so our engagement with NASA was similarly inspired by having our ears open to listen for a need. As the COVID-19 pandemic began to ramp up and the shortage of face masks became apparent, we quickly got to work with our NASA representative who, with his wife, volunteered time and resources to prototype and build masks using our Colorfil technology.
The biggest challenge to our team has been balancing our development efforts with our commitment to our team's health and welfare as we respect the statewide shelter-in-place orders. This is further complicated by the fact that our core business has been growing, and we have already had trouble keeping up with our customers' orders. In addition to hiring more staff, we are looking at creative ways to work with partners and volunteers to maximize our impact without burning ourselves out.
What have you learned about yourself as a leader and entrepreneur from this pivot?
First, I could have had better foresight by learning from and reflecting on history. Having lived through SARS back in 2003, I feel I have a unique perspective to bring to Serionix in the face of COVID-19. Observing how COVID-19 evolved in China and how both the historical 1918 Pandemic H1N1 virus moved around the world, we have a better understanding and tried to be better prepared early on.
Second, I learned that I could be bolder in adapting. The article What Sets Successful CEOs Apart (by Elena Lytkino Botelho, Kim Rosenkoetter Powell, Stephen Kincaid and Dina Wang) really resonated with me. If you adapt boldly, as mentioned by Professor William White of Rookie General, you will be 6.7 times more likely to succeed. I wish I could have taken action even earlier.
You are also currently an Evening & Weekend MBA student! Is there anything from your Kellogg experience you're drawing from as you innovate and lead?
In the article Where Companies Go Wrong with Learning and Development, Steve Glaveski claims that if new concepts aren't applied within six days, we will forget about 75% of what we learned. That's the unique advantage for E&W MBA students – you can immediately apply what you've learned and build it into your muscle memory.
Kellogg professors are very accessible and instrumental in helping us grow. They are extremely willing to help by providing insights or advice on the different challenges and problems my startup is facing on a weekly basis. For example, when I have questions regarding advertising or marketing, I email Professor Kevin McTigue and get immediate, thoughtful replies on the same day. Professor Karin O'Connor would pull over while driving to answer my phone calls when I've had questions on fundraising and startup growth strategy. This list could go on and on!
The Kellogg community is extremely willing to help and connect. I can always count on having quality time with them and get advice from their domain expertise through countless conversations and introductions. I have also built great friendships here that I cherish and expect to last for decades.
The Zell Fellows program is crucial to our growth. I have received terrific mentoring, training, connections, and access to enormous resources. I started Zell while we launched our direct-to-consumer market and we have grown tremendously ever since. My track leads, Gregg Latterman and Rebecca Sholiton, Zell lead David Schonthal, "unsung heroes," and other Zell-ians all have contributed to my startup strategy and tactics. I am not sure if we would have gotten where we are today if not for all the help and training that I've received through Zell.
Any words of advice to entrepreneurs right now who are facing unique challenges due to the COVID-19 outbreak?
I know of some startups that are growing, while others are dissolving now as the market and cashflow issues put too much pressure on business owners. I believe most entrepreneurs probably have experienced lots of adversity already and by now are resilient enough to handle this very well, so I will give some advice to early-stage entrepreneurs here:
First, observe how people behave during adversity. I believe what you do when faced with adversity is who you truly are. Observe how VCs are treating their portfolio (advice from another Zell Fellow, Connor Crown), so you can decide if you want to raise from them later. Others are observing you as well. Your team or future employee may observe what you do and decide whether they want to work with you in the long-term based on your actions.
Second, show empathy. If you happen to be surrounded by an entrepreneur community, go out (I mean calling or Zoom!) and talk to them. See if there is anything you can do to help.
Third, remain optimistic (advice from my Venture Lab host, Zebra Venture's Tony Palcheck). People will panic. Your team will be concerned about the future. You must be optimistic to set the right perspective so your team can focus on what's most important. Spread that mindset to the people surrounding you.
Finally, anticipate what's next and prepare. COVID-19 is probably going to last longer than the media claims, but it will taper eventually. Most people and businesses will recover. The market landscape will change. In addition to solving the problems you're facing right now, spend some time brainstorming new opportunities in the wake of COVID-19 and devise a plan early on.