Start of Main Content
Applying in Round 3: A Full-Time MBA Perspective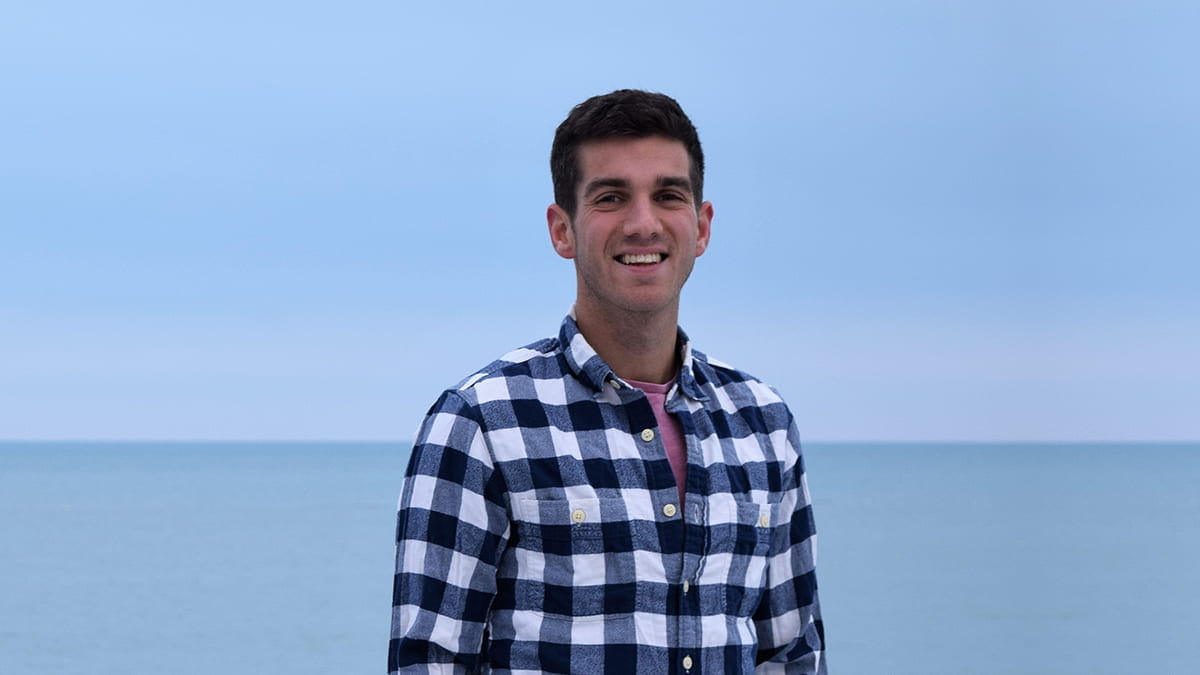 In this interview with Marcus Schneider (2Y 2021), Marcus shares his approach to applying in Round 3 for Kellogg's Full-Time MBA Program and gives insight into "why business school?" "why now?" and how Kellogg was his best fit.
Why did you apply to Kellogg during Round 3 and how many schools did you apply to in total? 
When I started my career as a strategy and operations consultant at Deloitte, business school was always in my plans. I expected to work for two to three years, apply to business school, and attend school as a sponsored consultant. That all changed when I left Deloitte after two years to join Nike's Global Operations and Logistics team. I found myself in a job I loved, and more interestingly, Nike didn't expect me to have a business school degree to progress. As the deadline approached for Round 1 applications, I decided I was not ready to leave Nike.
The calculus changed when my girlfriend, Katie, heard back from the business schools she applied to for Round 1. While she was accepted to a few great schools, she chose Kellogg and would attend in the fall. Kellogg had always been on my list, and now there was a reason to attend on an accelerated timeline. Why attend the same school at a different time, or even worse, a different school at a different time?
I chose to apply to two schools, including Kellogg. I decided applying to fewer schools was worth the risk of not getting in anywhere, as I was happy in my current situation and it would be hard to have a better situation than attending Kellogg with Katie. If I did not get in Round 3, I would just stay at a job I loved and re-apply to Kellogg's Round 1 next year. In my mind, I would rather be at Kellogg a year off-schedule with Katie than on-schedule at another school in a different city.
What part of the application did you find the most challenging? 
The most challenging part of the application for me was the essays. I was a physics and engineering major in college. Writing has just never been my strength and it is a critical part of business school applications. I easily spent the most time on the long essays, figuring out how to best utilize the word limit to demonstrate my unique strengths and experiences. I also enlisted the help of my girlfriend, her parents, my parents and anyone else willing to read my applications.
How did you choose the people to write your letters of recommendation? How much lead time would you advise giving recommenders? 
I chose the people to write my letters of recommendation based on who knew me the best, whom I did the most impactful work for, and who I expected would write the most thoughtful recommendation. To find someone that knew me the best meant not choosing the most senior person possible. It meant choosing a manager who I had worked with consistently and had experience with outside of work.  At the same time, I wanted someone who could speak to my biggest professional experiences.  That had to outweigh overall time working together. Then, I wanted someone who would invest the time to write a thoughtful essay. Lastly, I wanted to represent my diverse experience, which in my case meant having a recommender from both Deloitte and Nike.
I wanted to make the recommendation process as easy as possible for the people I asked. I prepared a slide deck with all of the deadlines, necessary questions, and suggested topics/experiences to write about. I handed this off about a month before the deadline and checked in occasionally to make sure there were no issues with meeting the timeline.
How long did the total application process take you? 
My process ended up being slightly accelerated given I decided to apply after my girlfriend had selected Kellogg following Round One decisions, and I planned to apply Round 3. I decided to apply around mid-February and the application was due early April. For this month and a half, most weekends and many weekday nights were spent on the applications. Given I was applying to fewer schools, I was able to put more time into each one. I would guess I spent about 40 hours total on the application process.
 How did your interview go? What advice would you give for the interview? 
For Kellogg, I interviewed in-person with a second-year student. This is likely not new advice, but my suggestion is to make it as conversational as possible. Interviews do not need to be tense or one directional. In fact, that makes it less fun for both parties.  The more enjoyable the interview is for all involved, the better the candidate will be reviewed. Aside from tonality, the interview is a candidate's best chance to explain both why they are best for the school and why the school is best for them. The mutual fit is important. To prepare for the interview, I made sure to research what attributes each school looked for and think about how I portrayed those attributes. I then researched how each school's strengths related to my interests and goals.
 What resources did you use to help you complete your application? 
I already mentioned this above, but my girlfriend and family were the most helpful resource throughout the application process. They helped review everything and practice interviews with me. Beyond that, I found taking a GMAT prep course extremely helpful. I also reviewed the school websites and the Poets&Quants website to learn more about what made each school unique. Finally, I talked with recent graduates to understand the strengths and weaknesses of each program. These conversations made me realize the 2Y Kellogg MBA Program would be a better fit for me personally than the MMM program.
What is one piece of advice you would give current applicants applying in Round 3?
Have a concise and compelling reason for why you are applying in Round 3. This is a question I was asked in every interview. Without a great answer, the assumption may be that you were just too lazy to get everything in order for the earlier deadlines. That's probably not the case, so make sure your interviewer knows your specific rationale.
Why did you want to pursue an MBA? 
For me, pursuing an MBA was all about building my foundation and experimenting with a wildly different career path. As a physics major, I never learned some of the core business concepts like finance, accounting or marketing. I was excited to feel knowledgeable enough to be dangerous in any business context I may find myself in. Second, I spent my career at two large companies and wanted to better understand the small company experience. Whether that be starting a company, joining a startup, or working in venture capital, I was not sure, but I wanted to understand those paths and see if any appealed to me. Now, having almost reached graduation, I can say I am thoroughly glad I had the chance to do this exploration.
What have you learned during your time at Kellogg that you wish you knew while applying?
First, I would recommend anyone that is applying think through what their goal is after business school and how business school will help them get there. Of course that goal can change, but the time spent thinking through a vision and how business school will help you achieve it is incredibly important in the application process. Second, business school is so much about the experience and friends you make while here. I think the specific ranking or perceived strengths of the school is less important than finding the culture that best suits you. All of the top schools are great, have great people, and provide great opportunities; the choice should be about where you fit best.