Start of Main Content
Kellogg Now Offers MBA Deferred Enrollment for Undergrads and Master's Students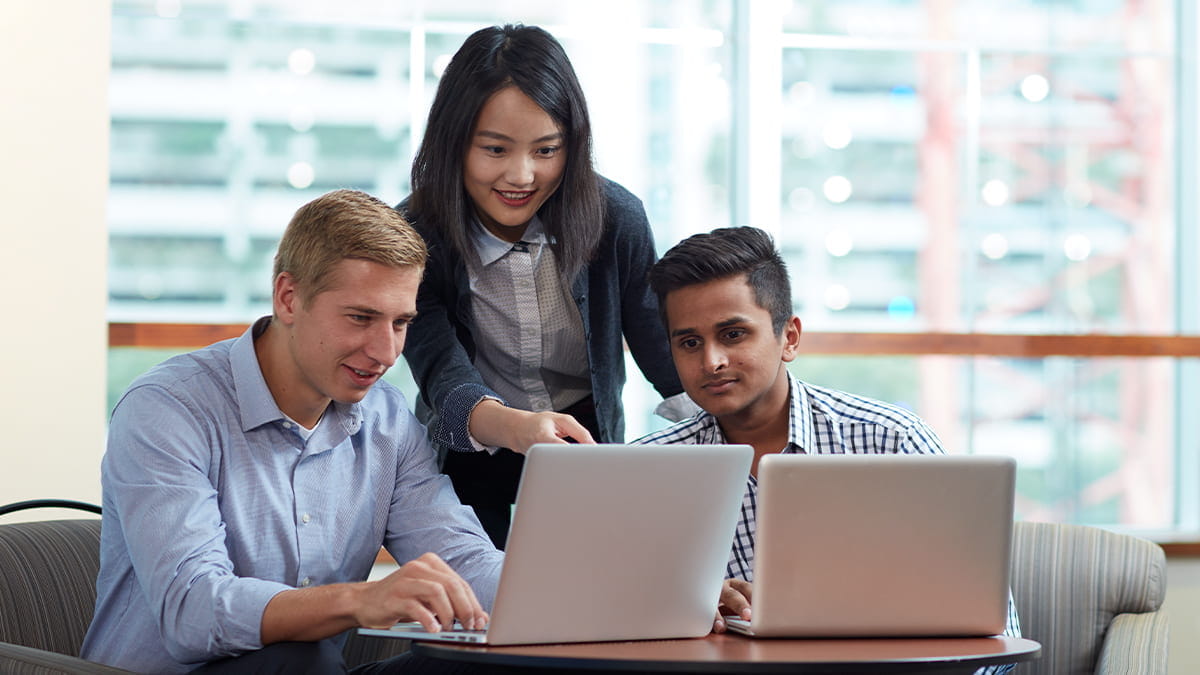 by Kate Smith, Assistant Dean of Admissions and Financial Aid
Hello prospective students and Kellogg community members!
I'm very pleased to unveil Kellogg Future Leaders, a new deferred enrollment program we are offering to undergraduates — and master's candidates with no previous work experience — who already know they want to pursue an MBA. We've always aimed to bring the Kellogg spirit of creativity and innovation to our degree programs, and this new addition is a particularly exciting one for our admissions team.
Whether you're considering applying yourself or know of someone who may be interested, here's what you need to know:
Kellogg Future Leaders: a deferred enrollment option for MBA candidates
Details
Anyone who qualifies as a Kellogg Future Leader can apply to the program before leaving your undergraduate/master's program. You'll then spend 2-5 years in the workforce, during which you'll have unique access to Kellogg events and admissions personnel — more on that below. You'll be charged a $500 deposit each year, but this money will go directly into your tuition balance once you start classes. Plus, we'll waive the application fee.
Competitive advantage
It's no secret that planning for life after college can be intimidating. As Kellogg Future Leaders, you will know that a place is secured for you in a world-class MBA program before you even leave school. You also get to skip the conundrum that many people face when considering the right time to enter an MBA program down the road. You'll already be set to propel your career forward when you feel the time is right.
Kellogg perks
Here's the fun part:
1:1 support: From the time you're accepted through the time you start classes, you receive direct support from a dedicated admissions officer who will help you stay connected.
Exclusive access: Even before you come to campus and are fully integrated into one of our MBA programs, you get to take advantage of Kellogg events and resources. We want to see you on campus!
Flexibility: Kellogg's portfolio of MBA programs is unique in its breadth. As you get ready to start your studies, you'll have the opportunity to reassess which program is right for you. This means that you may be accepted into our Two-Year MBA option, but can explore switching to to the Evening & Weekend or One-Year Program if you've come to realize you don't want to take two years off from your job just yet. You can also consider the JD-MBA and MMM Programs at that point, though they will require regular acceptance to other Northwestern schools.
Bragging rights: Kellogg is world-renowned for its commitment to creativity, innovation and inclusion. Apply when you're still in the academic mindset and get the opportunity to call the Global Hub your future home away from home.
Eligibility and requirements
To apply, you must be in your last year of undergraduate study or a master's student who went directly into a graduate program from undergrad. We welcome all domestic and international students to apply, no matter your undergraduate major.
Again, you don't have to worry about paying an application fee for the Kellogg Future Leaders program. The application itself includes brief essays, a letter of recommendation and an interview by invitation. We do require applicants to submit scores for the GMAT or the GRE, though these tests are optional for Northwestern University undergraduates.
We can't wait to learn more about you. Find out if Kellogg is in your future. Apply today.