Start of Main Content
Kellogg's Class of 2021: A Group of Creative, Global Leaders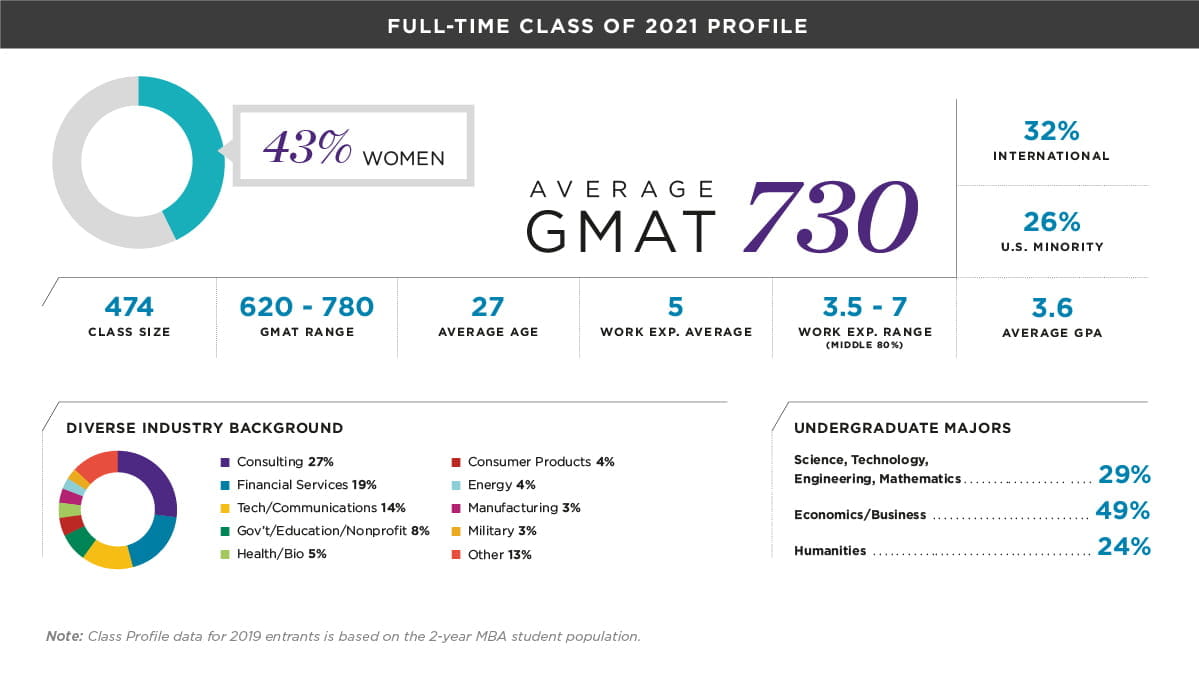 by Renee Cherubin '06
Hello, prospective applicants! I am beyond thrilled to announce our 2Y class profile, the first since I became Kellogg's senior director of Full-Time MBA admissions this summer.
I should note that I'm a proud Kellogg alumna myself, and I found that Kellogg was a life changing experience for me both personally and professionally. My experiences during business school — from the global opportunities to the classroom to the lifelong relationships I built — were transformative. Those experiences helped shape my leadership style and set me up for success in my post-Kellogg career in strategy consulting, and beyond.
Our incoming Class of 2021 class reflects everything that makes me proud to be an alumna and current leader at this school, namely the incredible depth and breadth of diversity that Kellogg strives for. We've built a class that is not only incredibly intelligent, but also includes a rich array of cultural backgrounds, industries, functions and perspectives — all of whom will come together to form a tight-knit community.
The class includes Carmen, who performed at Carnegie Hall (twice!) and co-founded an all-girls middle school in Brooklyn; Jay, who is an ordained Buddhist monk in Thailand; Palak, who comes from an India-based venture capital firm that invests in businesses helping underserved communities in India and Latin America; Babatunde, who founded a post-college academy in Lagos, Nigeria, equipping more than 400 unemployed youths with the skills and coaching to get jobs; Tracey, who served as a Marine Corps captain for eight years, leading teams as large as 300; and Ben, who helped to grow a startup team from 7 to 90 employees while serving as the company's director of data science.
These students are arriving at Kellogg at the same time as our dynamic new dean, Francesca Cornelli, who joins us from London Business School. Francesca truly represents the Kellogg spirit. She's passionate about creativity and new ideas. She brings a global perspective as a native Italian who has taught in India, Russia, the U.K. and the U.S. Her arrival has brought a palpable energy to campus, and I hope you get a chance to attend a Kellogg preview day this fall to meet her firsthand.
As we built our Class of 2021, we looked for students who demonstrated an ability to galvanize a team, who weren't afraid to take risks, and who drove lasting impact for their organizations and communities. We hand selected people who will thrive in our culture, which values high-impact, low-ego leadership, where students are fully engaged and "all in" with their student experience. We sought individuals who share our conviction to make our community stronger and a deeply seeded belief that by collaborating, we can achieve more together than what is possible individually.
I encourage prospective students and applicants to visit campus to experience our distinctive culture firsthand. You'll have the opportunity to sit in on a class, connect with our admissions team, and take a tour of our gorgeous campus overlooking Lake Michigan and the Chicago skyline. And you'll have endless opportunities to connect with current students. You can sign up to visit Kellogg or attend an upcoming event here. I also encourage you to reference our new admissions blog series for tips to set you up for success in the application process
I'm looking forward to digging into the applications for the Class of 2022. We love hearing the incredible stories about our applicants who have already managed to leave their mark and are eager to join our community. We feel very fortunate to hear about your journeys and help you accomplish your long term goals by giving some of you the "golden ticket" to attend Kellogg. I hope to see you on campus for a visit soon!