Start of Main Content
Full-Time MBA Application Series: The Interview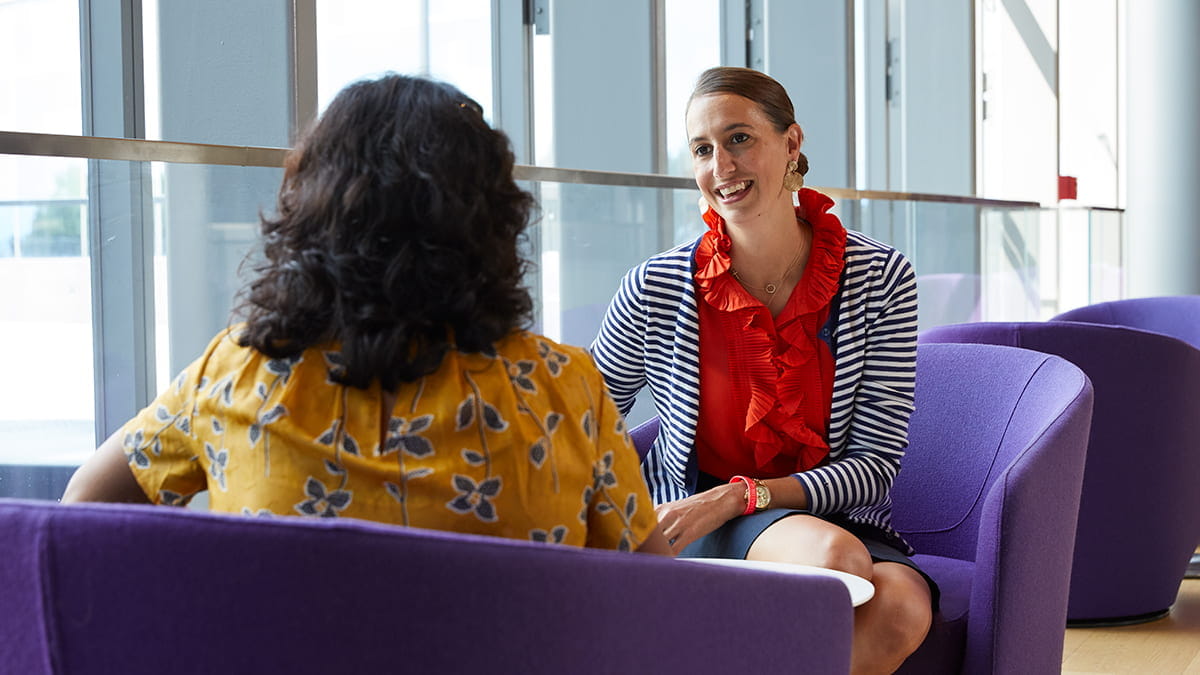 by Christy Heaton, associate director of admissions
My name is Christy Heaton and I focus on the Two-Year MBA and JD-MBA Programs. I appreciate how our students really push themselves to stretch and grow while they are in the program and am constantly inspired by the amazing things they work on and accomplish.
We seek to interview as many applicants as we can. It is important to meet as many of our candidates as possible and give them the opportunity to share their story. Our culture is truly unique, and giving our applicants an opportunity to connect with someone at Kellogg helps maintain that culture and demonstrates the importance of culture in our community.
The MBA interview process
Let's talk a little bit about how the process works. Every applicant is asked in the application if he or she would like to do an on-campus or off-campus interview. It makes NO difference to us which choice our candidates select. Honestly. No difference. It is entirely up to the applicants and what fits best with their schedule. All of the interviews are based on the resume alone, and the person you interview with will not have read your application and they never will.
How to prepare
Now you know how to request your interview, but what is the interview really like? How should you prepare? Our interviews are behavioral-based. So, I would suggest getting familiar with this model of interview if you are not already. Practice good methods to answer these types of questions. (Google the STAR method, for example.) Practice giving your answers to potential questions in this format. I would also suggest thinking through your own story and experiences. Make sure you have a range and variety of stories to share (not just those you wrote about in the essays) from various points in your career. Also, my last tip here: be yourself.  There is a difference between being prepared (lots of examples and stories top of mind to share) and being scripted (repeating a memorized answer that doesn't really address the question asked).
The last thing I want to emphasize is how the interview fits in with the overall evaluation process. The interview is one component of the application; it is important, but it really is just one part. We will look at the interview along with all other parts of the application. Our evaluation process is holistic in nature and there is not one part of any application that makes or breaks it.
My sincere hope for each of you is that the Kellogg interview is one you enjoy! Below, I'll talk about the two format options.
The on-campus interview
Candidates can schedule their on-campus interview as soon as they hit submit on their application.  A few tips/thoughts/things to consider:
If you have a specific date on which you would like to come to campus for your interview, try to submit your application a few days before the actual deadline to make sure you can book a slot on that day. Once a day is booked, it is booked!
On-campus interviews are done with someone like me (an admissions officer) or a student who has gone through extensive training to become a student interviewer. It doesn't matter who you are paired with — all interviews are evaluated in the same way.
We do not hold interviews on Wednesdays.
If you want to combine a campus visit with your interview, make sure you check the campus visit schedule to see what is available.
If you are coming in to interview on Saturday, keep in mind there are no classes in session.
The off-campus interview
Off-campus interviews are assigned by our office and are based on the location preference you indicate in your application. We have an awesomely simple matching tool which matches applicant requests with alumni interviewers based on location. Simple. Now, a few important things to note about alumni interviews:
They can take up to six weeks to assign. This means you may know someone who applied in the same round and received their match within two weeks and you might not hear about your match for six weeks. It takes us time to make all the matches. This is not an indication of the strength of your application, so don't read into the timing of when you receive your assignment!
All of the alumni conducting these interviews are volunteers giving their time to admissions to help keep this process going. It takes a village. So, please remember they are working professionals too and have busy schedules. Try to be accommodating to them (yourself too, but really them) when trying to find a good time and place to meet.
Once you receive your match, it is up to you to contact the alum! Please try to connect with the alum soon after getting your match. Remember, we are interviewing a lot of candidates and the alum you are matched with may be doing more than one interview in that round.
If you haven't heard from us and it has been six weeks, check in. If a match hadn't been made or the communication hasn't been received, let us know and we will sort it out.
There are some places (domestic and international) where the applicant demand exceeds our supply of alumni interviewers. When this happens, or if we don't have an alum where the applicant lives, we waive the interview requirement for that applicant. If this happens to you, know that this is in no way an indication of the strength of the application, nor does it have a negative bearing on your candidacy. It's something you cannot control, and you did what we asked of you in requesting the interview! In cases where we have to waive an interview, we may contact you to schedule an interview via Skype if we need more information.