Start of Main Content
The Frequent Flyer Route to a Top-Tier MBA: a Weekend in the Life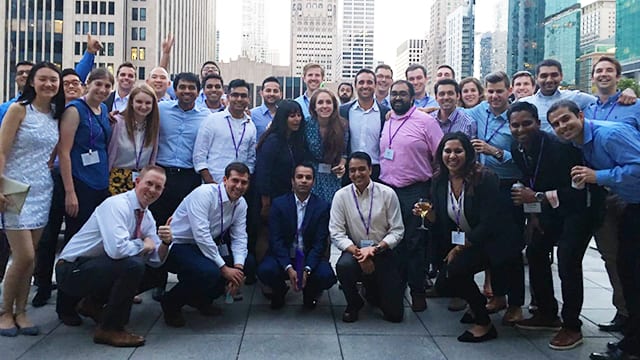 by Todd Dorsey, E&W 2020
I take a plane to class each and every weekend. Yes, you read that correctly: I fly up to Chicago from Kansas City and back almost every weekend of the year. Unsurprisingly, it's sometimes difficult for people to understand this decision, but Kellogg is 100 percent worth it. Let me tell you why.
Courting Kellogg
I first met the Kellogg admissions staff at a Houston-based dinner. (My wife, new baby and I lived in Houston at the time when I was first beginning the application process.) It was at this dinner that I had the opportunity to visit with a few alumni and current students, and received some much needed face time with a member of the admissions team. (AKA one of the decision makers for my application, and a person who quite literally held my future in their hands.) Now, this next part is especially relevant and practical, so take note: I stayed in touch with those I met, continued to reach out with questions, and slowly (but surely) built a relationship with people who would later advocate for me becoming a member of the amazing Kellogg community.
Kellogg was the school for me. I was confident and certain. How did I know? Two words: Preview Day. Kellogg Preview Day is hands down the best way to get a one day, all access pass to truly understand and feel what a Kellogg MBA is like. After Preview Day, I was sold! I left knowing I was going to Kellogg, if I was accepted. I was able to experience and feel all of the amazing things I had heard about Kellogg. All the major factors of what make Kellogg well, Kellogg, were felt in a very tangible way via a class visit, Q&A with a panel of current students, breakfast, lunch & dinner with students in various parts of the program, hearing from the Career Management Services team and learning about the Kellogg Leadership Journey.
My "aha" moment (Is an out-of-state MBA right for you?)
Flying to school may be unconventional, but for me and for so many others, it is the perfect fit. A few years back, I was at a Starbucks when I noticed another young professional spending his Saturday morning studying for the GMAT, just like me. (I wonder how many good stories begin with the words, "I was at a Starbucks when….." I digress.) Recognizing that we were in the same boat, I went over to strike up a conversation. We were both using every spare hour for studying when we weren't working or sleeping. After a few minutes of getting to know each other, he shared his plan: he was going to earn an MBA by flying to school on the weekends. I was intrigued, and started to investigate Kellogg's weekend program. This encounter was a turning point for me: It was the moment when I first recognized the opportunity to attend Kellogg while maintaining my career, and without relocating my family.
A weekend in the life of a part-time MBA student at Kellogg
Most often, weekend students who travel in from outside of the Chicago area take two classes per quarter. In some quarters I have taken two classes, and in others I have taken three. In order to equip you with insights about the most common scenario, I'm going to take you through a weekend in the life when I was taking just two classes.
Friday:
Flying in — I typically fly into Chicago early Friday evening, furiously reading the final pages of assigned case studies.
Networking over dinner, followed by more studying — After landing and grabbing an Uber to the downtown area, I try to grab dinner and drinks with a few classmates, then stay up fairly late contributing to group projects, completing assignments or reading materials to prep for class on Saturday.
Saturday: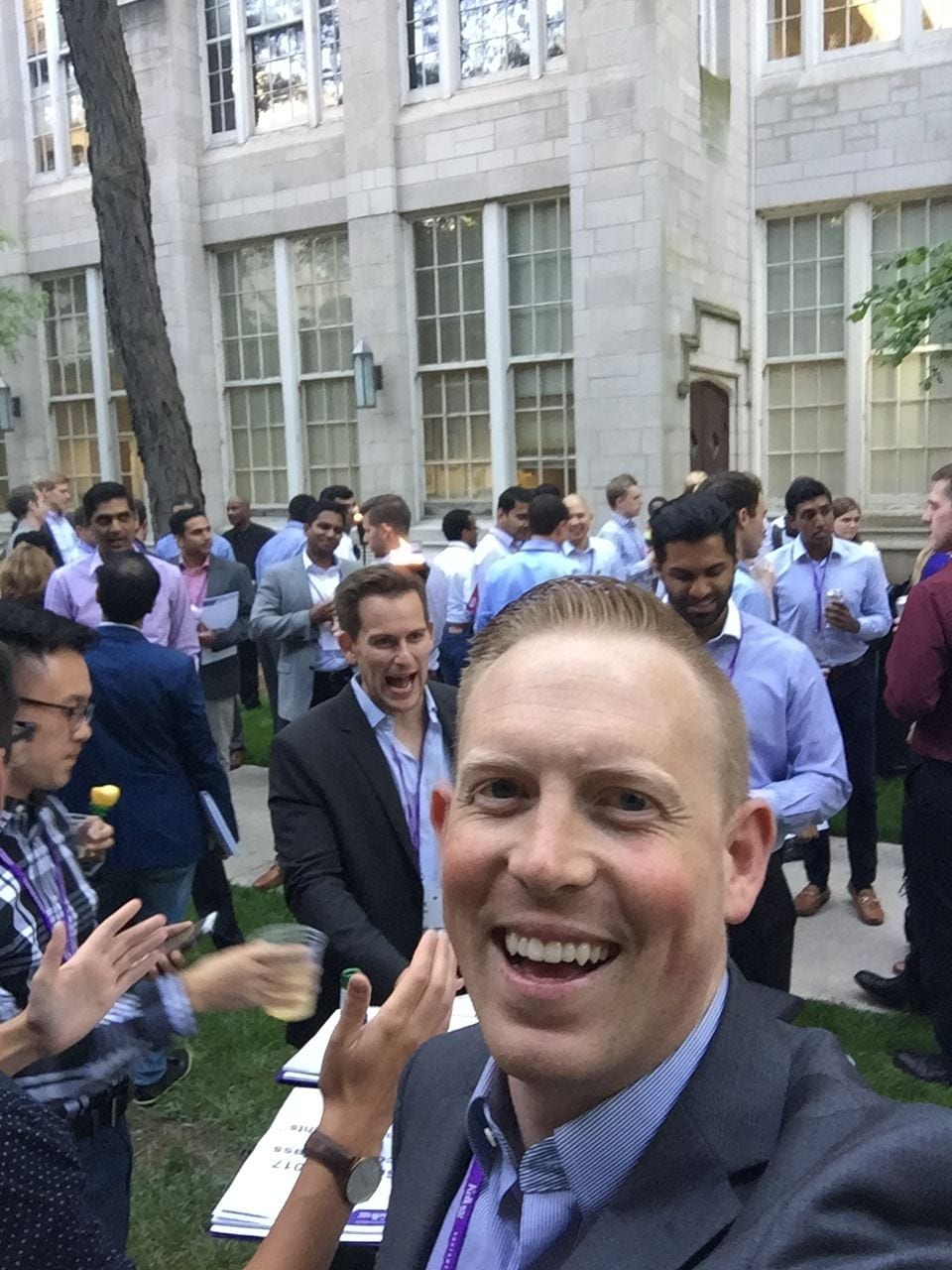 Breakfast followed by class #1 — Saturday starts off with breakfast and coffee at the business school with classmates. This time is referred to as Kellogg Table, and is designed for us students who typically only see each other once a week to share a meal, catch up and build community with our fellow classmates. From there, it's off to class from 9 a.m. to 12 p.m. with a (very welcome) 15-minute break around the halfway mark.
Lunch accompanied by club events/speakers — Lunch is most often on campus with other students, or during a speaker or club event. With so many great clubs (Marketing Club, Tech Club, Entrepreneurship & Venture Capital Club, etc.) bringing value by way of guest speakers, working sessions, strategy meetings and discussions with impressive alumni, there is always something interesting to do with your lunch break. If you'd prefer to just grab a bite with a few of your close friends or polish up the last part of a group assignment, you can always do that during this time as well.
Class #2 — Typically, a second round of coffee is needed by now. Class goes from 1:30 p.m. until 4:30 p.m. with a 15-minute break in the middle, and then it's time to head over to a nearby bar or restaurant for more networking with classmates. This post-class networking opportunity is sometimes replaced by the occasional offsite social at some rooftop bar or swanky restaurant.
Traveling home — After a couple drinks and a few laughs, most folks catch an Uber to the airport to head back to their home city. We'll often share an Uber and keep the conversation going, but other times we ride solo. By this time, most of us are fried and ready to veg out to some Netflix on the flight home. Others, and I mean the rare few, begin work on the upcoming week's assignments and homework as they travel home.
During the work week:
During the week, I typically have one or two team conference calls where we discuss how we want to approach a group project, or have a remote group working session. The time investment during the week can vary and depends on the difficulty of the class, what's due in the coming days and how much reading is assigned.
Support from my "joint venture"
When I say I married up, I mean it. My wife is the most giving, supportive and loving person I know, and without her, I could not be gone so often and would not be able to succeed in my weekend MBA like I have. We have two young children: Zane is just over 2 years of age and Wyatt is 11 months old. If you ask me, she and I are both going to Kellogg together. She helps take care of the things that I used to have time for but currently do not, she makes sure I'm on top of my school priorities when life gets busy, and she even likes to talk through course material when a class is of interest to her. She is also an entrepreneur, and amazes me with how she works to care for our sons while building and growing our business. The takeaway: Don't underestimate the importance of earning the buy-in and support of your partner.
Kellogg is worth the travel
One of my favorite things about Kellogg has been the unobstructed ability to pick the classes in which I am most interested. This flexibility has given me the opportunity to strategically select classes that not only fulfill degree requirements, but, more importantly, enable me to extract a great deal of value and actionable, relevant information.
The entrepreneurship course offerings at Kellogg are top-notch and have done much to inform the creation of the business that my wife and I launched during my time as a student. Our business, ProACTIVE Pregnancy Fitness, was born from my wife's dissatisfaction with portions of her prenatal and postpartum care, and she set out to improve the lives of other mothers-to-be by using physical activity to help women equip their bodies and minds for wonderful births and impressive postpartum comebacks. With the help of professors, classmates and the entrepreneurship community at Kellogg, my wife and I have been able to make significant progress, from building landing pages and harnessing the power of Google Analytics, to understanding how to conduct customer interviews and iterating on our service offering based on customers that fall into our target market.
The Kellogg journey has been life-changing in the best way, and I don't want it to end! Thankfully, many facets of my time at Kellogg will continue on as I stay in touch and collaborate with classmates and draw upon the skills and experiences that a top-tier MBA provides.