Start of Main Content
Recapping the EMBA TechVenture Elective in India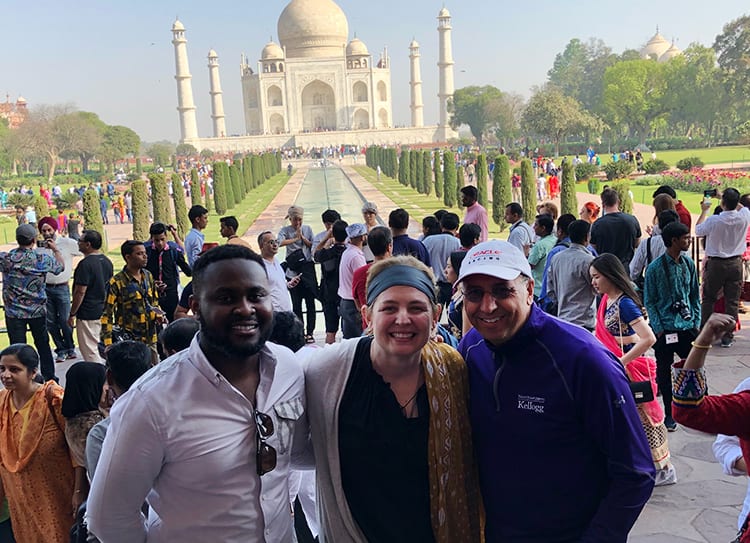 by Julie Weber Ugarte, EMBA 2018
When I first heard about Kellogg's Executive MBA's global network, I was, admittedly, skeptical. While I was certain of Kellogg's academic rigor and talented professors, having lived abroad on more than one occasion and having built a personal international network, I was very interested but not entirely sure how that global network could be cultivated in my time at Kellogg. Fast forward a year from starting the program, and by the time I arrived at my first international elective in technology in Tel Aviv, Israel, I was hugging friends – not tentatively shaking the hands of new colleagues. The Kellogg global network is a reality and something I will value for a lifetime.
Hoping to have two electives in the tech arena, my second international elective was, fortunately, TechVenture India. As one of the non-engineers in the group, but someone who wanted deeper knowledge in technology innovations, I needed to quickly learn the vernacular around advancements in artificial intelligence and blockchain. The paper due following the elective would include both primary and secondary research, so interviews on the ground in India would be critical.
We started our elective with a weekend on the Evanston campus with presentations from Professor Mohanbir Sawhney and a number of experts, along with live webcasts with companies in India. Not entirely sure what the actual trip experience would be, I was just open to the adventure. As I thought about international markets, and specifically emerging markets, I knew there were vast opportunities in a country like India, which has a domestic market population of 1.3 billion people and is poised for change in part through technological advancements. An outstanding adventure would be understating it!  The trip began in Delhi meeting with companies such as Axtria and EXL and IIT's Department of Management Studies, Medanta Hospital, and Delhivery. In the startup tech hub of Bangalore, we met with everyone from Amazon and Infosys to a venture capital group to startups such as Medi Assist, DocsApp and BYJU'S, just to name a few. Our one-on-one meetings were equally engaging and anytime Kellogg could help connect us with an alum or personal connection, they did.
From Professor Sawhney's opening doors to alumni, friends and colleagues for our meetings to Colette Feldges' – the director of the Executive MBA Program – coordinating with such flexibility each day's details and events, the results spoke for themselves. The meetings had been tailored for our visit and were filled with insightful, expert content relevant to our topic areas. We were immediately immersed in business technology in an emerging market, learning both about fast-advancing products and services and the hurdles in bringing those to market, not stumbling to figure out how to navigate as tourists. Coming back to the U.S. and following advancements in the Indian market and mergers and acquisitions there, I could put a face to the business transactions at hand and had a firm grasp of not only the technology but also of the socioeconomic and political landscapes that impacted those business steps.
A trip to visit Akshaya Patra Foundation's mega kitchens, tours of the Taj Mahal and Red Fort and an early morning of reflection in a Sikh Temple added richness to our experience. Once again, the Global Network had expanded through this life-changing elective, not only through deepening my friendships with Kellogg students from four cohorts and Kellogg alumni, but also creating new connections to business leaders and entrepreneurial change agents. Thank you Kellogg!