Start of Main Content
Checking in with the Kellogg Admissions Team Around the Globe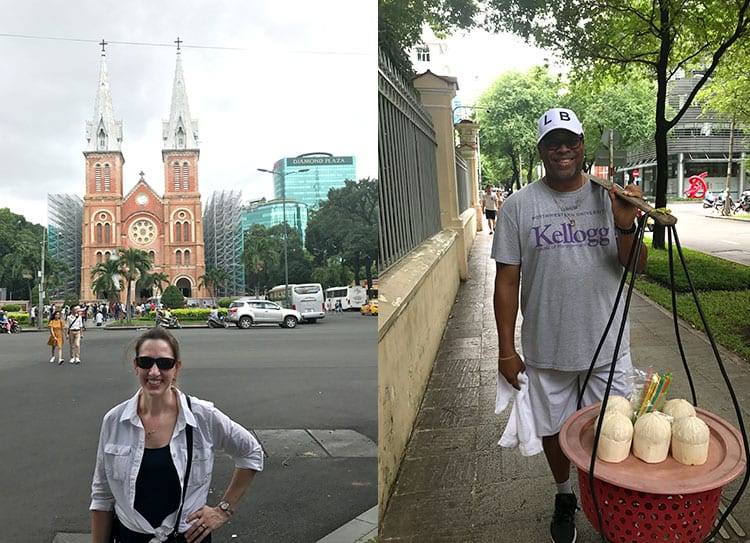 by the Kellogg Admissions Team
This summer, the Kellogg Admissions Team is hitting the road to host admissions events and information sessions in several continents. In this post, we're checking in with some of our team members to share highlights from their trips. 
I had the pleasure of visiting Santiago, Chile this summer on behalf of Kellogg. While I was in Latin America, my colleague, Chris, and I did a lot of sight-seeing at the bicentennial park and we visited the tallest building on the continent, Sky Costanera. In addition to soaking up the Chilean sights and culture, I met so many amazing prospective students and alumni through our information sessions and visits to local companies, Matrix Consulting and SummaPartners. Both firms have numerous Kellogg alumni that work there, and it was incredible to see how they infused the Kellogg culture into the organizations for which they work. Both firms had a strong emphasis on creating impact, not only with the client-based work they do, but also within the firms and in the broader Santiago community. It is clear that the high-impact, low-ego culture is something that resonates with individuals long after they are students at Kellogg.
Emily Stevens
Assistant Director of Admissions
***
Being an admissions officer is sometimes an unusual job. For a significant part of the year, our team is out on the road meeting prospective students and showcasing all of the things that make Kellogg a unique and special place. The other part of the year, we're reading and evaluating applications. We get many airline miles in a compressed timeline during our time on the road, and a lot of wear out of our comfy clothes while evaluating applications.
Right now, our team is at the time of year when we are on a plane quite often. I hit the road two weeks ago for my fifth recruiting season with Kellogg, meeting more than 400 prospective students in Silicon Valley, San Francisco, Washington, D.C. and New York City.
There are lots of things I really love about doing these sessions, but I'll share two. First, our alumni are amazing. No matter where in the world we are, they're always incredibly generous with their time, helping us with sessions and sharing their Kellogg stories. Last week, we had 175 attendees at our New York session, resulting in the biggest domestic information session we've EVER held, and they stayed until we turned off the lights to answer questions. Second, I love meeting applicants from all around the world with varying interests. It's amazing to meet terrific applicants and feel like they're a perfect fit for Kellogg, and then a few short months later celebrate their admission at Day at Kellogg, our admitted-student weekend. Celebrating those wins is a highlight of my job! Looking forward to meeting you out on the road this summer!
Andrea Calderon
Associate Director of Admissions
***
Greetings from Southeast Asia! Director of Diversity Lance Bennett and I were fortunate to kick off our trip in beautiful Ho Chi Minh City. It was our first time, as well as Kellogg admissions' first time, in Vietnam, and we were keen to experience as much as we could. Often when we travel on these admissions trips, we move quickly from city to city and don't always get a chance to see as much of the area as we would like. However, with our first info session on a Monday night, we were able to arrive in HCMC on Friday night and spend the weekend exploring. We saw the beautiful architecture of the Central Post Office and Notre Dame Cathedral, learned more about Vietnam's history through a Cirque-inspired performance at the Opera House and by touring the Reunification Palace and the War Remnants Museum, ate some delicious pho, bargained our way through the Ben Thanh Market and shopped at local stores for some keepsakes to take home with us. We enjoyed seeing the city, meeting so many friendly people and learning how to properly cross a sea of motorbikes!
We then hosted an information session where we welcomed talented prospective students along with our wonderful alumni, who shared their experiences at Kellogg and beyond so that the prospective students could picture not only how Kellogg can help them achieve their academic and career goals but also what that experience in Evanston would look like. Following Vietnam, we headed to Singapore, Hong Kong and Taiwan. To the attendees at all of our sessions, we enjoyed meeting you and look forward to hearing from you throughout your application journey. Thank you for a great trip throughout Southeast Asia!
Christine Mayer
Director of Admissions, Two-Year MBA Program