Start of Main Content
Blog
Constructing brighter futures to win the 2016 Forté Power Pitch competition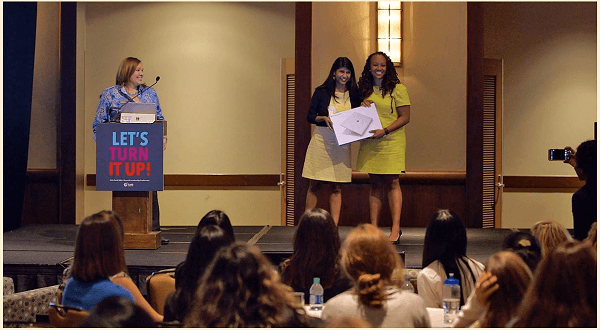 By Tiffany Smith
OrangePrint is a social venture focused on matching returning citizens (formerly incarcerated men and women) with skilled labor and construction jobs via a web-based platform. The inspiration behind the company came from our work during the Social Venture Hub and Hult Prize pitch competitions that took place in Fall 2015.
OrangePrint ultimately came to fruition when my co-founder Drew Dilts and I realized that we could combine our mutual interest in restorative social justice with my previous construction management experience to provide opportunities for those who wish to change for the better after paying their debt to society.
The current post-incarceration release system does not provide sufficient rehabilitative support for men and women who wish to jumpstart their return to society. OrangePrint seeks to solve this problem by connecting high-potential returning citizens with construction companies in need of talent.
At the beginning of Spring 2016, I heard about the Forté Power Pitch – a competition where women-led teams present business ideas conceived and developed as part of the business school experience – from my classmate and friend Charity Hemphill-Frierson '17. I decided to enter OrangePrint in the competition, and after doing so, we added Preeti Shekar '17 and Tom Sanford (McCormick 16) to our team as we continued to develop our startup during Linda Darragh's New Venture Development course.
During the course, we were introduced to several key topics that helped us refine our business model: determining stakeholders in our two-sided market, calculating customer acquisition costs and identifying the potential hurdles we would face as burgeoning entrepreneurs. The class was a great step in the right direction after our team spent months independently conducting research and building out our offering.
The requirements for the Forté Power Pitch competition included a business plan, pitch deck and a two-minute video pitch on our venture, along with having women comprise at least 50 percent of our team. After submitting our application, we were notified that we made it to the final pitch competition that would take place at The University of Texas at Austin on June 18. It was an exciting email to receive after working countless hours on our application and developing a business plan.
As a for-profit social venture, I knew that OrangePrint was a unique contender within the pool of candidates. Making it to the final round was both reassuring and encouraging, and it let our team know that we were on the right path.
For the final pitch competition, we were required to submit a revised pitch deck and executive summary for the judges to review prior to the competition. During this revision stage, the real work began as Preeti and I spent several nights updating, revising and perfecting old versions of our pitch deck in anticipation of the major presentation. This would be the first time that OrangePrint would be presented outside of the immediate Kellogg and Northwestern University networks, so we wanted to provide a well-refined deck.
The Kellogg community was instrumental in preparing for the competition. I presented mock pitches to my Kellogg friends and classmates, and I also received counsel from Megan Kashner, Director of Social Impact at Kellogg, and Linda Darragh, Executive Director of the Kellogg Innovation & Entrepreneurship Initiative. Their advice was invaluable — many of the judges complimented us on the thoroughness of our presentation and the delivery of the content.
On the day of the pitch competition, teams had the opportunity to network with the judges and consultants, which included the founder of a venture capital firm, the executive director of the UCLA Anderson Price Center for Entrepreneurship & Innovation, a partner with Andreessen Horowitz, a product marketing manager for Microsoft Surface and more. The competing teams and impressive ventures came from Harvard, Yale and Vanderbilt. It was an intimidating yet grounding moment to realize that OrangePrint had made it this far among such a talented group of competitors.
After the meeting, I went back to the preparation room and took a moment to breathe and visualize what the experience would be like on stage. I found solace in knowing that even if our team didn't win, I would have the opportunity to share the OrangePrint's work and educate the audience about a very real and pressing social issue.
I presented our slides and left everything on the stage. After the presentation, many audience members grabbed me to share their thoughts, both good and bad, on OrangePrint's concept and how it inspired them to want to learn more about the U.S. prison system and its shortcomings. This alone made the experience worthwhile as I continued to network with a room of full of B-School women.
In the end, I am proud to say that team OrangePrint won the Forté Power Pitch competition, taking home both the audience choice award ($2,500) and judges' selection ($7,500 and a Microsoft Surface Pro). It was a humbling moment as I realized that what we were doing was the right thing and that people understood and supported our cause.
The Forté Power Pitch has been by far one of the most exhilarating and rewarding experiences I have had since beginning my journey at Kellogg. I attribute the success of OrangePrint to the hard work done by our team, our relentless pursuit of bringing pressing issues to the forefront of business leaders' minds and the resources provided by Kellogg. This experience taught me that when passion, purpose and knowledge align, you can truly inspire change.
Tiffany Smith is a second-year student in Kellogg's Full-Time Two-Year Program and CEO/Co-Founder of OrangePrint LLC. She is the 2016-2017 president of the Social Venture HUB, VP of alumni relations for the Black Management Association and is actively involved in social impact efforts within the Kellogg community. Prior to Kellogg, Tiffany worked in the construction management and engineering consulting industry. She received her Bachelors of Architecture from Howard University.