Start of Main Content
MMM, 2Y students take second in Haas Tech Challenge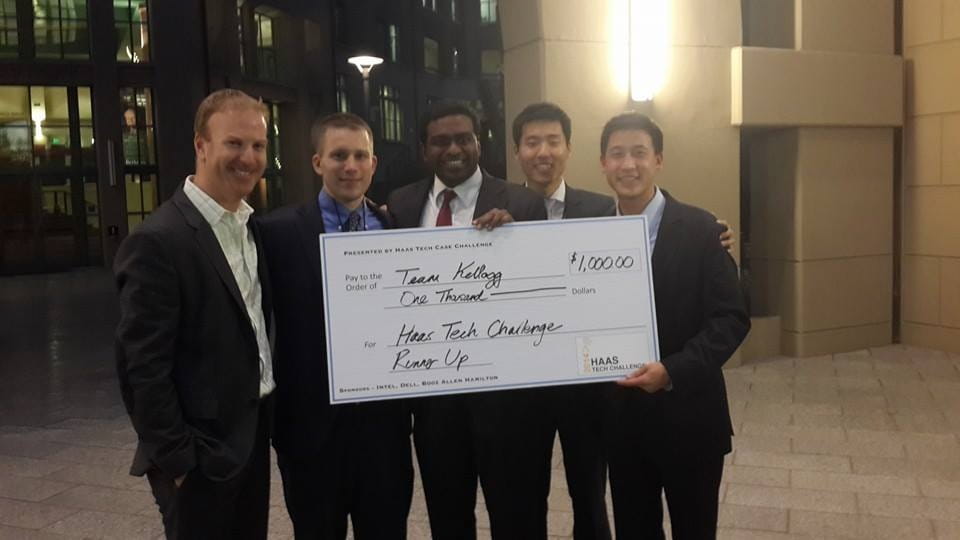 A team of four Kellogg students won second place in UC Berkeley's 2014 Haas Tech Challenge in November. In addition to the award, the team members were excited to learn that one of the challenge's industry professional judges was a MMM alum.
MMM students David Ufford and Justin Saeheng teamed with Two-Year students Adithya Mohanakrishnan and Daniel Jung for the competition. team.
The 2014 challenge case topic was the cross-section of the "Internet of Things (IoT)" and "Smart Cities;" the students explored how new technologies can be used to bring improvements to the daily lives of millions.
"This year's topic was particularly interesting to us and has been the subject of a lot of recent buzz," Saeheng said. He added that the team's tech background and experience from MMM aligned well with this year's challenge.
The Haas Tech Challenge is a case competition run by UC Berkeley Haas Technology Club. Competing teams are afforded the opportunity to solve real-world business challenges, gain hands-on experience in the technology industry, and network with industry professionals and student peers.
Eight teams were selected to compete out of more than 30 from the country's top business schools. Selected teams were fully briefed on the case the morning of Nov. 7 and had until 12 a.m. on Nov. 8 to submit a presentation with the team's response, as well as an executive summary of the team's case findings.
A MMM CONNECTION
One of the competition's judges, Nir Maor '12, is a MMM alum. He currently works as the Director of Market Development for Intel's Internet of Things Strategy and Technology Office.
Maor was very familiar with this year's topic and why it is a great space for growth.
"The IoT landscape includes many connected 'systems of systems'," Maor explained, "which presents market development challenges in engaging rapidly growing, yet fragmented ecosystems of developers and equipment manufacturers."
Maor said other market development challenges included combinations of vertical and horizontal solution architectures, and newly formed standard bodies. The MMM program helped shaped the way he approaches these challenges, he said.
"To be a successful leader in this type of environment," Maor said, "I need to constantly balance between driving innovation and driving scale, which is the MMM sweet spot."
With more than a decade in the tech industry, Maor said he observed gaps between engineering and marketing, innovation and scale, and strategy and execution. He said these gaps are symptoms of a "lacking 'end-to-end' mindset in organizations," which in turn holds companies back from moving forward quickly.
Maor's awareness of these gaps and his desire to help close them is what initially drew him to the MMM program. Although he considered other schools, he found MMM's curriculum most aligned with the skills he sought.
"What I found more compelling about MMM," Maor said, "was the focus on the intersection between possibility-based design thinking and analytical-based process thinking."
He added that MMM taught him to address high-ambiguity problems with a validated learning approach. "Start from the end-user and go back from there," he said. "Ideate, prototype, test in the real market, and adapt based on customer reactions."
Maor said the skills he gained from MMM along with the program's strong relationship with technology recruiters helped make him a successful leader in the tech environment today.
Saeheng also attributed much of his team's success in the Haas Tech Challenge to MMM's curriculum.
"This case had a great deal of designing a thoughtful solution in a space of technology and innovation," Saeheng said. "This is right at the crux of MMM … and we were able to lay out a methodical approach to tackling the case right away."
Saeheng said opportunities like the Haas Tech Challenge give students the chance to "take a breather from the school work and remember that it's theory + application."