Start of Main Content
Why I Chose Kellogg: Bowie Cheung '14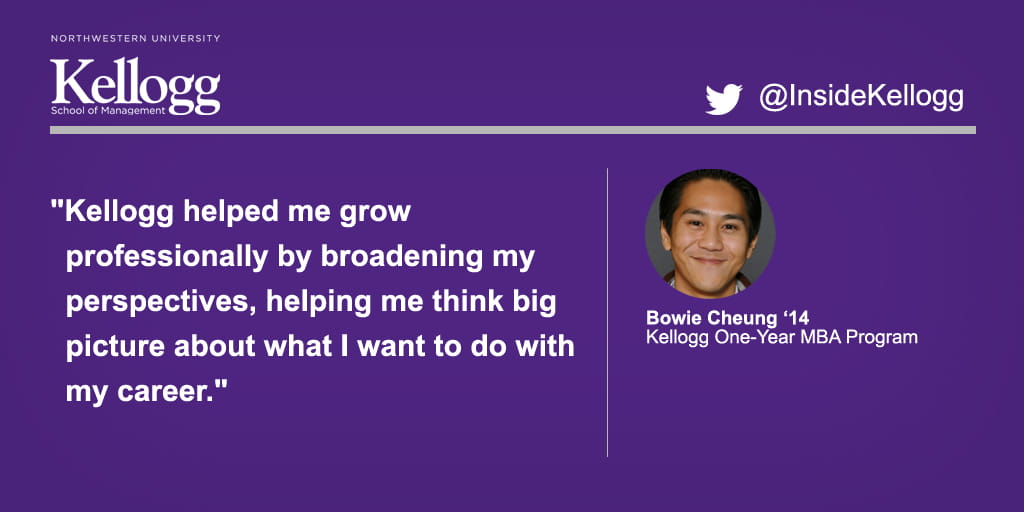 ABOUT THE ONE-YEAR PROGRAM
Our One-Year MBA Program is your fastest path to a Kellogg MBA. It is designed to build upon your business fundamentals and get you back in the workforce with new skills and knowledge that will propel your career forward. From June to June, you'll immerse yourself in the rigorous curriculum, learn from world-class faculty and build leadership experience and a supportive network that will help you immediately and throughout your career.
Now in its 50th year, Kellogg's One-Year MBA Program was one of the first programs of its kind in the country. Unlike other programs, our One-Year MBA allows you to bypass core classes and immediate dive into advanced studies that are customized to your career goals and set you apart from the competition. At the same time, you still will be able to take advantage of the vast experiential learning opportunities; world-renowned faculty and distinct cross-disciplinary thought leadership model that makes Kellogg stand out.
Learn more about the One-Year MBA Program.