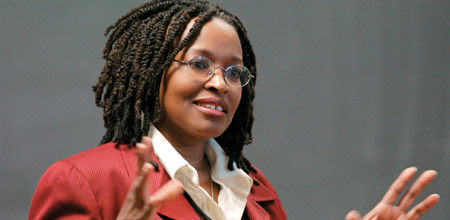 © Nathan Mandell
Wendy Lewis '95 makes a point during her BMA conference keynote. Lewis is vice president of strategic planning for Major League Baseball.
Black Management Association conference finds 'winning combination'
The Kellogg School's Black Management Association (BMA) held its 16th annual conference April 11 to 13. This year's conference theme, "Self, Family, Community, Career: Striving for a Winning Combination," was inspired by the need for business professionals to maintain a balanced lifestyle in today's world.
Co-hosted by the Evening Black Management Association at The Managers' Program, the conference represented the first student-run Kellogg event coordinated jointly by clubs in the full-time and part-time MBA programs.
The conference's opening day offered alumni an update on the state of Kellogg, it concluded with Alumni Reunion Night, an event that allowed Kellogg School alums, students and admitted students to network and share Kellogg stories and experiences.
Highlights of the second day of the conference included dynamic keynote speakers, timely workshops and the BMA's second annual High School Business Plan Competition. Morning keynote speaker Wendy Lewis '95 discussed how she balances her personal life given the demands of her role as a vice president for Major League Baseball. Workshops throughout the day explored topics such as creating opportunities for self-employment and entrepreneurship, honing negotiation skills, financial planning, stress management, successful mentoring and launching a career that leads to becoming a CEO.