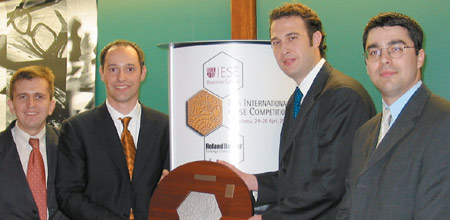 © Nathan Mandell
The Kellogg School's winning student team in the International MBA Case Competition accepts its trophy in Barcelona on April 26. The team consisted of, from left, Arlindo Eira Filho '04, Attila Toth '03, Alberto Spangaro '04 and Paolo Cuomo '03.
Kellogg School students take first place in international case competition
Battling intense competition from other top business schools, Kellogg School students drew on their thought leadership skills to win first place at the International MBA Case Competition, held April 24 to 26 at IESE Business School in Barcelona, Spain.
Members of the winning Kellogg team included Attila Toth and Paolo Cuomo (both '03) and Alberto Spangaro and Arlindo Eira Filho (both '04). All are members of the Kellogg Consulting Club or its European Business Club.
Toth said the physically and mentally exhausting competition served as a nice "capstone course" to his Kellogg career.
The rigorous three-day competition involved assessing the financial viability and quantifying the developmental impact of a proposed investment in a rural Vietnamese sugar mill.
The case presented a number of challenging issues, ranging from the investor's mission to help developing nations, to the impact of the project on neighboring countries and local farmers.
Using macroeconomic information and other financial data, students developed their analyses over two days, preparing a written and oral presentation for a panel of judges that included professors from leading business schools and professionals from Roland Berger Strategy Consultants, which sponsored the competition.
In addition to the Kellogg School, competing MBA programs included Barcelona-based IESE, London Business School, Rotterdam School of Management, SDA Bocconi, University of Chicago GSB, Columbia Business School, Ivey School of Business and MIT Sloan School of Management.
"The judges wanted us to take a firm stand and be able to substantiate it with a thorough analysis," Toth said.
— KR