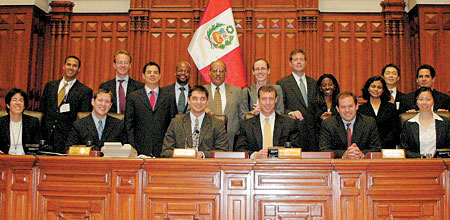 Students visit the Peruvian National Congress during the GIM trip to the South American country.
From war to SARS, Kellogg students tackle global challenges along with GIM trips and research projects
With a deadly virus and the start of Middle East strife complicating travel, this year's Kellogg School Global Initiatives in Management (GIM) course proved an opportunity to exercise leadership and management skills for students and faculty advisers who set off on the annual academic adventure.
With the threat of an Iraq war, as well as mounting fears about a little-known respiratory illness called SARS (Severe Acute Respiratory Syndrome), this year's group of about 220 participants learned a new skill: crisis management while on the move.
"The GIM course always requires great coordination from a number of people," said Professor Mark Finn, the GIM program director who led a trip to India. "But this year's trips demanded extraordinary effort from Kellogg School faculty, students and staff to meet the challenges presented by world events."
| | |
| --- | --- |
| | |
| Kellogg School students on a GIM trip to China gather outside the Shanghai Stock Exchange. | |
| | |
Each year, as many as two-thirds of all Kellogg students spend 10 weeks studying and designing real-world research projects, then jet off to countries around the globe for two weeks of intensive project research. Once at their destinations, students meet with government and business leaders to learn about topics ranging from socially responsible business practices in Brazil to entry strategies for multinational firms in China.
As this year's GIM participants carried out their international research agendas, faculty and staff back at Kellogg juggled information from the U.S. State Department, World Health Organization and Centers for Disease Control (CDC) to evaluate the actual risk to students traveling abroad.
A trip to Vietnam had to be rerouted after the CDC and State Department urged U.S. citizens not to travel to Hanoi because of the SARS outbreak. Similarly, concern over SARS also prevented a planned stop in Hong Kong for a group of full-time students visiting China and led to cancellation of an Executive Master's Program trip to Shanghai, Hong Kong and Bangkok.
But students on the rerouted trips didn't let itinerary changes get in the way of their research — or experiencing a new culture. "The trip actually turned out to be much better than anyone originally expected," said first-year student Daniel Garcia, who traveled with the Vietnam and Cambodia trip. "We experienced greater unity because of the situation."
— KR