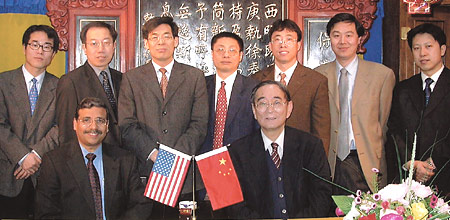 Kellogg School Dean Dipak C. Jain, seated left, and Guanghua Dean Li Yining, seated right, gather with members of the Guanghua faculty at a signing ceremony that formalized the partnership agreement between the two schools.
Kellogg, top China B-school ink partnership agreement
The Kellogg School of Management and China's top-ranked Guanghua School of Management (GSM) at Peking University announced this spring they will collaborate on several initiatives designed to enhance the curricula of both schools.
The three-year partnership, signed by Kellogg School Dean Dipak C. Jain and Li Yining, dean of the Guanghua School of Management, outlines a plan to establish MBA student and faculty exchange programs at the two campuses.
The agreement also calls for the two schools to create joint executive development programs.
Said Dean Jain: "We are very pleased with this important new partnership that further enhances the Kellogg School global brand by sharing our thought leadership with peers at one of the best business schools in China."
With a total enrollment of more than 3,000 students, GSM is one of China's top business schools. GSM faculty have played key roles in formulating Chinese business policy and reform.