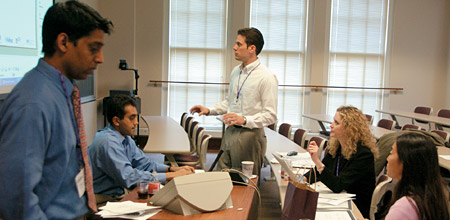 © Nathan Mandell
Part-time students from five B-schools form teams that integrated representatives from each school during an April case competition at Kellogg. From left to right: Deepak Pillai, University of Illinois at Chicago; Sanjay Raghu,University of Chicago; Dan Kurcz, DePaul University; Anne-Marie Lewis, Loyola University; Jennifer Tan, Kellogg School of Management.
Kellogg part-time program hosts multischool marketing competition
At the first-ever marketing competition for part-time MBA students from five Chicago-area schools, senior executives from Motorola presented a knotty case study on how the company might best position itself in the highly competitive market for converged voice and data devices — and pondered whether the company should invest in the space at all.
The five teams — each made up of part-time students from Kellogg, the University of Chicago, DePaul University, Loyola University and the University of Illinois at Chicago — met for the first time for five nerve-wracking hours to discuss the case.
They presented their findings to a nine-member panel of judges, which grilled the teams on their findings.
Kellogg School Dean Dipak C. Jain praised the students, saying, "They have full-time jobs, families, and they still seek to fulfill their professional dreams through education at night."
By mixing students on each team from among all participating schools, the competition avoided being a "beauty contest," resembling instead a real-life work environment, Dean Jain said.
Senior Motorola executives were equally pleased.
"It gave us a chance to see some of the brightest talent in the business marketplace," said Fred Harburg, chief learning officer and president of Motorola University.
The Managers' Program (TMP) is the Kellogg School's curriculum for working professionals. The TMP Marketing Club coordinated the event.
"Combining the teams with one person from each school worked as we had hoped in creating networking opportunities with other students from all the schools," said Dan Karnatz, TMP Marketing Club president. "At the end of the evening, they were exchanging emails and phone numbers."
Karnatz praised the assistance of Kellogg School Professor Albert Isenman, as well as other TMP Marketing club members.
— Daniel Cattau