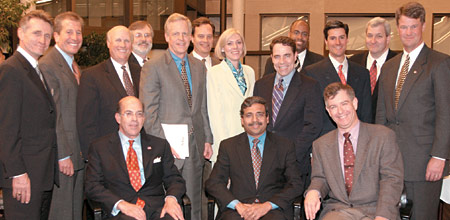 © Nathan Mandell
Alumni and friends of the Kellogg School were honored in May for their exceptional service to Kellogg. The nine recipients were joined by Dean Dipak C. Jain, seated center, faculty, staff and Kellogg board members for a commemorative photo.
Kellogg School awards recognize effort of its alumni and friends
Annual dinner ceremony convenes dedicated Kellogg supporters
Most Kellogg alumni remain connected with the Kellogg School long after graduation. Some of these graduates demonstrate extraordinary passion and commitment, giving their time, energy and expertise to ensure Kellogg remains in the top echelon.
To recognize the efforts of these alums and other friends, the Kellogg School hosts the annual Alumni Awards dinner. This year, the awards were held May 8 in the James L. Allen Center.
Kellogg bestows three major recognitions: the Schaffner Award, the Alumni Service Award, and Friends of Kellogg School of Management Award. Each acknowledges excellence and loyal service to Kellogg.
Nine alumni and non-alumni were selected this year to receive awards.
Said Sue Kiner '86, leader of the Kellogg United Kingdom alumni club: "Kellogg makes it a pleasure to give back. Alumni are included as an active part of the school's vision, and that's very strong motivation for involvement." Kiner, sole proprietor of Kiner Communications, was among the four Alumni Service Award recipients this year.
For John Fischer '90, one of three Schaffner recipients, "it was extremely humbling to be part of a group that has significantly impacted Kellogg."
Fischer said he was "enormously grateful" for the opportunity to attend Kellogg and believes all alumni have a responsibility to support the school and help maintain its excellence.
"As alumni, we must help build the cornerstones that make Kellogg great by broadening and deepening the number and involvement of all its stakeholders," said Fischer, chairman and CEO of Colorado-based Air Control Science Inc.
Fellow alum Larry Levy '67 has been another strong Kellogg advocate. The entrepreneurial leader said he was honored to receive one of this year's Schaffner Awards.
"When I did my MBA at Northwestern University, I had no idea that Kellogg would go on to become the No. 1 business school in the world," said Levy, chairman and CEO of Chicago-based Levy Restaurants and the Levy Organization. "I'm so grateful to Dean Jaiõ and Dean Jacobs for bringing Kellogg to its current glory. The least I could do is give back by doing something at which I'm good — entrepreneurship."
— Matt Golosinski