Start of Main Content
People
Sammy Goldstein '22
Two-Year MBA
Poker and business school may not seem like a natural pairing, but it's one of the reasons why Sammy Goldstein feels she's more prepared than ever to make an impact.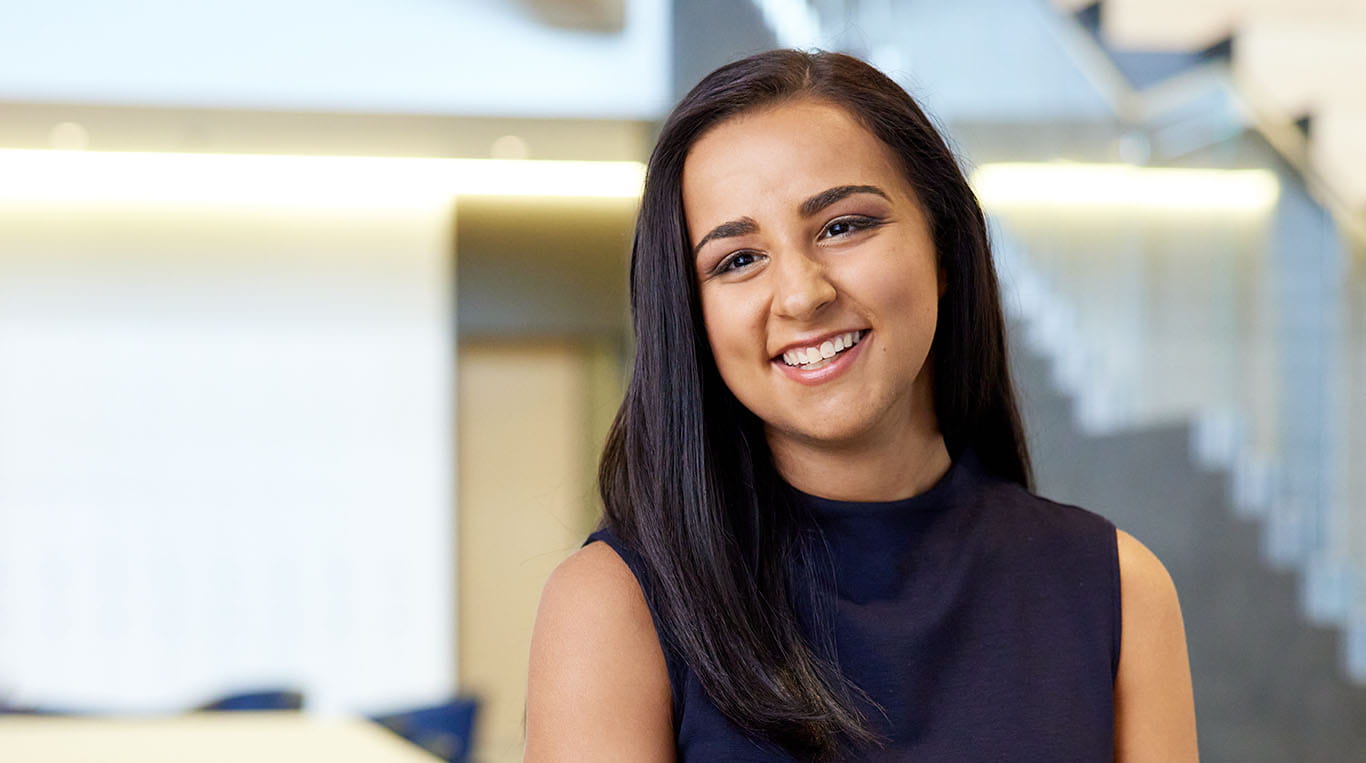 As Sammy Goldstein put together her team to run for Kellogg Student Association (KSA) president, she knew there were things she didn't know.
"I wanted to put together an incredibly diverse team," she says. "Not for the sake of checking boxes, but I knew that there would be so many perspectives I couldn't cover on my own."
Rather than run as an individual candidate, a KSA presidential hopeful must choose eight vice presidents to run alongside them. Sammy spent weeks networking and interviewing classmates in an attempt to build the most well-rounded and diverse team she could. She succeeded.
The successes, big and small, haven't stopped there. The KSA worked with admissions on instituting an application fee waiver for diversity partner organizations, which went into effect fall of 2021. Sammy credits the strong relationships between students, faculty and the administration for the ability to be such an effective leader.
"At Kellogg, people from all corners come together to make these changes happen. I know a lot of schools say they're student-focused, but to be able to see that process through really shows that Kellogg will do what students need."
Seeking out other perspectives is something Sammy does not only in her role as KSA president, but in the classroom. This summer, she stepped out of her comfort zone to take Poker Powher, led by Dr. Victoria Medvec, about the intersection of playing poker and negotiating as a woman in the boardroom. The class ended up being incredibly valuable for Sammy, especially because it brought unique perspectives from students across all Kellogg MBA Programs.
"One of the best things about Kellogg is the way we find synergy across programs. Executive MBA students, as an example, are one of our greatest teachers," Sammy says.
It's no surprise that, throughout her experience at Kellogg, Sammy has strengthened her leadership skills. Through extracurricular opportunities and academic experiences, students like Sammy are able to test drive their leadership style and get the experience they need for the real world.
"I've learned a lot about how to balance priorities among stakeholders," she says. "When I interview for future careers, I have so many stories about stakeholder management, prioritization, and making decisions under pressure."
After graduating from Wellesley, Sammy worked in the public sector at a research organization where she did economic research on healthcare and welfare delivery models for Medicaid populations for the federal government. Leaving academia and the public sector was a huge step, but she started thinking about ways to make a more active difference on the ground, which led her to consider grad schools.
Thinking about her future, Sammy is targeting chief-of-staff roles at midsize start-up companies. But her transformative time at Kellogg has her thinking about returning to her roots in academia. Eventually, she could see herself coming back to higher education, maybe even Kellogg, to work as a dean.
When can we expect her back? "It's a long-term goal," she laughs. "Long term!"
Hopefully, we don't have to wait too long.
About Sammy
Hometown
Palo Alto, CA
Undergrad
Economics and women's and gender studies, Wellesley College
Pre-Kellogg Job
Operations manager, Newfront Insurance
Fun fact
I considered becoming a certified cheese professional with the American Cheese Society.
What has surprised you the most during your time at Kellogg?
I came knowing I wanted to learn about new perspectives and industries, but working in a really U.S.-centric career field, I had not thought deeply enough about the importance of global education even if you don't want to work internationally. I was surprised at how ingrained the global experience is at Kellogg. I've learned about how industries look across different countries just by people raising their hand in class to say, "Actually, healthcare in Uruguay looks like this."
What advice would you give to someone thinking about pursuing a Kellogg MBA?
Try new things! I never thought learning to play poker would be on my business school to-do list, but it was one of the most valuable experiences of my time here. It really gave me useful tools to use during my internship. I love the core curriculum, but doing things like that where you're out of your comfort zone – like the poker class, like the corporate finance class I'm taking – is where real learning and growth happen.
What excites you most about the future?
I'm targeting chief-of-staff roles at midsize startup-type companies. The chief of staff is someone who works alongside the executive team to tie together strategic projects and initiatives and help really think about the future of an organization or company. I love high energy-type jobs. I love putting out fires and fixing things.