Start of Main Content
People
Alexia Anna Costanza Bounadere '21
Evening & Weekend MBA
People and flexibility and networks and a phenomenal career coach. These are just a few of Alexia's favorite things about Kellogg.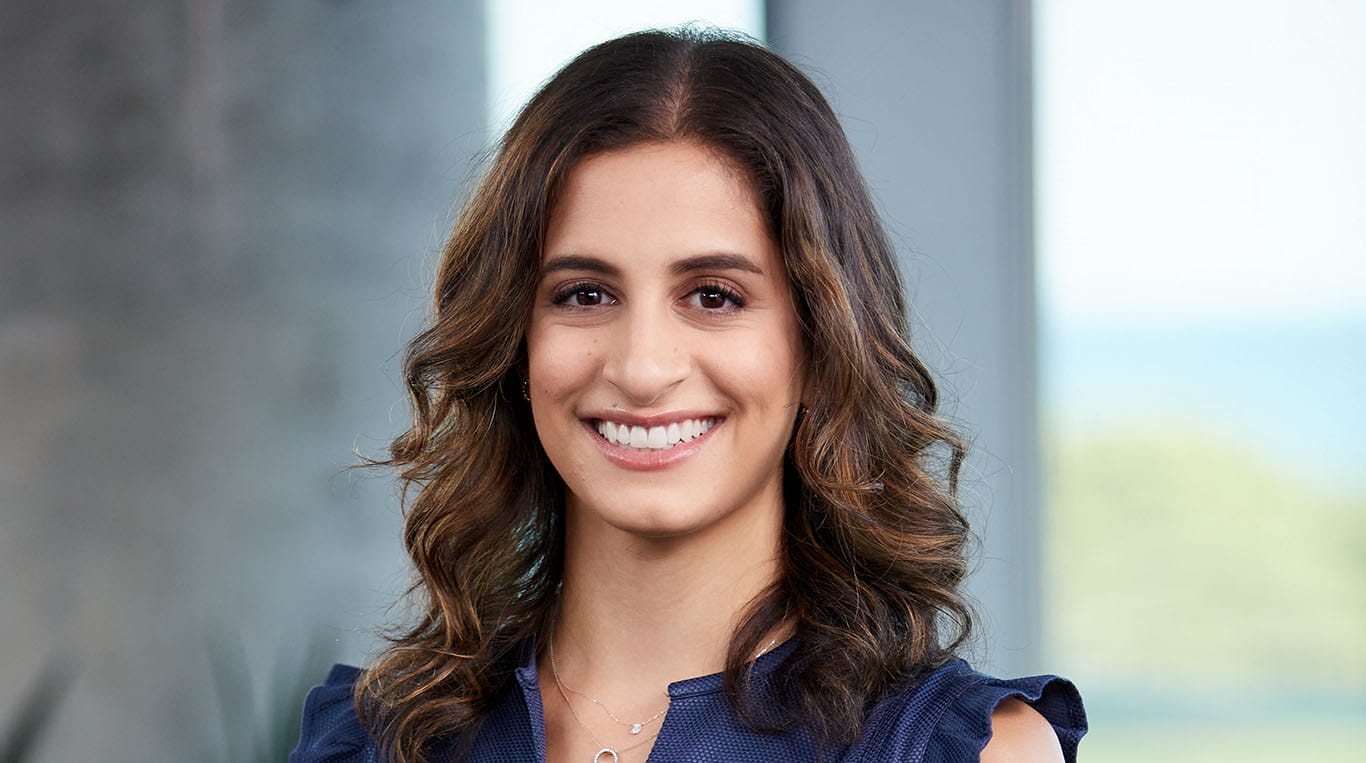 If you were to ask Alexia Anna Costanza Bounadere what the best part of her experience at Kellogg was, she'd give you several answers: the people, the classes, the flexibility. Getting involved in the Kellogg Student Association. But it was being able to take advantage of the accelerated option as she pursued her MBA on evenings and weekends that's the standout star. "Knowing I could opt out of those entry-level business courses coming into the program and start taking my electives sooner was a huge draw for me," she said. "It allowed me to focus on completing my program sooner, which was a huge benefit."
Alexia always knew she wanted her MBA but, like most of us, didn't want to take time away during the day from her career (where she was pivoting away from sales and into marketing).
"The Kellogg Evening & Weekend Program really was the perfect fit for me. I could take what I learned in the classroom and put it to use at work the next day. I definitely saw that come to life in the two and a half years that I was at Kellogg."
That, and another one of Alexia's favorites — the flexibility — made it easy to customize her schedule according to what was going on in her life at the time. "I could take one class in the summer, or take classes downtown close to my work and my home, or here in Evanston at the Global Hub — the flexible options were so convenient and just a fantastic option."
Enhancing her — and your — post-Kellogg opportunities
Now that Alexia is officially an alumni, here's something that she's looking forward to taking advantage of, and could be one of your favorite things: the Degree Enhancement Program. What is it? "Essentially it's an opportunity for alums to take classes for free after they graduate."
While she was at Kellogg, Alexia was VP of academics for the Kellogg Student Association (KSA). One of her goals at KSA was to make an impact on the student body experience while also networking with board members and the administration. So, working with the KSA, Alexia helped expand the number of free post-grad classes that alumni could take as part of the Degree Enhancement Program: from six classes over two years to eight classes over three years.
"It's an extremely beneficial benefit for alums to be able to take advantage of this after they graduate — I'm looking forward to it, too."
Kellogg Evening & Weekend MBA: The working professional's dream
Find out why earning your MBA while working is the best way for working professionals to stretch, grow and apply what you're learning in the classroom at work the very next day.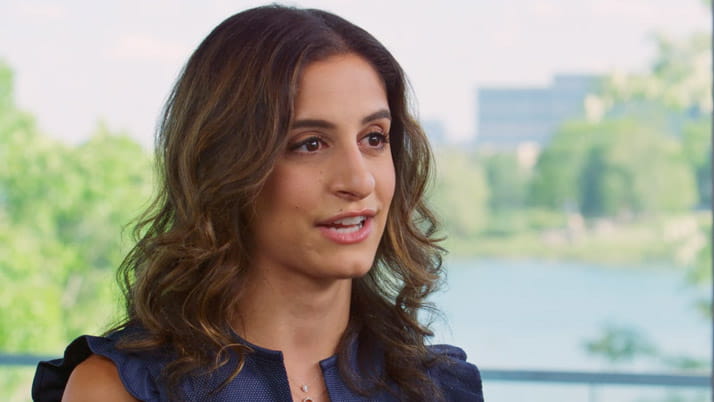 Tell us about it and why you chose the Evening & Weekend Program.
The Evening & Weekend MBA Program allows you to complete your MBA while working a full-time job. I always knew that I wanted to go back to school for my MBA, and as I was deciding, I was really torn because I didn't want to take the time off work. The Kellogg Evening & Weekend program seemed like the perfect fit for me. And honestly, what attracted me the most to the program was the fact that I'd be able to apply what I learned in the classroom at work the very next day.
What was the most surprising thing about Kellogg?
As I reflect back to the woman that I was before I started Kellogg, I can't believe how much I've grown as a working professional, as an individual, and how much I've gotten to know myself better. That has been something that I certainly didn't expect and has been a welcome learning opportunity for me outside of the MBA Program. The emphasis and focus on leadership development, personal development, and how you interact and network with the people that you work with every day is really just a transformative experience that is unparalleled, and something that I'm truly grateful for.
What was one of your favorite classes?
Selling Yourself and Your Ideas with Professor Suzanne Muchin. I had heard such great things about it and how it was truly transformative in how you look at yourself, how you network with others and how you contribute to society as a whole. And I can honestly say that I learned so much about myself in that class and how I really present myself to others.
What excites you most about being a Kellogg alumni?
I'm excited to be able to take advantage of all of the benefits as an alumni. The one I'm most excited about is probably the opportunity to stay connected to the Chicago network of Kellogg alums, and I'm definitely looking forward to getting more involved in that committee and hosting events or even attending events and staying connected to that community. I also know that the Career Management Services doesn't stop after graduation so if I want to make a career pivot or get a second set of eyes on a resume their resources will be available to me.