Start of Main Content
Build your skill set. Grow your network
Getting involved in clubs and organizations at Kellogg offers more than an opportunity to build your network. You can practice your management skills, collaborate with your peers and test your leadership style.
It's up to you to decide how much — or how little — you'd like to participate in these clubs and organizations. Representing different cultures, geographies and industries, they are designed to complement your personal and professional interests.
Clubs and organizations
All Evening & Weekend MBA students belong to the Kellogg Student Association - Evening & Weekend (KSA - E&W), a student activities organization that serves as a liaison between Evening & Weekend MBA students, Kellogg administrators and the Full-Time MBA Program's Kellogg Student Association (KSA). In addition, students can join any number of clubs and organizations, which represent a variety of industries, geographies, as well as social and cultural interests. Students are also invited to join clubs in the Full-Time MBA Program.
Evening & Weekend clubs include:
AI Club
Black Management Association
Blockchain Club
Business Leadership Club
Business Strategy Club
Chinese Business Club
Consulting Club
Entrepreneurship and Venture Capital Club
Global Business Club
Growth & Scaling Club
Healthcare Club
Hispanic Management Association
India Business Club
Investment Banking & Finance Club
Investment Management Club
Kellogg Athletes
Kellogg Christian Fellowship
Kellogg Parent's Club
Kellogg Student Association
Kellogg Veterans Association
Marketing Club
Net Impact
Pride @ Kellogg
Private Equity Club
Public Speaking Club
Real Estate Club
Tech Club
Women's Business Association
Events and competitions
In the Evening & Weekend MBA Program, students are empowered to initiate and drive events while receiving support and resources from Kellogg. As a result, students have more opportunities to gain leadership experience in a low-risk environment.
From industry-specific conferences to sporting events and networking workshops, our more than 300 annual events cater to a wide range of interests and goals. Events are held on nights and weekends on our downtown campus to accommodate your schedule.
Student conferences include:
Black Management Association Conference (BMAC)
Business of Healthcare Conference (BHC)
Private Equity & Venture Capital Conference (PEVC)
Kellogg Tech Conference
Kellogg students are also perennial participants in — and winners of — case competitions across the nation. Case competitions offer excellent opportunities to test your acumen, broaden your network and apply classroom lessons to real-world challenges.
Finance and Accounting
Brewing up a solution for coffee farmers in Papua New Guinea, a group of Kellogg students reached the finals of the Kellogg-Morgan Stanley Sustainable Investing Challenge.
4 minute read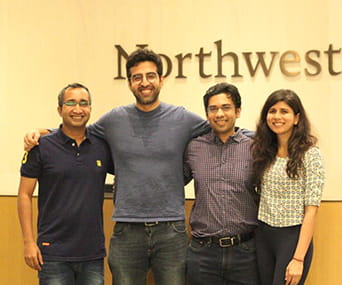 Contact us about the Evening & Weekend MBA program
Evening & Weekend Application Deadlines
Spring 2024: Jan 3, 2024
Summer 2024: March 27, 2024
Fall 2024: June 5, 2024
Winter 2025: Sept 25, 2024