Start of Main Content
Top-ranked program, world-class experience
Energetic, dynamic, and bursting with life, Miami is a global city. It attracts corporations from around the world and serves as a bridge between the United States and Latin America. Our Miami campus — located just outside downtown in Coral Gables — is only four miles from Miami International Airport, perfectly situated for travel.

Miami students attend classes once a month in state-of-the-art facilities and enjoy comfortable accommodations in the Hyatt Regency Coral Gables, one of the area's premier hotels. In an immersive networking experience, you can study and collaborate with peers in any of the campus' private study rooms, conference areas, or comfortable lounges. You can also participate in discussions and meals with faculty members who stay on campus with you while classes are in session.

Key benefits
Take classes once a month, beginning Thursday afternoon and ending midday Sunday.
Travel to the Evanston campus and around the world for elective courses.
Expand real-world business skills in the United States after graduation thanks to our STEM designation, allowing international students holding F-1 student visas to qualify for OPT.
Come here for the best in global business opportunities.
Coral Gables, Fla., is located right outside of downtown Miami, only four miles from Miami International Airport.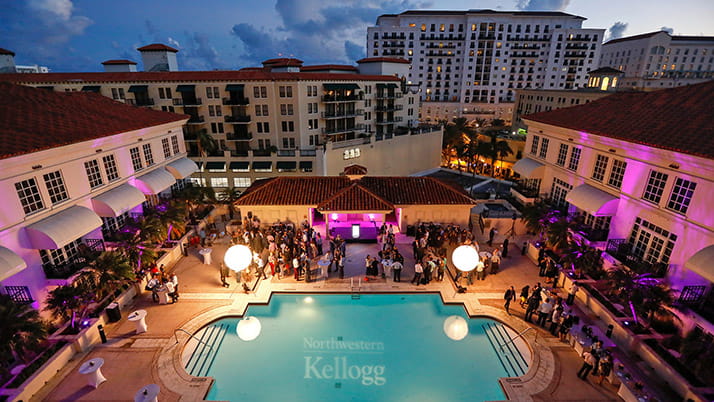 Sample Executive MBA calendar
Miami Executive MBA classes are typically held Thursday afternoon through mid-day Sunday. As class weekend schedules will differ depending on the electives you take, second year schedules are not available. Class dates and times are subject to change.
January 2024 - First Year Calendar
Orientation/Launch Week
Check-in: January 2
Programming: January 3 - 7
Class in session
January 25 - 28
February 22 - 25
March 21 - 24
April 18 - 21
May 16 - 19
June 13 - 16
July 9 - 13 (Intensive week)
August TBD (Global network week)
September 5 - 8
October 3 - 6
October 31 - November 3
September 2024 - First Year Calendar
Orientation/Launch Week
Check-in: August 23
Programming: August 24 - 28
Class in session
September 19 - 22
October 17 - 20
November 14 - 17
January 30 - February 2
February 27 - March 2
March 20 - 23
April 24 - 27
May 15 - 18
June 5 - 8
July 8 - 12 (Intensive week)
August TBD (Global network week)
Contact us about the Executive MBA Program at Kellogg
Evanston and Miami Application Deadlines
Jan 2024 (Round 1): August 16, 2023
Jan 2024 (Round 2): October 4, 2023
Sept 2024 (Round 1): August 16, 2023
Sept 2024 (Round 2): October 4, 2023
Sept 2024 (Round 3): January 24, 2024
Sept 2024 (Round 4): April 3, 2024
Sept 2024 (Round 5): June 5, 2024