Start of Main Content
World-class amenities just minutes from Chicago.
Kellogg's Evanston, Illinois Executive MBA (EMBA) campus is located just 30 minutes from downtown Chicago, a vibrant, world-class city with rich international ties. The campus is home to Northwestern University's James L. Allen Center, a state-of-the-art education center that accommodates living and learning for executive students.

Perched on the shores of Lake Michigan, the Allen Center is designed to support your academic needs while ensuring your personal comfort. It features 150 guest rooms, eight technology-enabled classrooms, dozens of study group rooms, and several dining rooms, providing an educational experience that's both convenient and fully immersive. Students attending the Evanston campus take classes every other week, beginning Friday afternoon and ending Saturday evening, or, approximately once per quarter on Sunday afternoon.

Key benefits
Live and learn at the James L. Allen Center, an executive education center that supports your educational needs while providing the amenities of a full-service hotel.
Take advantage of classrooms and study-group rooms equipped with advanced technology and resource areas with 24-hour access.
Engage in informal interactions with faculty and students through common areas, lounges and dining rooms.
Enjoy close proximity to downtown Chicago and its world-renowned commercial, entertainment and cultural centers.
Receive concierge services at the front desk, dine on international cuisine prepared by our head chef (which includes accommodations to dietary restrictions), and access fitness rooms and snack rooms 24/7.
Stay on Northwestern University's lakefront campus, which includes access to university facilities, such as the 95,000-square-foot Henry Crown.
Sports Pavilion and Norris Aquatic Center.
If you travel from a long distance, you may be eligible for free lodging on Thursday evenings (application required).
Travel to the Miami campus and around the world for elective courses.
This Kellogg campus is the best of both worlds for Full-Time and Executive MBA students. Are you ready to take hold of all that Evanston has to offer?
The Evanston campus is just 30 minutes from downtown Chicago and O'Hare International Airport.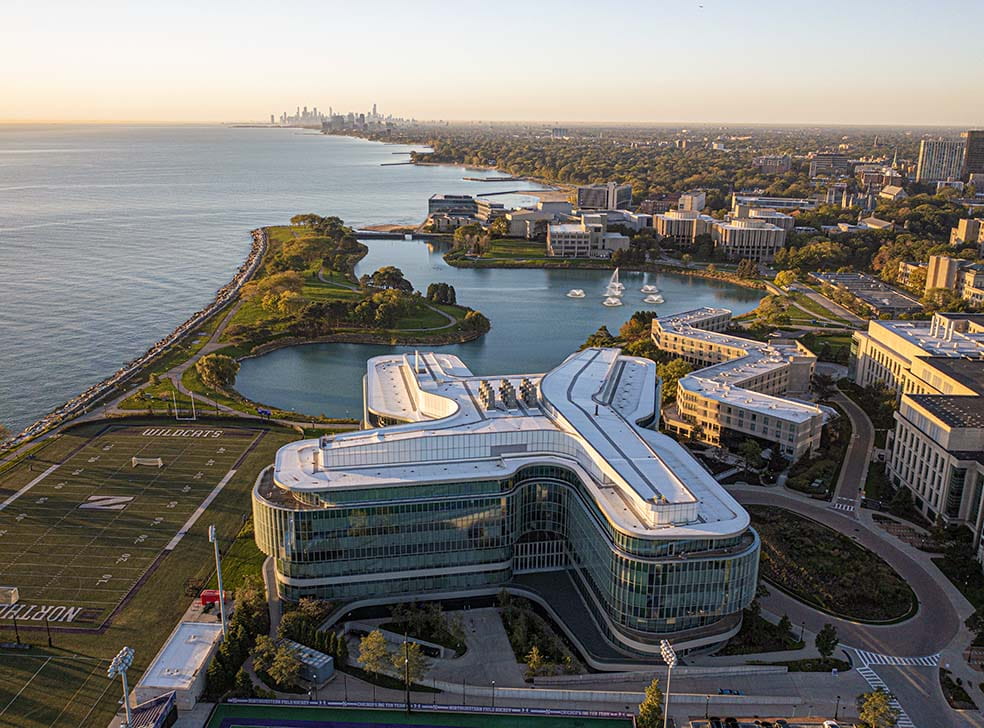 ---
Sample Executive MBA calendar
Evanston classes are typically held Friday afternoon through Saturday evening, along with most Sundays. As class weekend schedules will differ depending on the electives you take, second year schedules are not available. Class dates and times are subject to change.
*Denotes weekends with Sunday classes
September 2024 - First Year Calendar
Orientation/Launch Week
Check-in: September 9
Programming: September 10 - 14
Class in session
September 27 - 29*
October 11 - 12
October 25 - 27*
November 8 - 9
December 6 - 7
January 3 - 4
January 17 - 19*
January 31 - February 2*
February 14 - 16*
February 28 - March 2*
March 14 - 16*
April 4 - 5
April 18 - 20*
May 2 - 4*
May 16 - 18*
May 30 - June 1*
June 21 - 25 (Intensive week)
August TBD (Global network week)
January 2025 - First Year Calendar
Orientation/Launch Week
Check-in: January 2
Programming: January 3 - 7
Class in session

January 17 - 19*
January 31 - February 2*
February 14 - 16*
February 28 - March 2*
March 14 - 16*
April 4 - 6*
April 18 - 20*
May 2 - 3
May 16 - 17
May 30 - June 1*
June 21 - 25 (Intensive week)
August TBD (Global network week)
Contact us about the Executive MBA Program at Kellogg
Evanston and Miami Application Deadlines
January 24, 2024
April 3, 2024
June 5, 2024*
August 14, 2024
October 2, 2024**
* Last deadline to apply for Fall 2024 start
** Last deadline to apply for Winter 2025 start