Start of Main Content
Applying for our Executive MBA winter session
Ready to start your MBA journey in the new year? Apply now for Kellogg's Executive MBA Program and start courses in January.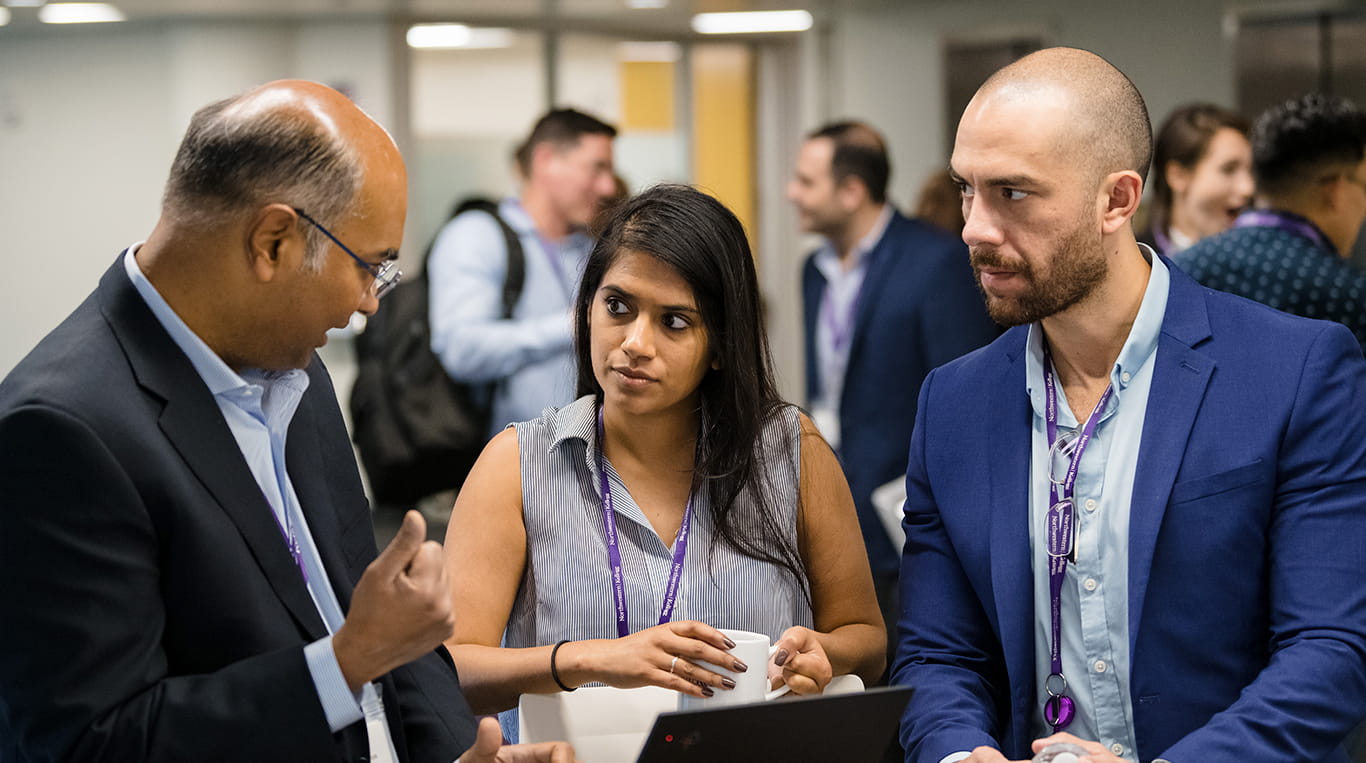 Enrolling in Kellogg's Executive MBA (EMBA) Program is one of the best investments you can make in your future. Joining the winter session allows students to begin their new year with a focus on positive change alongside the breadth of opportunities that lie ahead. Here within the company of the world's most prominent executives, you will develop new frameworks for solving tough business problems while broadening your global network. Our distinctive, rigorous curriculum and leadership development programming will enhance your skillset so that you can lead confidently across all aspects of your organization, both into the new year and beyond.
There's plenty of time to apply to the winter session
Admissions for EMBA are rolling — we have regular deadlines throughout the year, and you can apply to either our Evanston or Miami campus to start in the Fall or Winter term. This allows you to pick the location, schedule and timing that works best for you.
We are actively working with candidates on their applications to both our Evanston and Miami campuses for the Winter 2024 entry term. While completing an online application can feel daunting, our main goal in reviewing your application is to get to know you, understand the experiences that have helped shape you, and what you hope to achieve with an Executive MBA. If you are interested in any additional tips or insights during the application process, we've got you covered. Our admissions team is on hand and eager to help, happy to answer your questions and promptly review your materials so that you can put your best application forward.
Learn more about how to apply or get in contact with one of our admissions officers.
Join a group of exceptional collaborators
Our students are drawn together by their commitment to learn, grow and create a positive impact at both work and in their communities. When you begin the Executive MBA Program, you are assigned to a study group comprised of high-impact, low-ego leaders from diverse industries, geographies, backgrounds and functional areas. You'll remain with them throughout the two-year program, working together to prepare for exams, complete projects, share perspectives and support one another.
Alumni often cite their peers as one of the most enriching parts of their education. They forge strong, impactful connections with their teammates, many of which last a lifetime.
A global marketing leader in the healthcare industry, Yaremi Alicea '23 MBA 'didn't hesitate' to choose Kellogg when the opportunity arose. "The EMBA program stands out from the rest due to its unparalleled personal interaction and innovative approach to learning," says Alicea. Learn more about one of her favorite moments at Kellogg, what helped her decide to enroll in the school's EMBA program and how she was able to apply knowledge from the classroom to the workplace.
Volkan Emre '23 MBA, an executive vice president and CFO, helped expand entrepreneurial programming for his classmates and took an unforgettable class trip to explore India's tech ecosystem. Whether he's delving into the depths of the world's deepest cave as part of a professional cave research team or pursuing an EMBA to broaden his horizons, his eagerness to reach new heights is steadfast.
Kimberly Cooper-Campos '23 MBA, a Drake Scholar who enrolled at the Miami Campus, shares how she balanced work and family during her time in business school — and why it was all worth it. "I desire to continuously reach for opportunities that create a greater impact in the world while becoming a leader who inspires and executes effectively," she says. An engaging, dynamic innovator and determined mother, Cooper-Campos is grounded in the priority of supporting future generations and the less fortunate as she stands on the shoulders of those who propelled her to where she is now.

The value of an Executive MBA
At Kellogg, we are constantly motivated and inspired by the intellectual curiosity and collaboration that defines our remarkable community.
Our faculty members are some of the brightest minds from around the world and lead with an academic rigor, providing powerful frameworks that will serve our students their whole career long, no matter how quickly the business landscape changes. Their top-notch research earns accolades in their respective fields, while their courses and curriculum allow students to lead boldly and help drive success and growth within their organizations.
We also recognize the importance that a well-developed social intelligence plays in cultivating adept leaders. Our students are just as invested in showing an authentic care for one another as they are in creating business outcomes. Our interconnected community instills a strong sense of confidence that helps build successful teams while shaping the business leaders of tomorrow. Even after graduation, alumni continue to engage with Kellogg, mentoring current students, recruiting and hiring fellow Kellogg grads, supporting one another in their lives and careers, and coming back to campus to participate in reunions, events and classroom or non-curricular activities.
Start or continue your Executive MBA application today to set yourself up for success and become a Kellogg Leader.