Start of Main Content
Kellogg holds second annual International Conference for the Science of Science and Innovation
Learn more about this year's conference and main takeaways from panel sessions, keynote addresses and research presentations.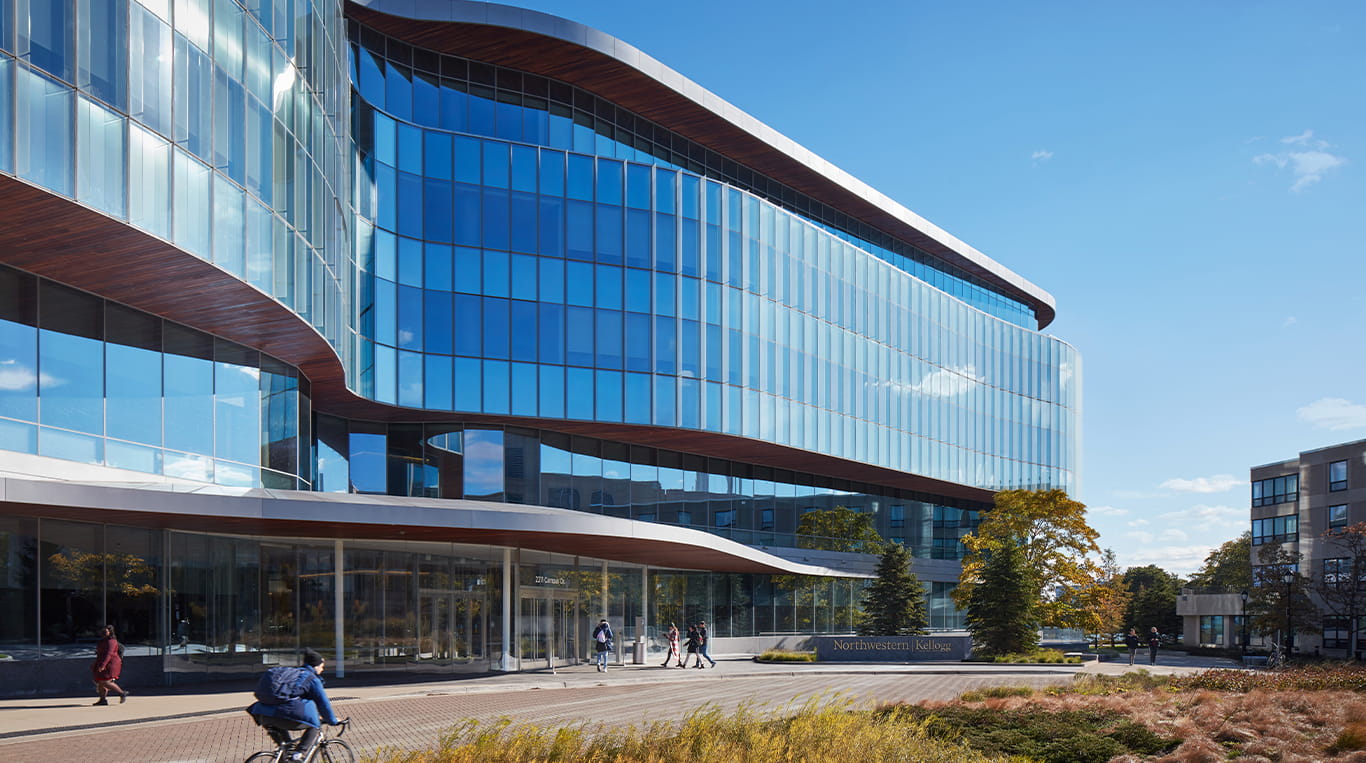 By Sachin Waiker

In June, the Kellogg School of Management hosted its second annual International Conference for the Science of Science and Innovation (ICSSI). The interdisciplinary, multi-day event convenes leading experts from a diverse community of researchers, policymakers and thought leaders dedicated to improving the world through the examination of scientific discovery and innovation.

Over the past decade, the field of "science of science" has benefited from an influx of natural, computational and social scientists who together have developed big data-based capabilities from empirical analysis and generative modeling that capture the unfolding of science, its institutions and workforce. By bringing together leading experts in the field alongside policymakers, publishers, funders and administrators to engage directly, the conference aims to increase the practical relevance and impact of science of science research.
"Scientific advancement is critical for prosperity and growth, improving standards of living and economic opportunity. To harness the potential of science to enhance the lives of people around the world, we need to better understand the factors that drive scientific innovation and the social, economic and political conditions that allow it to flourish," explains Dashun Wang, a Kellogg professor and director at the Center for Science of Science and Innovation. "The science of science community brings together both scholars and practitioners from diverse backgrounds to develop rigorously-researched, actionable insights that can help drive scientific policy and productivity."

This year's conference featured prominent speakers, panels, research presentations and an inaugural Metascience Hackathon which grouped cross-disciplinary teams to innovate in three dimensions: knowledge, policy and tools.

Erwin Gianchandani, assistant director of the Directorate for Technology, Innovation and Partnerships at the National Science Foundation (NSF), joined the conference by video and highlighted key developments at the NSF, including a record budget increase of $1 billion due in part to the U.S. government's CHIPS and Science Acts. This will boost funding for research programs, STEM education and other initiatives, including the creation of the new Technology, Innovation and Partnership Directorate in the NSF, which includes a variety of programs of interest to the science of science community.

A highlight of the event was the presentation of several awards to leaders in the science of science space including the Science of Science Policy Leadership Award which recognizes policy leaders whose programs and funding have a large impact on the science of science community. This year's awardee was Daniel Goroff, vice president at the Alfred P. Sloan Foundation, who is currently leading the Science and Society Team for the Biden administration.

Below are highlights from some of the conference's speakers, presentations and panels.

Chemistry research in China, creative talent dynamics and more
Pierre Azoulay, a professor at the MIT Sloan School of Management, shared research on the dynamics of chemistry research in China. While China has the second-largest global share of researchers and publications in this natural science, with growth in other science domains as well, Azoulay and his team asked, "How fertile is that research?" Their studies looked at the number of citations that papers from China and other non-U.S. countries receive from the United States, finding that China-based research suffers from a reduction in citations by about 28 percent. The best explanation isn't lower research quality or perceived quality but reduced awareness and shallower networks of China-based researchers and investigators.

Meanwhile, Ufuk Akcigit, a professor at the University of Chicago, described research on the employment dynamics of U.S.-based inventors in a presentation titled "Where Have the Creative Talents Gone?" He noted that the proportion of inventors in the country doubled from 2000 to 2020, but it's unclear where those talents are allocated in the economy and how that increase has affected innovative capacity. Some research suggests the allocation of inventors has shifted steadily toward large incumbent tech firms in recent decades. The challenge is that smaller, younger firms tend to push technological frontiers through creative disruption, while incumbents often resist change to preserve market advantage — in many cases luring inventors from smaller businesses with higher compensation. Indeed, the research shows innovative output has gone down as inventor incomes have risen.

Daniel McFarland, a professor at Stanford, harnessed "networks of concepts," a way of capturing how concepts relate to each other, to tell us about scientific progress. His research categorized types of concepts in the technological domain of natural language processing (NLP) to understand how a body of knowledge advances. Evidence from the NLP network of concepts suggests the number of concepts has grown over time but is now slowing with a shift from more theoretical work to empirical work. Rather than growing linearly, concepts go through "punctuated shifts" evident in the movement from epochs related to rule-based, statistical, and, most recently, deep-learning NLP.

Gender and science

Roberta Sinatra, a professor at the University of Copenhagen, shifted the audience's focus to natural and controlled experiments on gender bias in science. Her research examined the Matilda Effect, or bias against acknowledging the contributions and performance of women across domains, a phenomenon less studied in science.

Her survey-based study showed scientists the same abstracts but with male or female researcher names, and they found no gender-based difference in respondents' likelihood to cite the research. Still, search algorithms like Google Scholar tend to rank papers by male researchers higher than similar ones by women, suggesting the need to examine gender bias and its impacts further in this space.

Lauren Rivera, a professor of management and organizations at Kellogg, discussed findings from research on gender in relation to the impacts of COVID on researchers. In her study, she presented tenured professors with an evaluation summary of a hypothetical tenure case varying whether the summary included a pandemic statement related to childcare (typically associated with female applicants) or a lab closure, or no statement and asked if they'd recommend tenure. Overall, the presence of a statement led to more positive evaluations with the childcare-related statement, yielding slightly more positive results. Rivera attributed the lack of gender bias to the reality that the pandemic was an external, temporally bounded factor affecting all groups.

Bruce Weinberg, a professor at Ohio State University, presented findings on whether women receive equivalent credit to men for their research contributions. His research examined nearly 40,000 journal articles and more than 7,500 patents to find women were 15 percent less likely to be named authors on articles than men who made similar contributions, with a 60 percent gap for patents. One conclusion is that women must push harder to receive the credit deserved which contributes to women leaving STEM fields. Teams led by female private investigators, meanwhile, have a much more equitable distribution of credit with no gender bias.

Agnes Horvat, a professor at Northwestern University, shared results from work on the relationships among gender, inclusion, online visibility and performance. She is interested, specifically, in whether greater online visibility — promoting awareness of the work women are doing — can close gender gaps in science and other domains related to authorship, resources, earnings and other dimensions. Currently, women in science have less online visibility. The drivers of this remain unclear but likely include less willingness to self-promote. When intersectionality identity is considered, the gender gap is even larger for research visibility.

Artificial intelligence and science

Mario Krenn of the Max Planck Institute described work to use artificial intelligence (AI) as a resource for inspiring new research directions in physics and other sciences. His idea is to use AI technologies to generate potential concepts and areas to explore, with humans lifting these inspirations to more formal scientific understanding. As an example, AI could be used to glean insights from a large collection of scientific literature such as predicting which materials may potentially have thermoelectric properties. Human researchers could then test the AI-generated predictions to advance the field.

Tom Hope, a professor at Hebrew University, continued the theme of leveraging AI to assist with multiple scientific efforts. For example, AI-based systems could be applied to organize scientific knowledge, identify and prioritize problems to study, form directions for research, foster collaboration and make predictive inferences. It's about building AI-powered "discovery systems" such as one that could match researchers with similar interests but in far-flung locations — like connecting scientists studying COVID in children.

Brian Uzzi, a professor of leadership at Kellogg and co-director of the Northwestern Institute on Complex Systems, presented his team's AI-based research on what predicts higher-impact innovations. They examined the full text of more than 6.5 million patent applications and found that "hit" innovations don't generally emerge from combinations of prior hits well into the past, as previously believed. Rather, high-impact innovations tend to come from modest advances in capabilities, and they combine recent innovations that are diverse but still related — like a breakthrough ultrasonic medical device related to an electro-surge instrument and other innovations from the same period. In this way, the whole network of innovations grows together as scientists solve specialized problems in the same general domain.