Start of Main Content
This MBA graduate is driving impact and changing lives — starting with his own
An unexpected job change, a transformational global experience and a responsive community brought Brady Ellis '23 MBA to a new career in impact investing.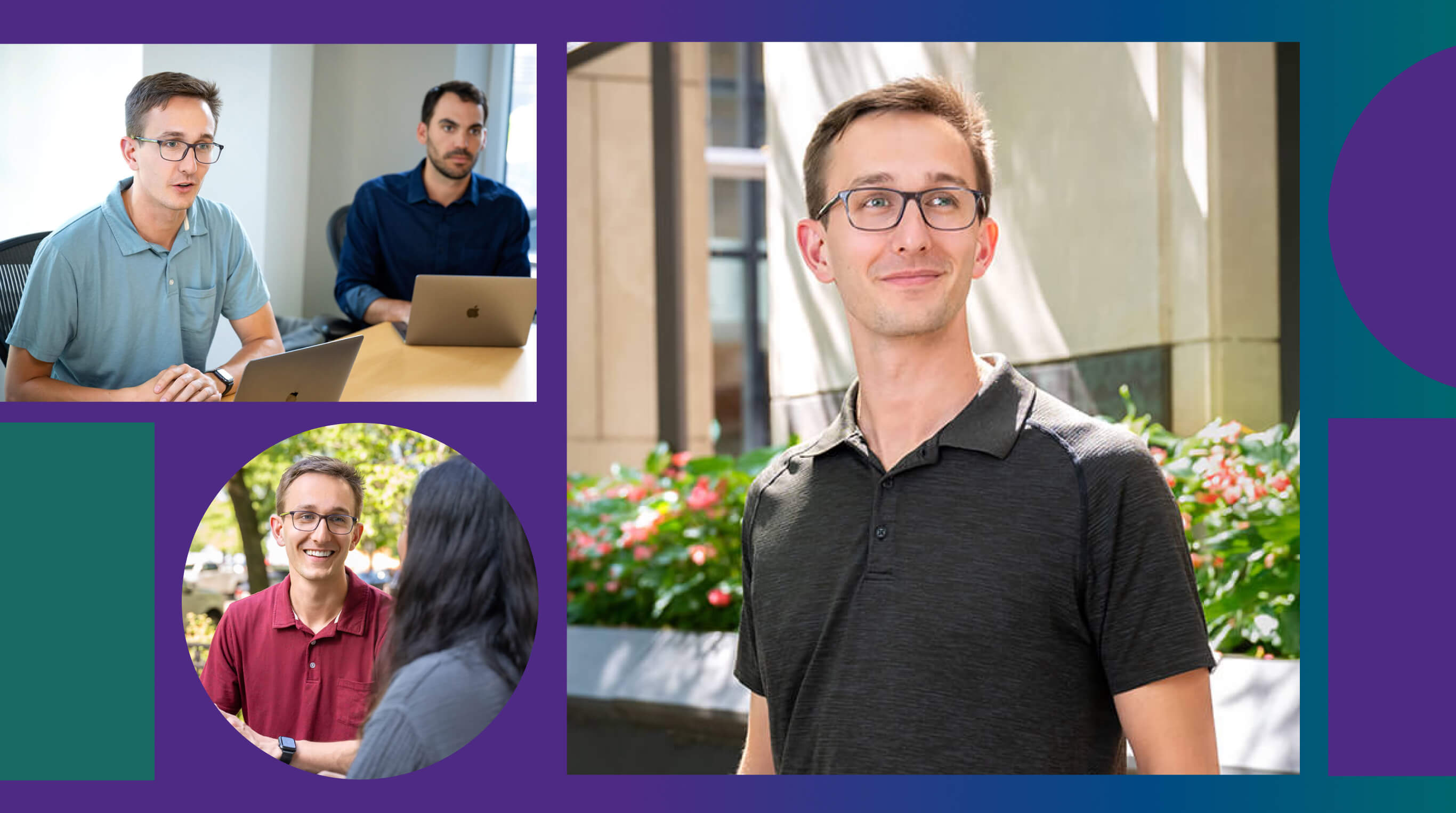 When he was young,
Brady Ellis '23 MBA
collected toy airplanes. He dreamed of sending them up into the sky as a pilot. He imagined himself traveling in them to faraway places connecting his life to ones that seemed otherwise disconnected. In June of 2023, he finally flew on one of his favorites: a 747 double-decker plane. While he wasn't in the pilot's seat, he was steering the course of his life — and doing it in a bold way he hadn't ever done before.
Brady was headed across the ocean to Kenya, supporting an impact investment firm that worked hard to balance both investor profits and social progress. It was a place and a path that wouldn't have entered his mind mere months before the trip, but he'd been on an enlightening journey of professional discovery after he'd enrolled in the
part-time Evening & Weekend MBA Program at Kellogg.

Bolstered by the academic opportunity, supportive community and unmatched flexibility at Kellogg, Brady has wound his way from his expectations to his future.
Fulfilling a Kellogg dream

Blue skies weren't the only aim for Brady as a child. Growing up in suburban Ohio, he dreamed of attending Northwestern University. It seemed like a reach when he graduated high school, and he ended up at Ohio State University for his undergraduate degree. When he set out for his MBA, he renewed his ambition. He knew where he wanted to be.

Still, he did his research. He looked into other schools in Chicago, where he was already living, and schools across the country, since he was working remotely. He considered academic programming, opportunities for flexibility and university culture. After all that, he was confident in the choice he'd made decades earlier: Kellogg.

He sent in his application, waited for the answer and enrolled when he heard the good news. Everything was lining up for him to advance in his career. He'd become a CPA, following in the footsteps of his father. He was already leading the financials at a start-up, and he expected to remain in that ecosystem. He was on the path he saw laid for him.

His childhood self had other plans — and they involved those planes.
Moving forward with flexibility
Brady chose the part-time Evening & Weekend Program at Kellogg partly because of its flexibility. He was working at a tech start-up, and he wasn't ready to step away. He wanted to experience his career and education all at once — and he wanted to still have time to go for a run, learn to play "Clair de Lune" on his piano and participate in activities with his church. "The part-time program gave me the flexibility to do both work and school in a really magical way," he said.

It worked for him because he could customize every piece of the experience. He took advantage of the many modalities through which students can learn at Kellogg. He signed up for evening classes on campus, remote courses and pop-up classes. He created schedules that would allow him to travel for work and spend time with his family across the country. "I especially loved the intense weekends of getting to dive into a pop-up of a popular class," Brady said. His carefully crafted quarters fit both his personal life and his professional path — and he dove into it all with zest.

In March of 2023, he signed up for a Global Initiatives in Management (GIM) program, a cornerstone of the international curriculum at Kellogg and a way for students to experience international markets in person. He chose an immersive two-week class in Thailand and Vietnam because he knew these locations would stretch him. Still, he had no idea how much the experience would change his life.
Discovering a passion for impact
While he was in Thailand, he dug into the prospects of emerging markets. He saw the impact that economic investments can have — both for investors and local communities. He learned firsthand how much money there is to be made for investors in these locations and how much growth is possible for the regional economies that are receiving support. "There's so much opportunity. Why not make a great investment return and a great impact return at the same time?" Brady asked.

It was only two weeks, but it shifted his entire perspective. It also shifted his career trajectory, though he didn't know exactly how much at that moment.

Around the same time, Brady left his job at the start-up. He was nervous about what would come next, but he turned to his Kellogg support system. He worked with his academic team to accelerate his degree and find a course plan. He began working with the Career Management Center to develop a plan for his future and lay out the steps he needed to take to get there. He leaned on his peers for emotional support. He relied on his professors to hone and guide his professional growth. Most importantly, he started to open his mind to what was possible.

He saw something for himself he hadn't yet seen: an open door to something new. In talking to all these people he trusted, his passion for impact investing kept rising to the top. "People are fighting hard for really important things every single day that they get up. I love that energy," he said. "People know they're fighting for impact."
From field study to full-time career
As soon as Brady returned from his GIM trip, he signed up for the Strategic Challenges in Emerging Markets course with Professor Ben Jones. It was a class that he didn't know existed, but a friend — knowing he'd found a passion for the subject — asked why he wasn't in it during the first week. Brady jumped to enroll. By the end, it topped the list of his most influential courses.

Wanting to continue down that path, Brady learned about a newly formed private equity company founded by a past Kellogg graduate. Heron Ventures was small but growing. He reached out to the managing partner and asked if he could work with them through a field study program at Kellogg. In the spring of 2023, he spent time with Heron investigating investment opportunities in Kenya, getting applicable advice from his advisor, Professor Jones, and "getting his feet wet," as he said, in the emerging markets industry.

To support his work, he turned back to many of his old professors with new questions. He reached out to faculty from past courses about international tax issues he was facing with new investment opportunities and got clear, helpful answers. He messaged a marketing professor about something he had seen out on the job. At every turn, his professors connected with him and provided feedback, conversation and guidance.

"It's a challenging career to work in," explained Brady. "There's a lot of risk. There's a lot of chaos. But it's so cool."
Rising on Kellogg shoulders

The spark that ignited during Brady's GIM trip turned into a fire, and he's letting it guide the way. Brady walked with his peers during the Kellogg graduation ceremony in the spring of 2023, and he has been offered an investment principle role at Heron when he completes his final classes in the summer. Once he's done, he'll fly to Kenya to spearhead the firm's work there — doing investment due diligence, deal sourcing and deal structuring.

"It's like a dream," he said. "This pathway that Kellogg has set me on is genuinely going to be so fun, and it's a direction of my career that I never would have expected."

He knows none of this would have happened without the Kellogg community. "10 out of 10 times someone in the Kellogg community is going to jump in and try to help you because they want to help everyone who is around them succeed," he said. "That's what Kellogg is known for out there in the world. That's the brand I want to carry with me."
From leadership lessons to career promotions: Follow one MBA student's Kellogg journey