Start of Main Content
Career or family? Both can be true with a part-time MBA
Meet parents who found a flexible MBA program to advance their careers while striking a balance between their personal and professional lives.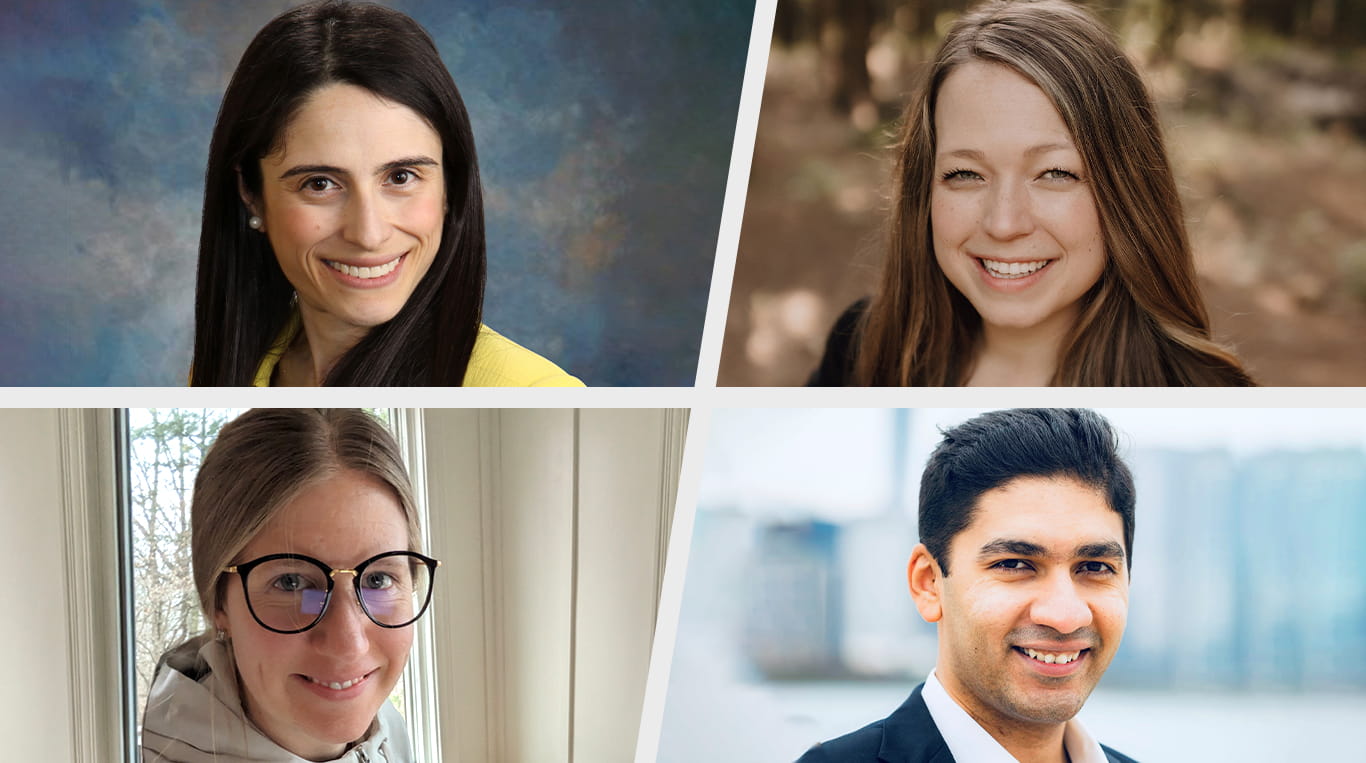 Selecting the right MBA program is a big, life changing decision. As a parent and working professional, finding the program that is right for you and your family is an even taller task. It's important, every quarter, that academics can be balanced with childcare duties, work responsibilities and home life. The flexibility of the Evening & Weekend MBA Program at Kellogg allows students to finish their program in a timely manner regardless of their personal responsibilities.

Working parents in the part-time MBA program at Kellogg have found that time management and support networks allow them to pursue their career goals. They are investing in themselves through lifelong learning while instilling the value of continuing education to foster long-term success within their families.

A few Evening & Weekend MBA students share more about their experiences and how they have been able to successfully manage their family responsibilities along with school and careers.
What is your advice to working parents interested in getting an MBA?

Varun Anand '23 (VA): Choose a program that is flexible, that offers part-time schedules in the evenings or weekends and online courses that can fit around your work and family obligations. This will make it easier to balance your time between work, family, and school. Prioritize your time according to your goals and values. Choose your courses wisely and be sure to set aside enough time for studying and completing assignments. Make a schedule that includes all your commitments, including work and family. Build a support network by reaching out to family, friends, and coworkers to help you manage your time and responsibilities. You can also connect with other working parents in your MBA program to build a supportive community.
Mindy McBee '23 (MM): I don't think there is ever an ideal time in your personal life as a parent to get an MBA. If you have the personal desire, and a support network (partner, family, friends, work) to get started, I recommend you jump in. The sooner you start, the sooner you are done and can be using your new skills and leveraging the Kellogg network. The accelerated option helps with the amount of time you take to complete your degree. There are also many flexible class options to help you complete the degree if you do some digging, and leverage Kellogg resources to help you think creatively. There will be tradeoffs as you enter the program. My advice is as a family you will need to prioritize and learn to accept you can't do everything.
Federica Sidoti '23 (FS): My advice to working parents is to think of each "bucket" of your life when considering your pursuit of an MBA. First off, my husband and I set clear expectations of each other from the beginning, as he is also working full-time at a very demanding job. We had agreed to one evening class and a Saturday class, to balance his schedule with childcare duties. When work priorities shifted for either of us, we adjusted accordingly — either by getting more help (via babysitters or other family members) or taking advantage of different formats, for example fully virtual or "pop-up" classes, where I would be able to stay on my defined track of two credits a quarter by committing two/three weekends only to class participation.
What does a typical day look like for you as you balance work, school, and your family?

VA: I have developed a mantra of living life 30 minutes at a time. This is a combination of the Pomodoro technique and Pareto principle which allows me to keep perspectives simple, balanced and effectively take action. As priorities can change based on external conditions it is important to adapt and be present at the moment.
Andria Rae Bauman '25 (AB): The main difference to my day now than it was before I started my MBA is my activity from 8:00-10:00PM. After putting the kids to bed, I start my schoolwork. My online shopping has taken a hit, I am not up to date on the latest Netflix series or royal family drama, and my husband is stuck with a bit more of the household chores. It isn't always easy to be disciplined to turn back to the computer when the mental load of the day has been taxing but the topics are interesting and engaging.
MM: My typical Monday-Wednesday involves waking up early (5 am) to get some schoolwork done ahead of the workday. Then I take about an hour to have family time and start my workday after that. From 5-7 pm is family time. After my daughter goes to bed at 7 pm, I would catch up on school or work as needed. I always front load the week and do as much work as I can in the morning and evenings Sunday night - Wednesday night. Then I really try to take time for family and myself Thursday - Sunday afternoon (outside of work hours). Thankfully, with my job, if I needed to do something for school during the workday, I could typically fit it into my work schedule. My manager has been supportive of Kellogg which empowered me to do this. Being able to do a few things during the workday really helped with networking calls and group projects.

FS: As counterintuitive as it may sound, pursuing an MBA has helped me redefine my priorities and understand the meaning of balance. People often ask how I juggle it all… and honestly, I don't think I have any superpower. The flexibility of the program, the vibrant Kellogg community and my husband's support have all been major catalysts for my success as a student, mother, wife, and manager.

What opportunities have you taken advantage of as a Kellogg student inside or outside of the classroom?
AB: As I balance family, work and school, I have taken advantage of the school's flexible curriculum. When deciding to pursue an MBA, my husband and I mentally prepared for two to three grueling years, committing every Saturday to travel to Chicago and a full day of classes. Before my first classes started the Kellogg team partnered me with two other students with young kids. They shared their strategy for changing their class strategy based on the season of life. They balanced taking quantitative-heavy classes, project-heavy, or reading-heavy classes based on their work and family needs. They sprinkled in virtual classes when traveling to Chicago was not feasible and they took a quarter off when they and their families needed to rejuvenate. With these insights, I met with my academic advisor, and she had all the inside scoop on how to balance the class work per my family's needs. I am grateful for a program that allows me to grow as a professional while prioritizing my family.
FS: Aside from academics, the Kellogg community was a prevalent determinant of my decision to select Northwestern for my MBA, and as such, I did not want to miss out on being an active participant throughout my experience. I have recently concluded a year-long commitment as vice president of Diversity, Equity & Inclusion (DEI) at the Kellogg Student Association, and I've been a member of the DEI university-wide committee since its inception, as well Women's Business Association, parents and healthcare club.
MM: I leveraged my title of "student" to do as much networking as possible. I would try to make sure I was taking time to network with two to three new people each month whether they were current Kellogg students, or Kellogg alumni.
Read next: From leadership lessons to career promotions: Follow one MBA student's Kellogg journey