Start of Main Content
Kheyti is the 'earthshot' the planet needs
The lauded low-cost greenhouse solution from founder Saumya '17 helps farmers increase yields.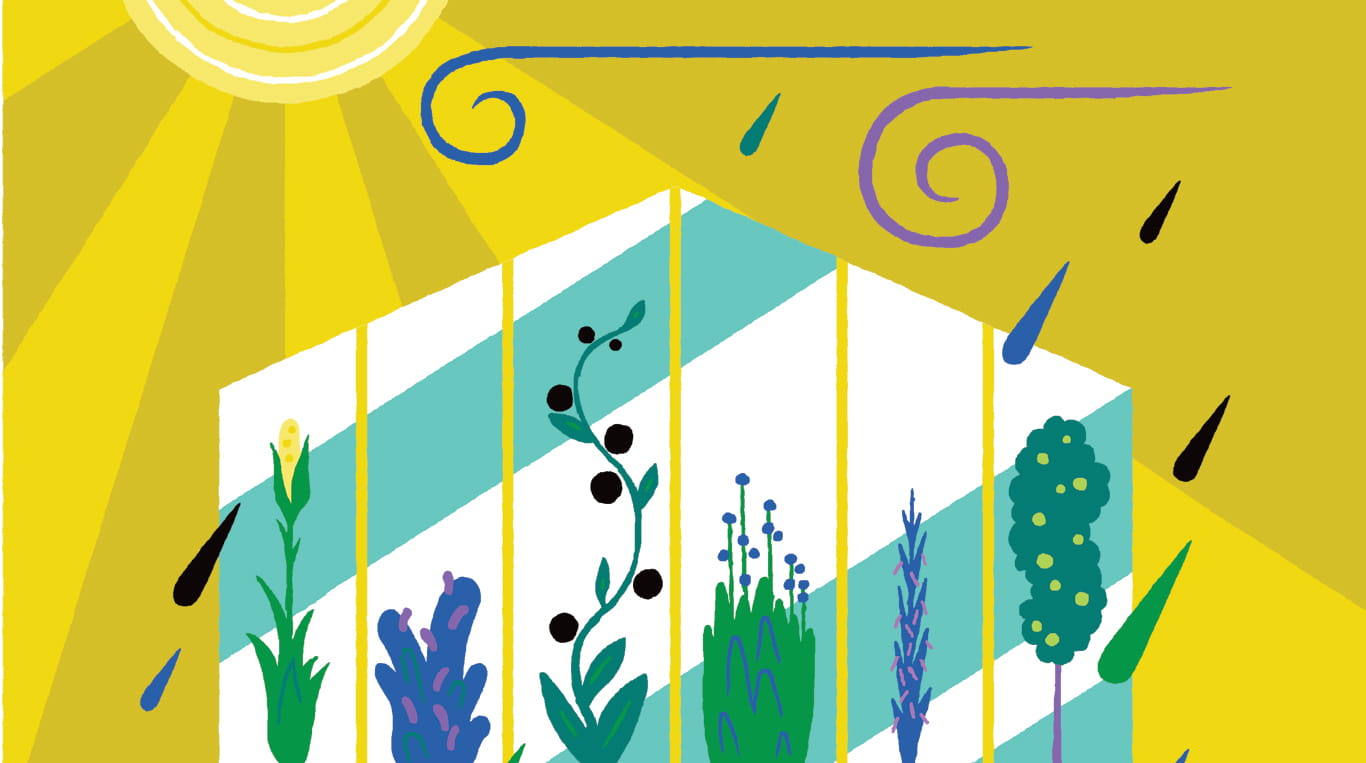 By Michael Blanding
As climate change has an increasing impact around the world, farmers in developing countries are on the front lines, contending with scorching temperatures, persistent drought and torrential storms — all of which can devastate crop yields. Interviewing farmers in her home country of India several years ago, Saumya '17 MBA heard nothing but horror stories. "They would say, 'Summer was never as bad as it is now,' or 'There are new pests we never saw five years ago,'" she says. "They weren't saying the words 'climate change,' but it was clearly affecting them."
With her Hyderabad-based company, Kheyti, Saumya and her co-founders have come up with a solution to those effects that is as ingenious as it is simple: selling farmers low-cost greenhouses sized for smaller farms. The structures reduce heat, retain moisture and protect crops from storms, providing a reliable source of income through tough times. Last year, Kheyti's breakthrough technology won a £1 million Earthshot Prize, awarded annually to the five most innovative environmental solutions by the United Kingdom's Prince William.
Saumya's road to successful entrepreneurship was not easy. After college in Delhi, she worked for several years in the banking industry but felt unfulfilled. "There had to be something missing," she says. She started a nonprofit to train young people in new skills and connect them with jobs — but couldn't get it past the pilot, in part because rural youths didn't want to leave their farming villages for city jobs that paid meager salaries. She realized she could have more impact addressing the root causes that were devastating farms.
After she and several co-founders interviewed more than 1,000 farmers, they realized that by setting aside a small amount of land for greenhouses, farmers could raise high-value crops such as cucumbers, tomatoes, bell peppers and even flowers all year despite the drought of the dry season. By this time, Saumya had already applied to business school at Kellogg and found a mentor in Mohanbir Sawhney, clinical professor of marketing, who provided her with support and suggested she forgo a traditional summer internship in favor of spending her time in India growing the idea. "It was so liberating," she says. "That was the first moment I felt supported."
She and her colleagues made the original greenhouse structure out of bamboo to keep costs down, but it blew over in the first storm. Eventually, they settled on a larger steel structure, working with local banks to finance farmers for its $4,200 cost, while Kheyti provided them with seeds, fertilizer and knowledge to help them plant the new crops. Saumya continued to find support from Kellogg, not only winning a $70,000 social impact grant upon graduation but also receiving assistance in paying off student loans — an effort that has now become a formal initiative of the Social Impact Program, inspired by her experience.
Kheyti has continued to innovate to bring costs down to $1,200 per greenhouse, a price accessible to many smallholder farmers without financing. The company so far serves just 1,000 farmers — but it has more than doubled those farmers' annual income, thanks to the infusion from the high-value crops. "No other company in agriculture has been able to deliver so much impact attributable to one product," Saumya says proudly. With the support from the Earthshot Prize, the company hopes to expand to 10,000 farmers in the next two years.
For Saumya, the experience is a far cry from her early career. "I now know that what I do matters every day," she says, giving the example of a farmer who said he was able to send his child to school based on his increased income. "I am able to use my privileges to give people an opportunity they never would have had."
Meet more alumni entrepreneurs in this issue
Greenprint Partners is making big plans
New Hope Ecotech has a smarter recycling solution