Start of Main Content
Profits with purpose
Five alumni who have launched sustainability-focused startups walk us through their entrepreneurial journeys, sharing how Kellogg prepared them to rise to some of the biggest challenges of our day.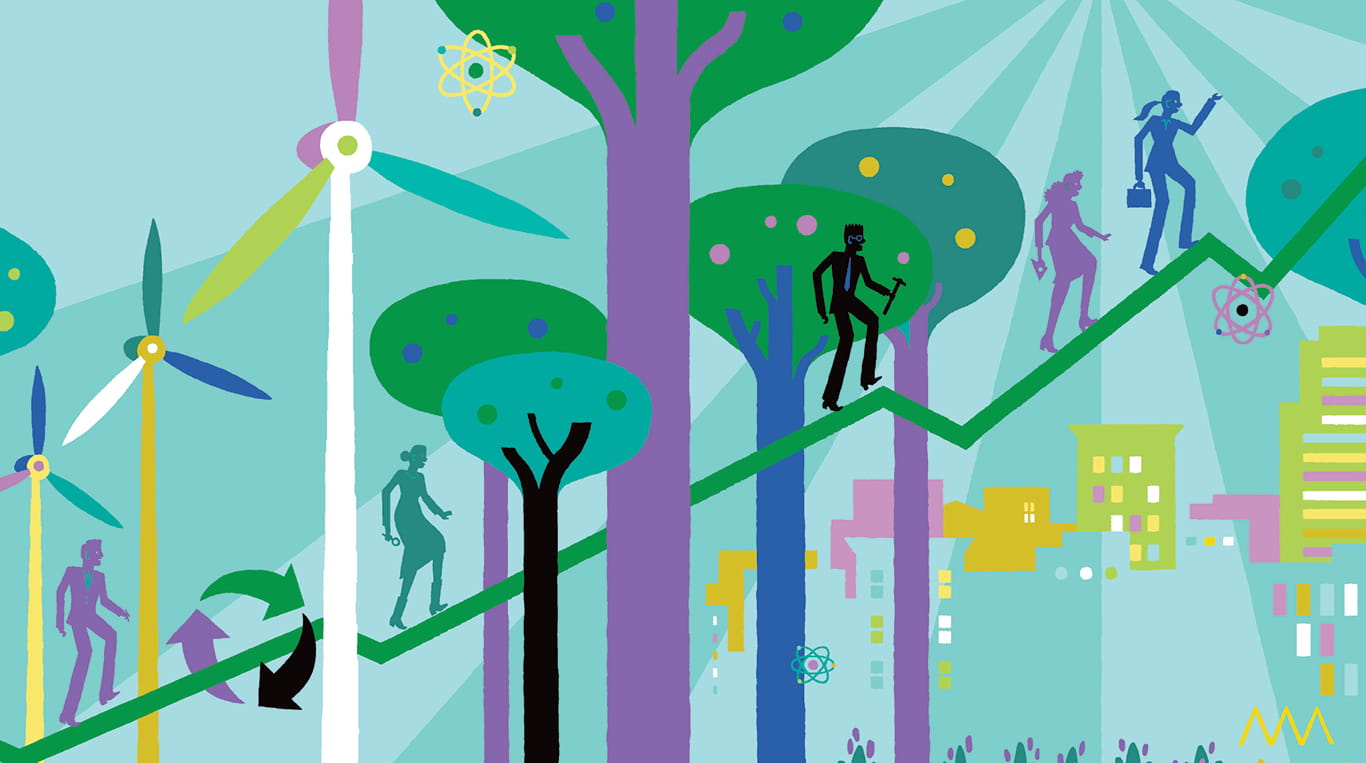 By Michael Blanding
The impacts of climate change are all around us: Disrupted supply chains, depleted crop yields, changing migration patterns and political instability are made worse by the extreme weather events of a rapidly changing climate. "It's in our headlines every day; it's in the realities of business operations," says Megan Kashner '03 MBA, director of social impact at Kellogg. "Sustainability is no longer a 'nice-to-have'; it's a C-suite imperative."
Every firm today has to take environmental change into account, but a select group of companies have gone beyond that imperative to make sustainability their mission. More than ever, social impact businesses are bridging the gap between the realities of the bottom line and the aspirations of a higher purpose, applying business solutions to urgent social and environmental problems.
Kellogg has long been at the forefront of that movement, teaching classes on social impact leadership as early as the 1970s, well ahead of other business schools. Over the past three years, more than 80% of students in the Two-Year MBA Program have taken at least one social impact course, and 20% take four or more by the time they graduate. The school's sustainability and social impact programming includes some three dozen courses as well as mentorship opportunities and a vibrant network.
The program has attracted passionate students who seek to use the power of innovation and entrepreneurship to meet needs that go well beyond customer satisfaction. "What drives our most impact- and sustainability-focused student entrepreneurs is a sense of responsibility and urgency," Kashner says. "Do they want to make money and sustain themselves? Of course they do. But first and foremost, they are in it for the impact and the change they see as possible in the world."
As the following profiles show, Kellogg graduates have gone on to successfully launch their own sustainability and social impact ventures, mixing business acumen and passion in fields including sustainable food, clean waste, farming and urban design to make the world better.
Taking a bite with reHarvest
This snack brand is combating food waste by recycling surplus crops.
As a busy grad student, Kathryn Bernell '18 MBA, MS struggled to get enough fresh fruits and vegetables, so she came up with an ingenious idea — making batches of smoothies and freezing individual portions into pops she could quickly eat every morning. "I was tired of my kitchen becoming a war zone every morning when I wanted to make a smoothie. This was just my shortcut," Bernell says.
Read on to discover how Bernell took her startup from her kitchen to major retailers.
Kheyti is the 'earthshot' the planet needs
This lauded low-cost greenhouse solution helps farmers increase yields.
As climate change has an increasing impact around the world, farmers in developing countries are on the front lines, contending with scorching temperatures, persistent drought and torrential storms — all of which can devastate crop yields. Interviewing farmers in her home country of India several years ago, Saumya '17 MBA heard nothing but horror stories. "They would say, 'Summer was never as bad as it is now,' or 'There are new pests we never saw five years ago,'" she says. "They weren't saying the words 'climate change,' but it was clearly affecting them."
Learn about how Saumya found an innovative solution that was recently recognized with the prestigious Earthshot Prize.
Greenprint Partners is making big plans
An urban design firm born in a Kellogg classroom is focused on community partnerships and nature-based solutions.
Nicole Chavas '15 MBA wasted no time in pitching. On her first day at Kellogg, she was carpooling to a class on social impact investing with classmates April Mendez and Laura Brenner Kimes '15 MBA. Knowing they'd be asked to come up with a sustainable investment project for the class, she took advantage of the opportunity. "I had them captive in the car, so I said, 'Let me run some ideas by you to see if you want to form a team,'" Chavas says. Out of that brainstorming session, the three classmates ultimately co-founded Greenprint Partners, a Chicago-based urban design and engineering company that uses innovative natural techniques to manage stormwater infrastructure and beautify communities.
Hear more about Greenprint's commitment to communities and the projects in its pipeline.
New Hope Ecotech
This digital exchange is empowering a better recycling chain in Latin America.
Outside of Brazil's cities sprawl huge open-air waste dumps where thousands of trash pickers (catadores) collect plastics, cardboard and other recyclables to sell. Often single mothers trying to support their families, the trash pickers live in squalid conditions as they eke out a living. "There is no financial value given to their services," says Thiago Carvalho Pinto '15 MBA. "So they have to invest their social value in order to compensate for it." Carvalho Pinto's company, New Hope Ecotech, is tacking that problem by taking advantage of a recently passed law in Brazil that puts the responsibility for recycling waste on the companies that produced it. His venture has created digital recycling credits, similar to the carbon credits traded to offset emissions.
Read the full story to learn how a Kellogg class project is contributing to New Hope Ecotech's mission.
---
More to explore: Funding and supporting startups seeking impact
"Every startup needs early capital," Megan Kashner explains. "If we only make available the opportunity to be an entrepreneur to those students who can afford to self-fund, then we are missing out on a huge swath of potential." Kellogg offers a range of resources to students in this field, including:
During the school year:
$2,500 per year for educational experiences such as conferences.
$5,000 quarterly toward social impact and sustainability startup expenses.
Over the summer:
$7,000 summer stipend for students in social impact and sustainability internships.
$10,000 summer stipend for social impact and sustainability startup founders.
After graduation:
Up to $75,000 in loan assistance awards for exemplary impact and sustainability students.
Up to $15,000 per calendar year for up to 10 years for those in nonprofit or public service.
$70,000 Social Entrepreneur of the Year Award.
In addition to funding, Kellogg offers the expertise and mentorship of more than 40 faculty working in social impact, as well as an extensive alumni network to help solve thorny business problems. The Kellogg Youn Impact Scholars program, named for Andrew Youn '06 MBA of One Acre Fund, provides additional opportunities for connections with alumni and supported all of the ventures profiled in this article.
"Social entrepreneurship is hard. When our Kellogg impact and sustainability entrepreneurs graduate and go out into the world, they will face a rough couple of years," Megan Kashner says. "My hope is that we have sent them out with the tools, the knowledge and the network to hasten their success."
More in this issue
Delivering medical care with the NEST360 Program
Merck CEO Rob Davis on the future of pharma
Nike's Angela Dong is hitting her stride
Faculty in focus: Cynthia Wang PhD '07, MS '04