Start of Main Content
Inside An Elite Experiential MBA Course: Kellogg's Global Initiatives in Management
Kellogg students traveled to Ecuador and Costa Rica this spring through Global Initiatives in Management (GIM): Impact and Sustainable Ventures.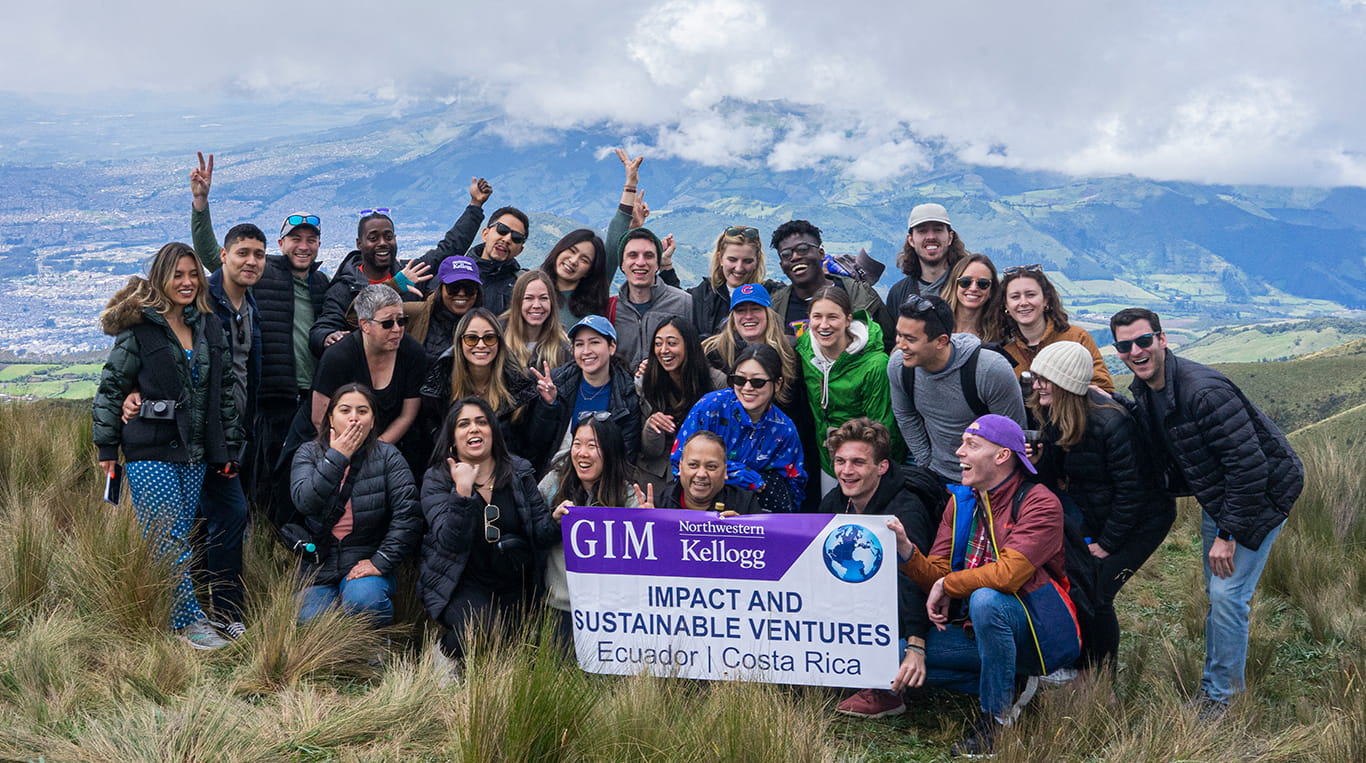 This content was originally published in Poets&Quants.

Tasting fine chocolate is a little like drinking Ayahuasca, the South American ceremonial brew with psychedelic properties: You need a guide.

Break a tiny piece, but don't put it in your mouth. Smell it. The first hint of the flavors comes from their aroma, Santiago Peralta tells his guests sitting aside a long table on the balcony tasting room of Paccari Chocolate in Quito, Ecuador.

The roofed patio overlooks the steep mountainside neighborhoods the capital city is known for, and it protects a rapt contingent of Kellogg MBAs from the wet fog and drizzle that often clings to the Andes Mountains during the wet season.

"Just take a picture of the smell," Peralta says. "Now put it in your mouth, but don't bite it. The chocolate will start melting with the heat of your body."

Obi Solaja does as instructed. The chemical engineer has worked for one of the world's largest chemical companies for nearly 15 years. She's also a second-year student in the executive MBA program at Northwestern University's Kellogg School of Management, and it is an elective course on sustainable and social impact — Global Initiatives in Management (GIM) Impact and Sustainable Ventures — that brings her to this patio.

But what, beside the art of chocolate tasting, could a sustainable Ecuadorian chocolatier possibly teach an executive of a multinational chemical manufacturer?

Quite a bit, it turns out, and it starts with the size of the company's cacao sack.

'THIS IS A HERITAGE OF SLAVERY'

First, a little history.

Peralta founded Paccari Chocolate in 2002 with his wife and business partner, Carla Barbotó. The couple built the company as a social enterprise from the very beginning, making it their mission to create new agricultural practices through organic farming, fair trade, and biodynamics that would sustain the environment of their native Ecuador along with the families who worked the land. Profit, they set out to prove, was possible even for companies that sought to do good.

Paccari is different from some other chocolate makers in that it cuts out the middleman. It works directly with more than 3,500 small-scale farmers, paying almost three times as much as competitors for the cacao used in their premium chocolate. The higher payments entice the small farmers to adopt the organic and biodynamic farming practices the company requires, and Paccari trains them to do so.

In just six years, it started exporting its premium chocolate bars, made entirely with Ecuadorian ingredients, around the world. Today, it is a certified B Corporation, a designation awarded to companies that are leaders in the global movement for an inclusive, equitable, and regenerative economy. The certification, awarded by B Lab, measures a company's entire social and environmental impact. Simultaneously, its chocolate is counted as among the best in the world, winning seven gold medals in the International Chocolate Awards.

Working so closely with the farmers, Peralta and Barbotó saw first-hand the back-breaking work required to lift and carry the sacks of cacao seeds, colloquially referred to as beans. Traditionally, a sack of beans weighs 66 kilograms, or about 145 pounds.

"This is a heritage of slavery. Which of you can put that on your back and walk half a mile?" Peralta asks the table of rapt MBAs. "When I saw that, I thought, these guys are still treating us as slaves. But (Ecuador) has been 200 years without slavery."

Peralta and Barbotó proposed a solution that seemed so simple on its face, but proved monumental to the farmers in the countryside: Reduce the sack size to 20 kilograms, or about 44 pounds. The result? Less toll on the farmers' bodies, of course, but it also allowed more women to work on the farms, helping to lift more families out of poverty.
'IT BOILS DOWN TO RELATIONSHIPS'

"Hearing how Paccari was able to change work processes in his production by lowering the weight of the cacao sacks and how that opened entry to other workers, this is exactly what we're looking at in my industry," says Solaja, who leads a partnership between her employer and a nonprofit that targets underrepresented minority women with the goal of placing them in family sustaining jobs.

What hidden barriers might Solaja's colleagues be able to identify by forging the same kinds of close relationships that Paccari forged with its farmers?

"One lesson that was important to me was when he talked about culture change – not only within the country but across markets, across sectors, and really across the world – it boiled down to relationships, and also education and awareness. How do you educate about opportunities, upskill and connect the dots, and bring in families in a sustainable way that can actually move the needle?" Solaja tells P&Q.

"It's not just one job, one person. It's really a systems change. That spoke to me. I think what we are getting out of this course is that you want to change hearts and minds, but the real ticker is you've got to change the systems overall."
Read the original article in its entirety on Poets&Quants to hear from more Kellogg students about how the trip to Ecuador and Costa Rica impacted their perspectives on sustainable ventures.