Start of Main Content
Psychedelics and business school—unusual bedfellows?
Kellogg recently hosted "The Business of Psychedelic Therapies" aimed at exploring the potential of psychedelic therapies in the treatment of persistent mental health issues. Read about one student organizer's experience in supporting the programming and how MBA students are influencing dialogue.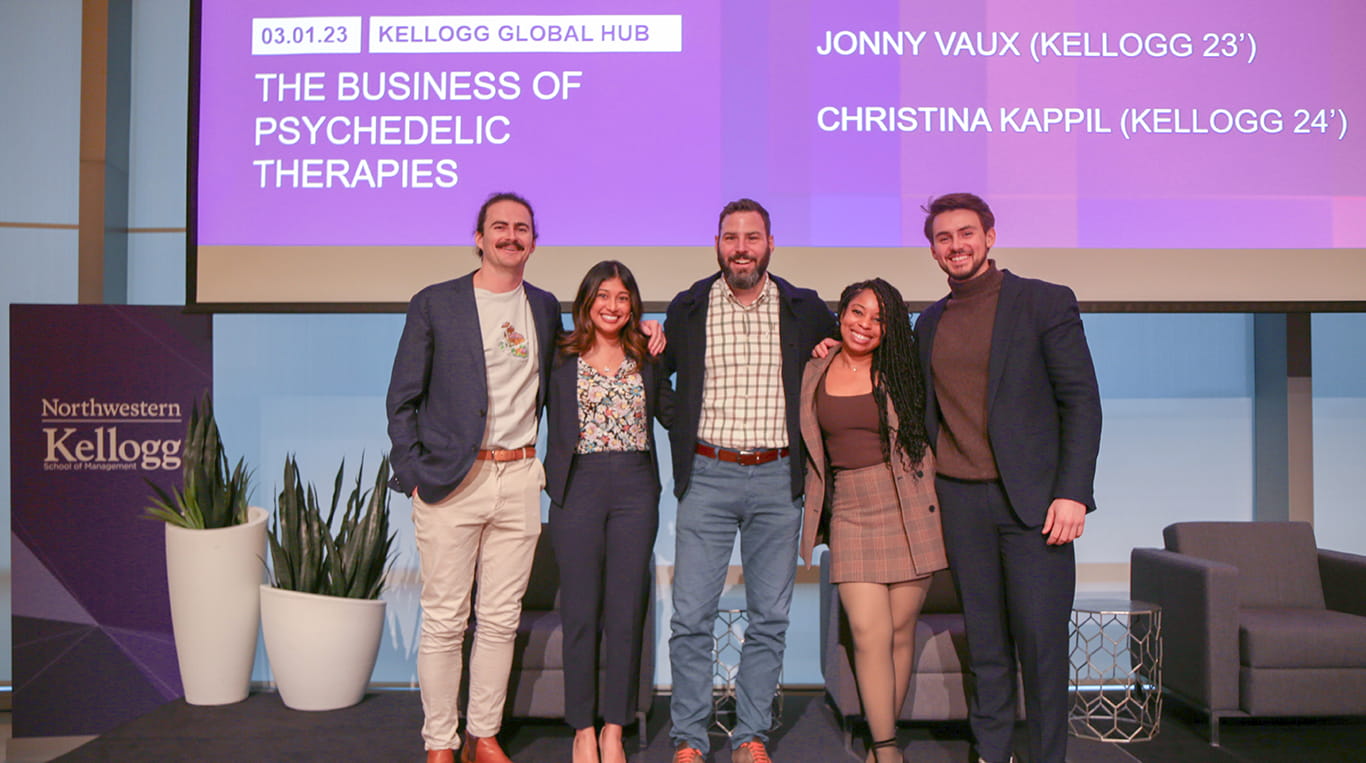 Written by Jonny Vaux '23, Two-Year MBA Program
You might've seen "How to Change Your Mind" on Netflix, read books by Michael Pollan or listened to podcasts proclaiming the potential of micro-dosing — but what really does this all mean? Is this even legal? Are people just reaching into a bag of mushrooms and being cured? The simple answer—no.
Welcoming the "second wave" of psychedelics
The world of psychedelics is not new (it dates to 9000 BC), but it has been experiencing a "second wave" of research over the past decade and is looking ever more likely to become a part of our healthcare system. Whilst there may be so much unbounded potential in this emerging space, the industry is plagued by stigma and swamped with unanswered questions. This Kellogg program was purposely built to tackle that stigma and answer those questions.
No matter how effective psychedelics may be, there are fundamental business problems that we first need to resolve, and MBA students can be the ones to help navigate those challenges. Psychedelic therapies exist at the intersection of healthcare and entrepreneurship with stakeholders yearning for improved models on drug development, clinical delivery, therapist training, reimbursement; the list goes on. The objective of our program was to present MBA students with the opportunity to meaningfully engage with these new models.
Through a series of keynote speeches, panel discussions and interactive sessions, we explored the latest trends, challenges and opportunities in the psychedelics industry. At the heart of our mission was a commitment to promote a sustainable and responsible approach to the use of psychedelic therapies. We heard from the industry's leading researchers, investors, entrepreneurs and activists on how they're building out the industry according to this same mission.
Creating conversations to help drive change
Some of the most poignant sessions were when panelists and fellow students told of their personal health journeys and experiences with psychedelics, bravely telling their most vulnerable stories to a packed crowd. It showed the remarkable lengths that people are going to in order to break down the social stigma around mental health and psychedelics. The success of our program is a testament to pioneers like these who have campaigned for better and more equitable mental health treatment over the years. As MBA students, we were lucky enough to be given the space and resources to discuss how we can build upon their successes.
A major piece of that puzzle was Professor David Schonthal and the Kellogg Entrepreneurship department, who sponsored this event. The power of the Kellogg community is that we have the resources and network to build out a strong program, but more importantly, the collective willingness to lean into discomfort. With the momentous support from Two-Year MBA Program students Nick Mahoney '23 and Keyaira Lock '23 as well as Christina Kappil '24 MMM Program, this event created a space where Kellogg students felt comfortable coming together and speaking openly about a topic that has been pushed underground for a long time. It's encouraging to think about what other areas of conversation this will open up in the future.
We closed the program with a call to action for all students. We encourage everyone to bring out the conversations that are happening underground, initiate new discussions that bring in fresh perspectives and openly push back against the social stigma. The impact of this event will be in the conversations and discussions that will flow through the Kellogg network. We've all been affected by mental health issues in some way, so it's imperative that we continue to engage with innovative new treatments in order to better support our community.

Read next: Exploring the impact of shifting paradigms at the 2023 Private Equity & Venture Capital Conference