Start of Main Content
Inside the classroom: Medical technologies in global public health
Step inside the MBA course that combines global social impact with healthcare innovation — a class that one student credits with helping her land her "dream job."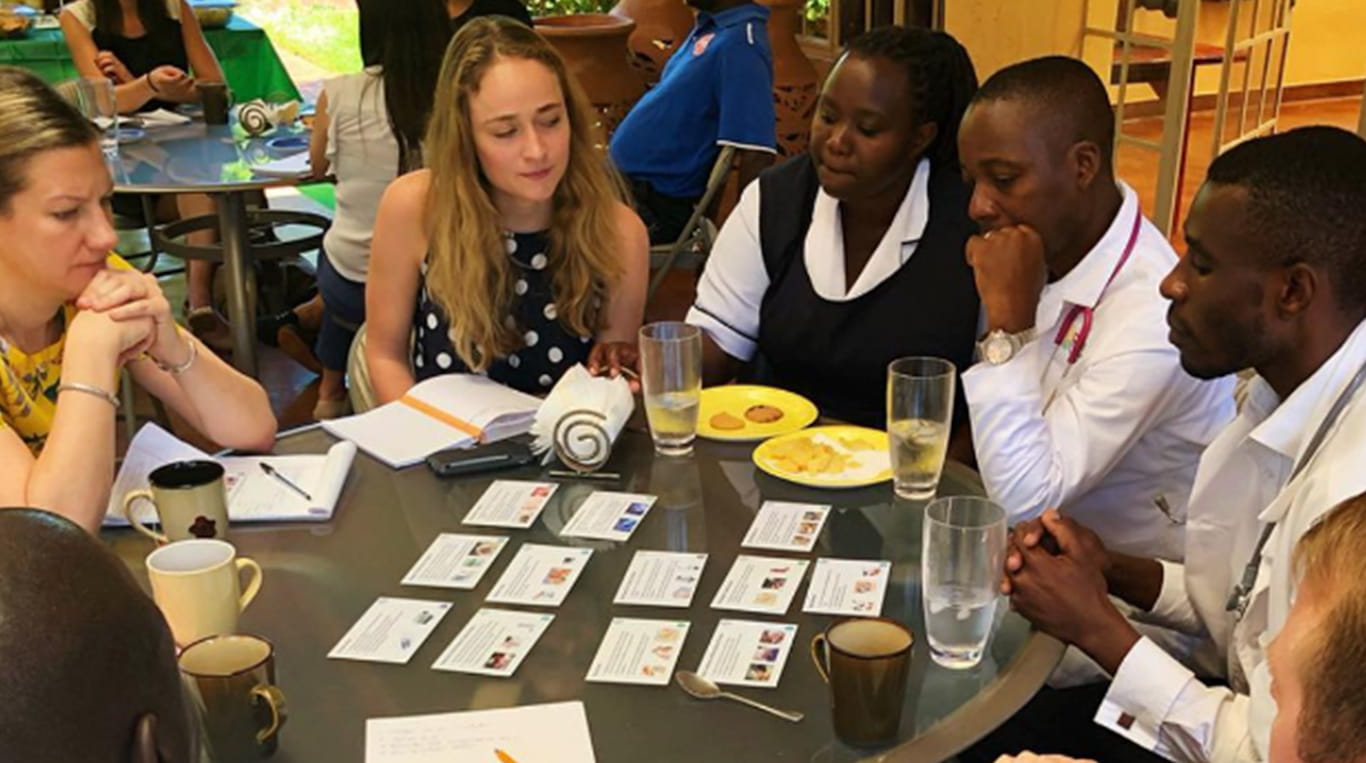 By Sachin Waikar
Screening for cancer. Preventing infant pneumonia. Delivering affordable breast pumps.
Those are just a few of the challenges Kellogg students tackle in Medical Technologies in Global Public Health, taught by Rebecca Kirby and Kara Palamountain, who also conduct research for NEST360.
The in-demand course pairs teams of students with medical-product developers designing diagnostic technologies or innovations for low- and middle-income countries. "We've intentionally included African innovators as clients so we can think through the challenges and questions they face," Palamountain says.
Over the first five weeks, students learn broad concepts in public health, with some focus on project-relevant disease areas. "Last year we had a project focused on a cervical-cancer biomarker to help improve screening as many African women don't currently have access," Kirby says.
Subsequently, students take a two-week spring-break trip to Africa for on-the-ground research. "They may observe a lab to see how a test is performed, follow patients and technicians to understand the patient journey, and gather feedback to take back to the innovator," Kirby says.
The class also features interactive case studies and guest speakers who've worked on medical issues in the field. Two of the cases are based on Kellogg alumni: David Milestone '07 MBA who worked with USAID on addressing childhood pneumonia in Uganda, and Nikki Tyler '13 MBA, who helped launch an antiseptic gel for newborns in Nigeria. Guest speakers have also included Kellogg alumni, such as Sahar Jamal '19 MBA, who runs Maziwa, a social enterprise focused on supporting new mothers in low- and middle-income countries to continue breastfeeding upon returning to work; Jamal took the class herself while at Kellogg.
The class culminates in students presenting their projects to the product developers. "We're thrilled that students we survey [anonymously] after the class say it's one of their favorite experiences at Kellogg," Kirby says, "whether they're interested in global health or more on the product design and innovation side."
Alumni and students attest to that. Amy Schellpfeffer '13 MBA said the class was an "absolute must" given her desire to combine design and business principles for social good in low-resource settings. Through the class Schellpfeffer — an engineer before Kellogg — did medical-technology research in India, then completed a Nairobi-based internship as a Kellogg CRTI Fellow, followed by post-Kellogg work in the medical-device industry. Today she works with the Bill & Melinda Gates Foundation, guiding investments to address maternal and newborn health inequities in Sub-Saharan Africa and Southeast Asia. "I wouldn't be at the foundation, my dream job, without that class and experience," she says.

Betzael Bravo '19 MBA came to Kellogg partly to take Palamountain's course. "Many alumni told me the course had a tremendous impact academically and professionally," he says. His class-based trip to Tanzania helped him realize "several high-tech med devices were not in use because they were not designed to perform within the local settings. It was a unique opportunity to understand the customer journey and bridge a crucial knowledge gap."
Today he uses that knowledge as a business lead at Philips, as part of the team partnering with government and third-sector agencies to tackle global health challenges. "I help them understand stakeholders' incentives, user pain points, and patient journeys to develop medical technologies that address the needs of clinicians in specific settings," he says. "I didn't know those things coming into Kellogg."
Current student Phil Fairleigh '23 MBA took the class this past Winter Quarter. "It has been my favorite class at Kellogg," he says. "I loved the open dialogue and exposure to so many different ideas and perspectives." Before business school, he had worked in banking, private equity and social enterprise, and through the class he found an internship with a Nairobi-based organization providing lease-to-own medical equipment like ultrasound machines. After graduation, he hopes to move into impact investing or possibly VC in emerging markets, with a focus on medical technologies. "The class really helped me understand what I want to do in the future," he says.
Both instructors see the impact of the school's culture and resources on the class. "Kellogg focuses on creating high-impact, low-ego leaders," Kirby says. "That's necessary to work in this space. We try hard to focus on making sure we travel responsibly, for example, we have a full course session on decolonizing global health. A lot of students who take our class are those kinds of leaders."
"Kellogg administration and faculty have been very open to us carving out a unique aspect of a business education that applies management experiences and principles to public health," Palamountain says. "They're helping us think about how to help solve some of the world's toughest problems."
Photos courtesy of Kellogg faculty
Read now: How Kellogg faculty research is delivering critical medical care to sub-Saharan newborns