Start of Main Content
Kellogg proudly joins The Consortium
The partnership will further advance our shared mission of promoting diversity, equity and inclusion in business education and corporate leadership.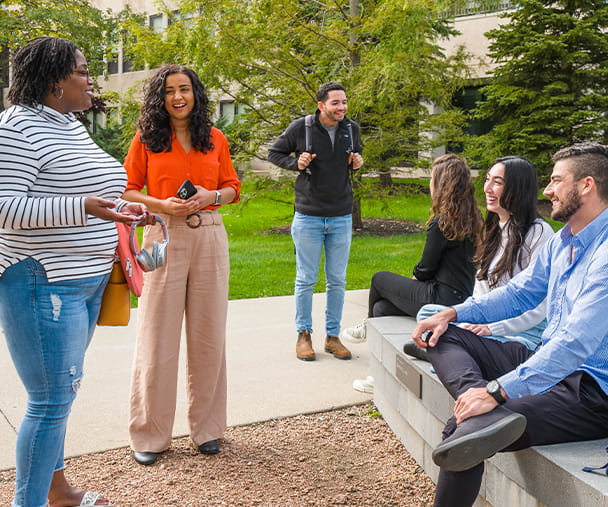 By Crystal Fazal '08 MBA
Director, Diversity Admissions
At Kellogg, we believe in the power of diversity of thought and experiences. Channeling the energy that lies in differences helps effect change and creates impact around the world. We strive to form mutually beneficial partnerships that can help us continue our work in building better communities and more inclusive workplaces, which is why we are excited to join The Consortium.
Now encompassing 23 esteemed business schools among its membership and 1,000 current students, The Consortium is the nation's largest diversity network linking top-tier students, MBA programs and providing merit-based scholarships. Prospective students who apply to Kellogg through The Consortium will gain access to webinars, events and a network of 80+ corporate partners.

The Consortium's mission of enhancing diversity and inclusion in global business education and leadership reflects one of our school's core values, and we are happy to partner with an organization that has supported more than 10,000 MBA students and alumni across their prestigious network of business schools to achieve career success and personal growth. Our mission is to educate Kellogg Leaders who can thrive in a world of increasing complexity, and who can convene and inspire diverse, inclusive teams to shape the best solutions for the greatest impact.

Through this partnership, Kellogg is furthering this mission and its commitment to creating a more inclusive and equitable student experience where students feel they show up authentically and unapologetically. Continuing to uphold a high level of achievement, Kellogg will extend its dedicated network including career counseling, personal support, academic planning and career placement assistance to Consortium Fellows.
It was as a result of the school's own long-standing partnership with student club leaders from our Black Management and Hispanic Management Associations that we were able to make significant strides in bringing this partnership to fruition. The culture of collaboration at Kellogg transcends the walls of our classrooms and helps to chart the future of Kellogg and its programs through these types of efforts.
Our commitment to shaping empathetic leaders
Diversity, equity and inclusion (DEI) is embedded within our school's ethos and lies at the heart of our community. Broadening its exposure to advance representation matters. From classrooms to boardrooms, improving daily life experiences and instilling a global mindset can transform communities so that they grow rich in (self) awareness and better understand the interconnectedness of societies.

Throughout the year, Kellogg students, staff, faculty and alumni engage in advancing DEI through academics, initiatives and programming. Highlights include:
Application fee waivers: Kellogg expanded its application fee waiver program to include the following partner organizations: MLT, Forte Launch, Posse Foundation, JumpStart and Riordan Program Alumni.
Prospective student diversity events: The school's admissions team holds focused events and resources for underrepresented audiences, including networking opportunities for prospective students in several cities across the country, one-on-one admissions chats, diverse applicant assistance and mock interview support for prospective diverse candidates.
Intercultural development inventory: As Kellogg students begin their MBA journey, they are offered an assessment of intercultural competency to understand their level of self-awareness within a multicultural environment such as the one they are entering. Also, starting this year, students will have the opportunity to take the same intercultural competency assessment upon completion of their academic program, enabling them to reflect on their growth on key dimensions at Kellogg.
Tough Talks: This initiative is an opportunity for Kellogg students to have meaningful conversations around difficult, often controversial topics including privilege and implicit bias. Students are provided with a guide to help them understand how to engage different perspectives with curiosity and respect while communicating their own position and feelings. This workshop builds students' soft-skill toolkit, helps them consider sources of unconscious bias and encourages them to think carefully about the other people in the conversation.
Women's Leadership series: In collaboration with Kellogg's Women Leadership Program, Kellogg is scheduling quarterly sessions designed with a focus on women in leadership.
Culture Core workshops: We created a series of DEI training and workshops for student groups covering topics including Power and Privilege, Cross-Cultural Communication, and Solidarity Spaces.
Faculty-led workshops, research and thought-leadership: Kellogg faculty members continue to win wide recognition for their pathbreaking research and industry-shaping thought leadership across dimensions and dynamics of diversity, equity and inclusion. During the academic year, faculty members facilitate and participate in Kellogg and Northwestern workshops designed to create a more inclusive classroom environment.
Kellogg Resource Groups (KRGs): An integral part of our school's efforts to ensure an inclusive and equitable environment, the nine staff-driven groups strive to enhance a sense of community and belonging for both staff and faculty.
While we prepare our students to uphold inclusive leadership during their time at Kellogg, we also invest in the future of their success. The Career Management Center (CMC) at Kellogg equips our students with tools and training to proactively manage their career path and goals over a lifetime. This year the CMC created a dynamic landing page to highlight new DEI resources available to them including a set of recommended questions to ask employers during the networking and interview phase to better understand a company's commitment to DEI and how the organization lives it out.

DEI is not a destination. It is a continuous learning and collaborative journey and requires active participation from all. Kellogg is committed to continuing to act intentionally toward more equitable leadership and nurturing environments.