Start of Main Content
Class of 2022 employment outcomes: Graduates raise the bar yet again
Kellogg graduates remain in high demand across industries and locations, with 99% of students receiving job offers for full-time roles within three months of graduation.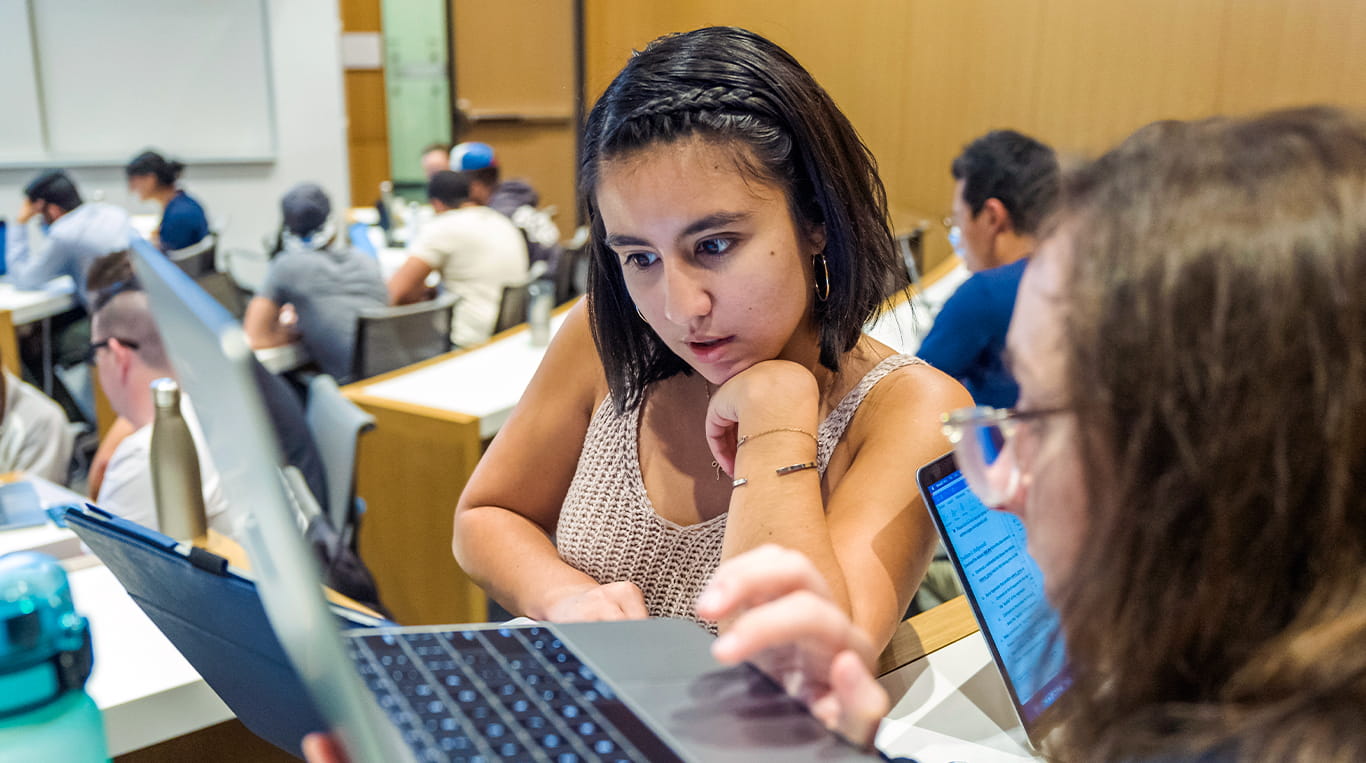 By Liza Kirkpatrick
Assistant Dean of the Career Management Center
I'm thrilled to share the career outcomes for the Two-Year MBA Class of 2022. These Kellogg graduates, who began their MBA journey during the disruption of a global pandemic and uncertain economy, demonstrated excellence and persistence in securing not only impressive, but impactful positions after earning their Kellogg MBA.
In a year when Kellogg graduated one of its largest ever Two-Year MBA Program classes, students continued to see high demand for their talent. Of the 2022 graduates from the Two-Year program, 99% received job offers for full-time roles, and 97% of them accepted job offers within three months after graduation.
Additionally, students received a median base salary of $165,000, a $15,000 increase from 2021 and an 18% increase since 2019. The class' median signing bonus was $30,000, as graduates got the jobs they wanted across a wide variety of industries and functions, with consulting, technology and finance remaining the top destinations for our new Kellogg Leaders.
Landing the first job of their career post-Kellogg was one of the highlights of their experience. We worked with these students throughout the process, equipping them with a special combination of skills gained through the well-rounded Kellogg experience, providing them with resources and tools from the Career Management Center and supporting them with the pay-it-forward mentality of the robust Kellogg alumni network.
MBA recruiting in consulting sets new records
A record-high 40% of Two-Year MBA students from this graduating class went into consulting, demonstrating that we remain a sought-after destination for talent in this industry. Nearly 150 Two-Year MBA students were hired by top consulting firms, including McKinsey & Company, The Boston Consulting Group and Bain & Company. Students who accepted roles in consulting received a median base salary of $175,000.
The balanced approach at Kellogg in equipping students with the special combination of analytical, technical expertise with human-centric, social intelligence creates the ideal candidate for the fast-paced consulting industry.
Our coursework prepares students for these roles — including hands-on courses in which students act as consultants on projects for real companies. For example, the popular Global Initiatives in Management (GIM) course combines traditional classroom learning with problem-solving, teamwork and client service with an introduction into a specific region or global industry. And in Analytical Consulting Lab, students help real clients use real data to solve real problems.
Over the last year, students in Analytical Consulting Lab used advanced analytics to help the Chicago Bears build a smarter pricing strategy around food and drink concessions. Another team helped Bayer AG identify new agricultural products and growth opportunities through predictive modeling.
Boosts in tech, finance industry recruiting
Kellogg graduates continue to land coveted roles in the tech industry, with 21% accepting tech jobs this year, with a median base salary of $145,860. They work for major firms including Amazon, Meta and Google, and also smaller firms like C3.ai.
We see continued interest from tech companies in hiring Kellogg talent — in fact, Amazon hired 26 students this year, up from 19 in 2021. Across the technology ecosystem, our graduates are securing jobs in a diverse range of functions, from product management to marketing and strategy.
Additionally, 16% of Two-Year MBA students secured roles in finance, with a median base salary of $170,000. Private Equity and Venture Capital remain top recruiting areas within finance thanks to strong student interest and their growing passion for startups and entrepreneurship. This year, students landed positions at VC firms such as Baird Capital Partners and SuRo Capital, just to name a few.
Our graduates' opportunities in technology will continue to expand because of our newest degree, the MBAi Program, which will graduate its first class of students this December. This joint-degree program at the intersection of business and technology will prepare students for roles in machine learning engineering, technical product management, product marketing and more.
MBA demand for jobs on coasts increases
While Kellogg maintains its strong presence in the Midwest, students are increasingly interested in accepting positions in the Northeast and on the West Coast. More than 48% of this class accepted jobs in these locations — in fact, record numbers of students accepted jobs in New York and Boston this year.
The strong relationships at Kellogg with alumni and employers on the coasts give students the opportunity to network and build relationships in these locations during their time in business school. Popular programs include the San Francisco Immersion Program over winter quarter and the Career Management Center's industry-specific career treks. Four treks to New York City are planned for this fall to explore industries like private equity, banking, and media and entertainment.
For Emily Brannon '22 MBA, participating in the San Francisco Immersion Program was integral in her journey to landing a job as an associate chief of staff at growth-stage startup Guideline. During the immersion, Emily was able to get involved in the Bay Area tech community and take tailored academic coursework in entrepreneurship and venture capital. The program unlocked doors through networking opportunities and launched her career post-graduation.
Throughout the recruiting process, students know they can rely on the 67,000-strong alumni network. Kellogg alumni are renowned for their "pay-it-forward" mentality, and for sharing their advice and connections to help students land their dream jobs.
The demand for agile, collaborative leaders is stronger than ever. And as these graduates' successes show, Kellogg is where the world's top organizations find their next generation of leaders. We are proud to prepare our students not just for their next job, but for their third, fourth and onward for years to come, over a lifetime of personal and professional success.
Learn more about our school's employment outcomes and how you can grow your career at Kellogg.
Want to know what it's like to be a Kellogg student? Join us for one of our upcoming Preview Days to connect with current students, faculty and admission staff.