Start of Main Content
The Evening & Weekend Program's fall 2022 travel schedule
Join us in a city near you to experience Kellogg firsthand.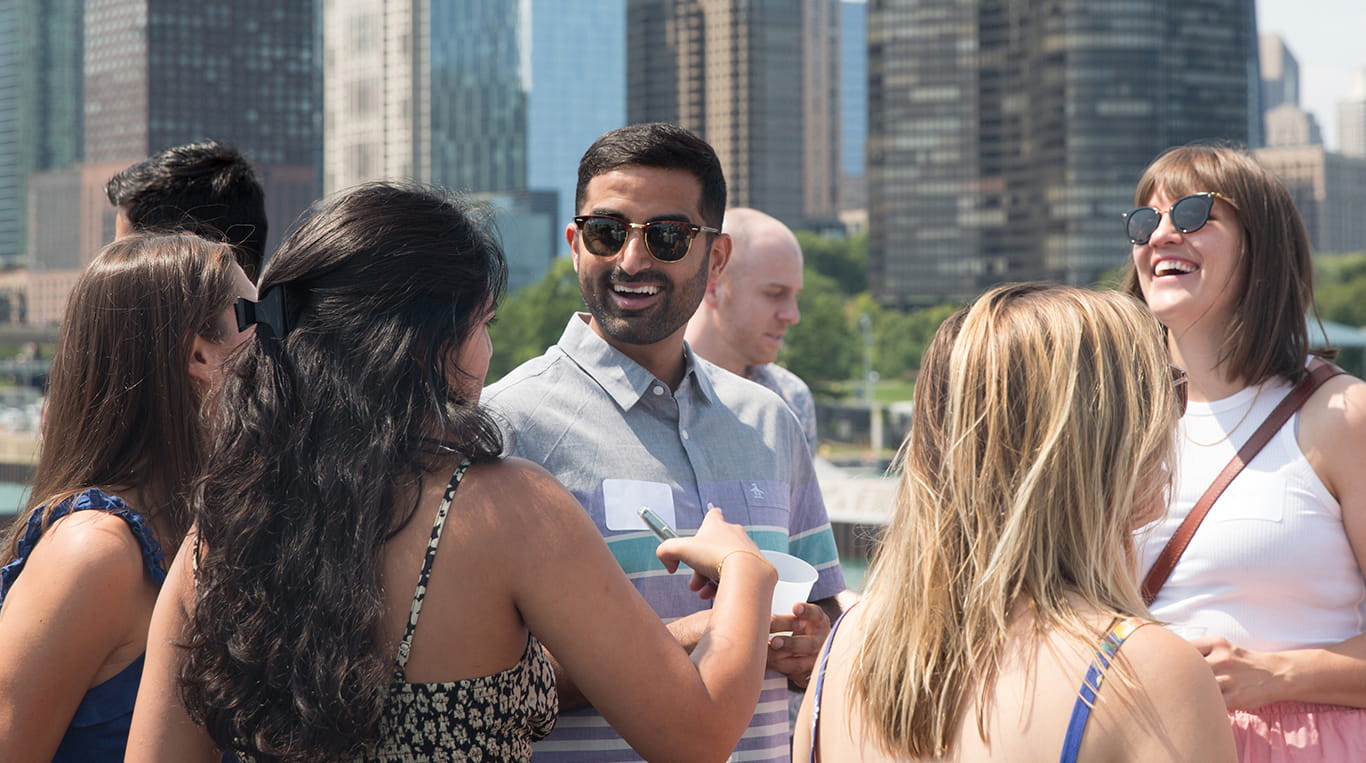 During the coming months, the Evening & Weekend team will be hosting events in cities across the United States. We're excited to show you what makes a Kellogg MBA unique and share new enhancements to our program including increased flexibility, updated test requirements and additional scholarship opportunities.
Why attend an in-person event?
Our students will tell you that the best way to get a sense of the Kellogg culture is to experience it. That's why our admissions officers are so excited to bring together local students and alumni to share their perspective and stories directly with you.
Our Meet Kellogg series allows you to connect with the local Kellogg network on a deeper level to learn about the variety of ways we're preparing our students for the future.
Director of Admissions Alyssa Jackson puts it this way: "My number one admissions application tip is to meet with our students, alumni and admissions team in person at our events. Our goal is to support you in your journey! This gives you the opportunity to hear about the MBA experience to help determine if Kellogg is the right fit for you. It also helps us, the admissions team, get to know the actual person behind your online application."
What should I expect?
At these informal networking receptions, you'll get a feel for our culture of innovation and leadership with the opportunity to ask all your questions. You'll hear how students are able to apply what they have learned in the classroom in real time to confidently lead projects, teams and organizations.
Our admissions team will also be on hand to discuss how the program is designed with flexibility in mind for busy working professionals and offer their advice on how to navigate the application process. Hors d'oeuvres and beverages will be served. Business casual attire is recommended.
Upcoming dates and locations
Wednesday, September 7 - San Jose, CA
Wednesday, September 7 - San Francisco, CA
Wednesday, September 7 - Detroit, MI
Thursday, September 8 - Minneapolis, MN
Thursday, September 8 - Seattle, WA
Saturday, September 10 - Los Angeles, CA
Monday, September 19 - Denver, CO
Tuesday, September 20 - Houston, TX
Wednesday, September 21 - Indianapolis, IN
Wednesday, September 21 - Austin, TX
Thursday, September 22 - Dallas, TX
Thursday, September 22 - Cincinnati, OH
Wednesday, September 28 - Milwaukee, WI
Saturday, October 1 - Atlanta, GA
Tuesday, October 4 - Boston, MA
Learn more and register for these upcoming in-person events on our events website.
Everyone's MBA journey is different, and we want to hear your story. We're excited to help you determine if Kellogg is the right fit for achieving your goals. Whether you join us for an upcoming event in your city, online or in Chicago we can't wait to meet you!