Start of Main Content
All in the family
As Ajit Kalra '20 (E&W) and his wife Sukhu (JV) launch Bhoomi Modern Indian Grill, a new fast-casual restaurant concept rooted in his family's culinary heritage, they reflect on how their Kellogg experience gave them the confidence to go after their dream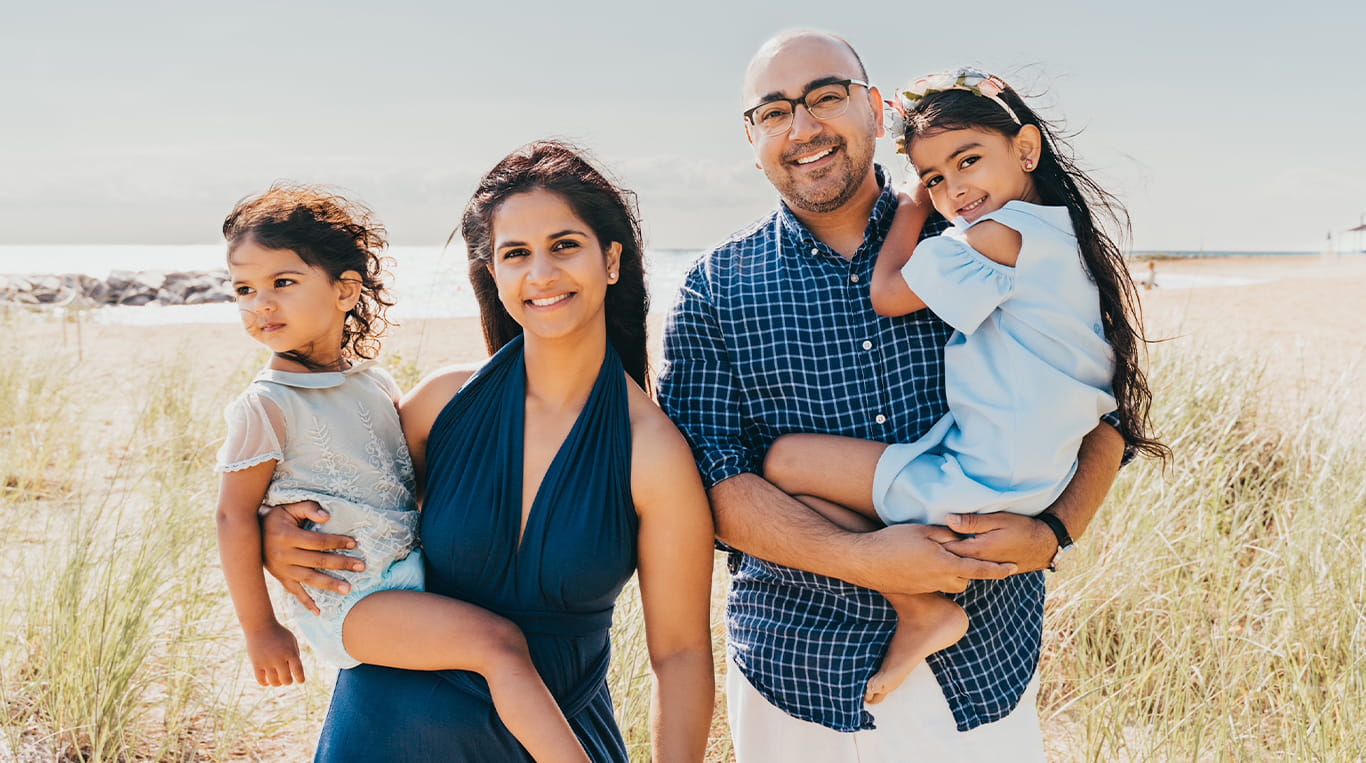 Ask Ajit Kalra '20 about the passion that has defined his life, and he won't hesitate with his answer. "Our culinary expression is really our art," he says. For Ajit and his wife, Sukhu, he says, "food has always been our passion; it was the first thing we bonded over when we dated."
A longtime finance industry professional, Ajit has held roles at MB Financial and Discover, and he earned his part-time MBA from the Kellogg Evening & Weekend Program in 2020, with Sukhu participating as a Joint Venture. But outside of their 9-to-5, food and hospitality have always had a special place in their heart and in their home — Ajit's father, Jiggs Kalra, was an influential writer, cookbook author, and TV show host specializing in Indian cuisine, and he passed on his love of cooking to his son.
Ajit and Sukhu launched their first foray into hospitality in 2011, when they opened a food truck. At that point, the food truck industry in Chicago was in its infancy, and the couple encountered significant challenges and roadblocks. "We were struck by the challenging logistical operations of running a food truck; if you don't have an inexpensive way to have a commercial kitchen it is nearly impossible." Ajit says. While the food truck was successful, they decided to press pause to start their family. They now have two children, and laugh that, "compared to parenting, running a business is an easy job!"
They launched their next restaurant concept, fast-casual eatery Bhoomi, in 2021 at the Urbanspace food hall in downtown Chicago, a location they secured through a Kellogg connection. "We are both big kabob lovers, and we wanted to provide the first of its kind, elevated kabob experience to the country," Ajit says.
Many of the recipes at Bhoomi are adapted from a cookbook that Ajit and Jiggs started writing together. Today, Sukhu leads operations and runs the restaurant, which is open six days a week, while Ajit continues to work in corporate risk and spends time in the restaurant kitchen on the weekend. A second Bhoomi location in Chicago is under construction, and due to open late September 2022.
Kellogg Confidence
The couple originally planned to launch their restaurant in March of 2020. While the COVID-19 pandemic forced them to wait for longer than they anticipated but the business has been successfully running for the past several months (Bhoomi opened its doors in September 2021). "It's really nice — some of my entrepreneurial professors, deans and other faculty have visited the restaurant, and it's always so exciting to host them" Ajit says. "We've also done a few very successful catered food events for the NU Law School, which is of great pride for us — to share our artisanal craft with fellow Wildcats."
The ideation for the business took place during his time at Kellogg. "The market fit, the market research — it all happened because of the academic experience at Kellogg," he says. He felt empowered to pursue his dream because of Kellogg. He admits he is typically someone who avoids risk, but he was willing to try this because food has always been his passion and Kellogg gave him the tools to be successful.
"Once you go through the MBA experience, you really build an ecosystem for yourself that becomes a critical support mechanism and allows you to articulate your vision and commercialize it," Ajit says. "Kellogg has inspired a level of confidence in navigating life, that has led to tackling entrepreneurship. Kellogg makes a big difference."
A focus on sustainability
The pair have also tried to infuse sustainability into all aspects of their business. "Sustainability has always been important to both of us," says Sukhu. "It's how we run our household — we have five separated bins in our kitchen — from compost to landfill," she laughs. "We've always been conscious of our carbon footprint, and we wanted to run our business the same way."
The couple has proudly turned part of their home into a storage facility, allowing them to purchase packaging in bulk. By purchasing packaging in large quantities, they can avoid passing on high prices for compostables on to consumers. When it comes to the food, the couple aspires for Bhoomi to be the first Indian quick-service restaurant that is truly "ingredient driven"; they focus on sustainably sourced, high-quality ingredients that are whole grain, organic, pasture raised and grass fed.
"We really wanted to do things differently, from the food, to the packaging, and the waste — that was all very important to us," Ajit says. Sukhu partnered Bhoomi with Too Good To-Go, an app that helps restaurants sell leftovers at the end of the day at a deep discount via takeout orders.
Their long-term goal is to be carbon neutral at their restaurant locations, and to build up a team around them with their values put into action. "We don't hire people to work for us, we hire people to work with us," Ajit says. "We are showing our commitment by embracing our team's personal and professional needs — the same as we would look after our own."