Start of Main Content
Gaining a global perspective
Nicole Schreiber '23 came to Kellogg already having worked with companies and clients around the world. The Global Immersion in Management course gave her an even deeper perspective on global issues.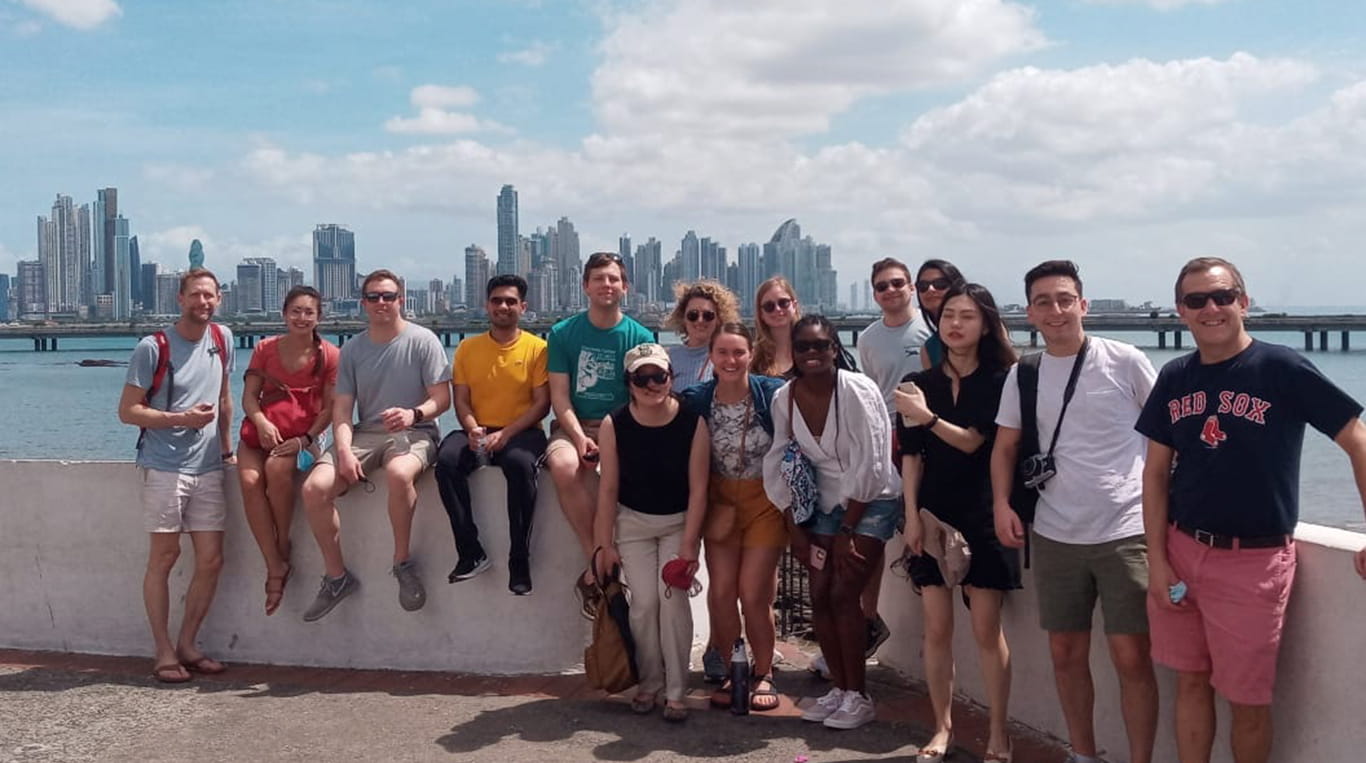 Every year, more than 250 Kellogg students across MBA programs participate in Global Initiatives in Management (GIM). This hands-on, project-based elective can be taken by students in the Full-Time, Evening & Weekend or Executive MBA Programs, and culminates with an immersive international trip full of firsthand learning experiences.
Current student Nicole Schreiber '23 and her classmates traveled to Panama and Costa Rica this past spring break as part of a GIM course exploring frontier markets. We sat down with her to learn about how this unique course offering fits into her career-long interest in making a global impact.
Give us some background. What was your experience leading up to Kellogg?
I started my career at Intel, where I got the opportunity to work with customers all over the world: from Japan to India to China and Latin America. I was fascinated by the opportunity for growth in emerging markets, and I was specifically interested in the role of technology in accelerating development. This led me to Sanergy, a social enterprise in Nairobi, Kenya that is addressing the sanitation crisis in urban slums by building toilets and upcycling the waste into agricultural products. After living and working in Nairobi for a year, COVID-19 brought me back to the U.S. where I returned to the tech sector, this time at Amazon Web Services. I came to Kellogg to pivot into Product Management, with the goal of specifically focusing on climate tech upon graduation.
What were some of the biggest learnings and challenges you faced while helping to grow a social enterprise in Kenya?
Human waste management is not a very sexy subject, which is often why it is left ignored. But it is a significant public health crisis — one that will only continue to mushroom with population growth and urbanization, and one that has a disproportionate impact on women's health and development. At Sanergy, a large part of my role was designing a mobile application to be used by our internal logistics team to enable them to service the toilets and safely remove the waste from the communities more efficiently by eliminating and streamlining their processes.
Throughout the development and deployment of this product, my biggest takeaway was the importance of having boots on the ground. There were constantly unforeseen obstacles, so I had to quickly learn how to roll with the punches and adapt on the fly. Ultimately, I was proud of the product we built and the impact we had on the organization.
What opportunities have you had at Kellogg to gain global experience?
Kellogg offers a series of courses called Global Impact in Management (GIM), with each course focusing on a unique topic, from social impact to nation branding to sustainability. The classes culminate with a trip over spring break to visit the countries studied in the class and the opportunity to meet with and interview local company executives and experts on your specific research topic.
I participated in the GIM course focused on frontier markets, specifically Panama and Costa Rica, and my research project evaluated the opportunities and challenges facing technology company's expansion into emerging markets. Throughout the quarter, we heard from various speakers on a range of topics, including impact investing, blockchain use cases, and the country-specific attributes and socio-political and economic conditions to be aware of in preparation for our in-country interviews.
Some of the highlights from our trip include: meeting with the Panama Canal Authority and watching a cargo ship pass through the lock system, meeting with the CEO of Copa Airlines (one of the only airlines to maintain profitability through the pandemic), and touring a Starbucks farm to learn about their efforts working with local farmers to implement more sustainable farming practices.
What were some of your biggest takeaways from your GIM experience?
I was most impressed by the emphasis on sustainability as an asset and business driver: Every firm we met with had launched sustainability initiatives. For example, Procomer, the government agency focused on promoting exports, is keen to make Costa Rica the global leader in eco-tourism. Fun fact: Costa Rica runs almost entirely (99%!) on renewable energies. Frankly, it was inspiring to see and hear that these small, developing countries are on the pioneering edge of carbon emission reduction solutioning, and are walking the walk. I think the rest of the world has a lot to learn from them.
How do you think about impact as you move forward through your career?
I think that impact can be driven from anywhere, and that everyone should be thinking about how they can make an impact regardless of industry, role or function. I don't think that impact is binary – meaning you don't need to work in a nonprofit to make an impact. Every firm should be thinking about social impact as an asset and competitive advantage, and as such I think everyone can carve out opportunities to create positive impact within their career.
Do you have any advice for people getting involved in global impact?
My career path to date has been far from linear, but I've always followed this vague principle of "do what seems interesting to me in a given moment." So if global impact seems interesting to you, I say go do it! And that doesn't mean you need to move to Kenya — there are opportunities to drive global initiatives from anywhere if you seek them out. Talk to people and tell people your goals. I stumbled into Sanergy after talking to a friend from college and subsequently getting connected to the founders. People are willing to help you if you ask!
Learn more about global learning opportunities at Kellogg, which introduce students to the culture and business environment of nearly 70 countries per year »