Start of Main Content
Special K! 43rd Revue: Great ExpeKtations
With less than a month before the curtain rises on Show Week, we sat down with executive director Sophia Hooper and executive producer Penny Zhang as they reflect on their whirlwind Special K! journey.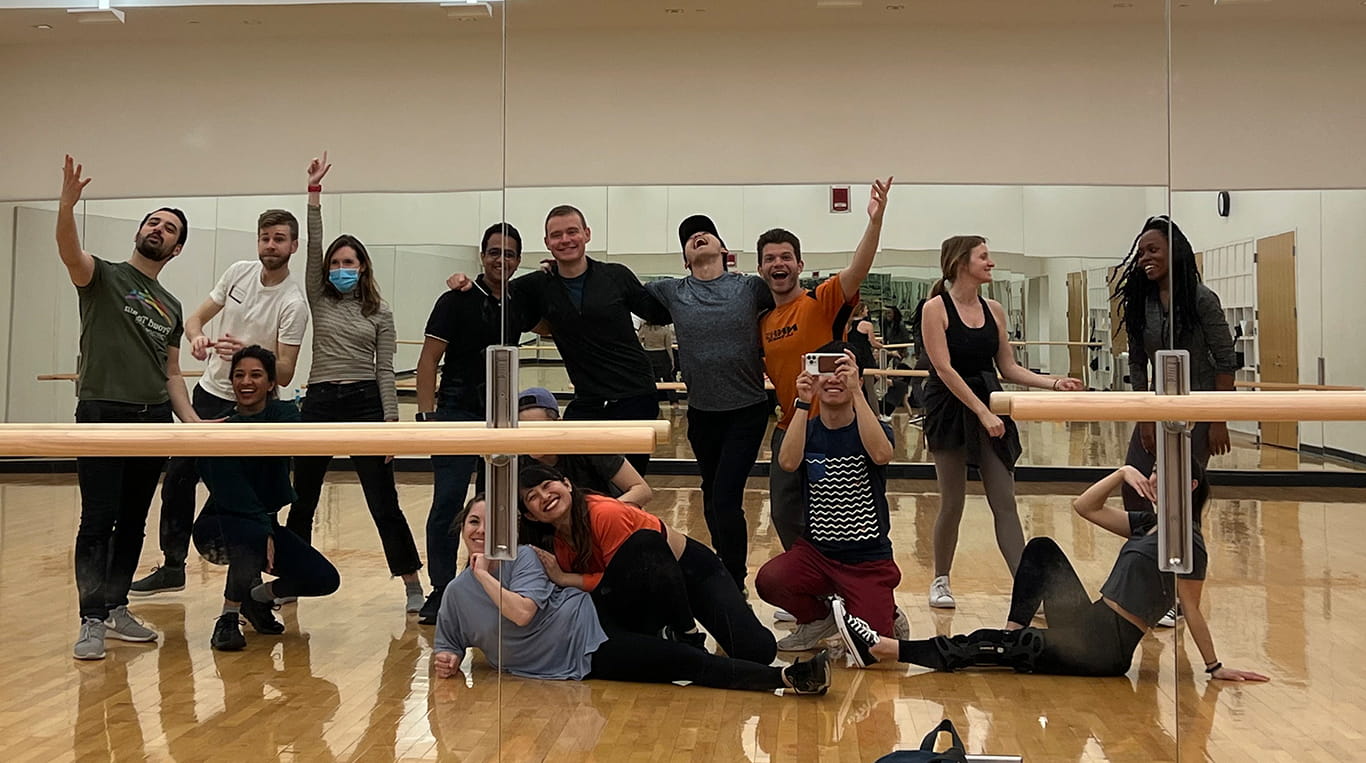 Special K! 43rd Revue: Great ExpeKtations will be performing live at McCormick Auditorium for 4 shows only, from Thursday, April 28th to Saturday, April 30th. Get your tickets here!
With less than a month before the curtain rises on Show Week, we sat down with executive director Sophia Hooper '22, a MMM student, and executive producer Penny Zhang '22, a Full-Time MBA student, as they reflect on their whirlwind Special K! journey.
Q: First and foremost, what is Special K! and what makes it so unique?
A: Special K! is Kellogg's best (and only!) musical comedy show. It's a full-length production with acting, singing and dancing across an incredible team of 24 cast members, 15 musicians, and 9 tech crew wizards. Think Broadway, but with business school students.
There are so many aspects of the show that make it special: it's one of Kellogg's longest traditions (we're in our 43rd year and going strong!) and it's run entirely by members of the Kellogg community. Every year, Kellogg students write, direct and perform the show. We do it all — from designing the show logo, to setting up stage lighting, to managing a budget and organizing a 50+ person team.
Q: What made you decide to join Special K! in the first place?
A: Being in a musical may seem like an unusual business school extracurricular, but I was drawn to Special K! because I wanted to be a part of a tight-knit community working toward a common goal, while having some silly fun! Special K! is where I made many of my closest friends at Kellogg and the sense of accomplishment that comes from pulling off a production like this is so rewarding. Every year, we perform on stage for over 1,000 of our peers, friends, faculty and family members.
We're currently in the thick of rehearsals for our show, and we have been floored by everyone's talent and effort. On average, each of our cast members is rehearsing over 20 hours a week! It's a huge commitment, but it's one of the most worthwhile experiences I've had at Kellogg — and we hope this year's show will be the best one yet.
Q: What goes into the creation of the show?
A: Coordination is the name of the game. So many pieces need to fall into place for Special K! to get off the ground. Sophia and I lead with Special K!'s mission, vision and values, while managing timelines, logistics and financials. Our creative directors write and direct the show from inception to execution. Our vocal director and dance director teach the songs and original choreography, and our band directors do the same, all while ensuring we blend together as an ensemble. Our technical director leads the coordination and design for sound, lighting and set, and our marketing directors are responsible for designing the show logo, Playbill, and ticket sales. That's a really high-level overview — but just know that it truly takes a village!
Q: What were the biggest challenges of going back to an in-person show?
A: This is the first year since 2019 that we're back to performing live and in-person, as the past two shows were filmed and digitally produced during the height of the pandemic. As a leadership team, we faced the unique challenge of overcoming significant knowledge gaps — none of us had ever been part of a live Special K! show before! Coordination can also be tricky with a group this large, and during the show, the cast, band and tech crew all need to be in sync. That takes a lot of communication and planning to achieve.
In equal measure, we needed to keep our Special K! traditions strong! It's not just about putting on a show — Sophia and I are also responsible for being cultural stewards of a 43-year-old organization with many beloved traditions. Year after year, Special K! has kept them alive, and this year was no different.
Q: How did the pandemic affect your Special K! experience and the mission of your organization?
A: Our first year of business school wasn't exactly what we thought it'd be, but we knew we wanted to make the most of it. In the wake of the pandemic, there was a deep sense of longing for connection and community-building, and that affected the way we thought about Special K! and the narrative of our MBA. We didn't want to oversimplify the Kellogg experience — we wanted to tell meaningful stories about both the good and the bad at Kellogg. This guided not only how Sophia and I led the organization, but also has come through in the themes explored in our show. Comedy has a magical way of doing a lot with a little: it brings people together through laughter, unites us in our common flaws, but also sheds light on uncomfortable truths we may still need to work on.
Q: What's the show about this year?
A: You'll have to see it to find out! Broadly speaking, it's about the great expectations we set for ourselves in business school, and the ways in which we meet (and sometimes don't meet) those expectations. I think we've all experienced what it's like to come into something with a plan, only to have life turn things upside down. To our surprise, sometimes it's for the better.
Q: What have you learned personally from your experience?
A: So, so much. we came into business school wanting to learn by doing, and that's exactly what happened. We've both learned how to be better leaders: to build something from the ground up, lead a team of individuals with diverse backgrounds and viewpoints, and problem-solve in times of crisis. But most of all, we've learned how important it is to have a solid team behind you. None of this would be possible without each and every single board, cast, band and tech crew member, or the administration, alumni and Kellogg community who have supported us along the way.