Start of Main Content
Widening the path to the American promise
A nonprofit executive and Executive MBA student, Jonathan Chaparro '22 wants to make high-quality education and career success more attainable for first-generation college students and students from humble beginnings.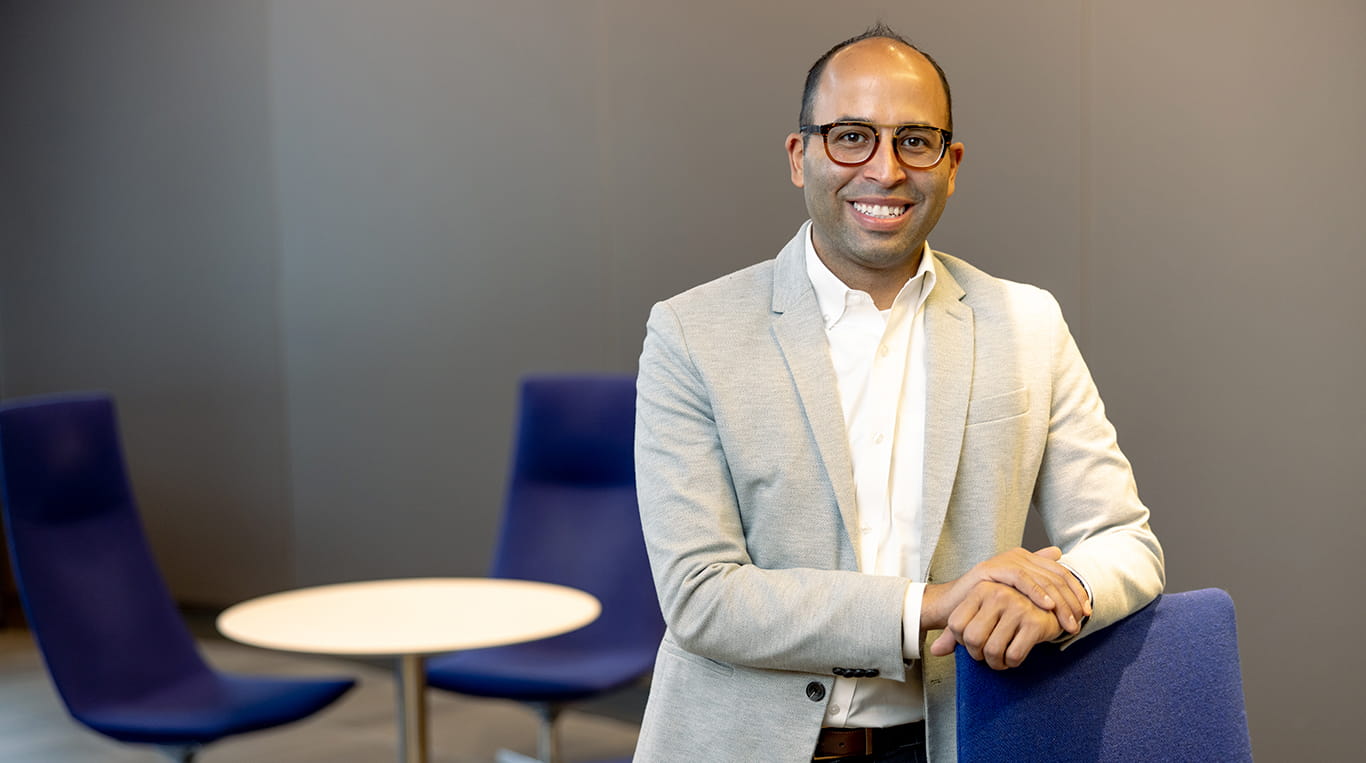 Jonathan Chaparro '22 grew up in a low-income community in Chicago, and he went on to become one of the first people in his family to go to college. After graduating in 2008, Chaparro taught in Chicago's Austin neighborhood as part of Teach For America.
The experience opened his eyes. Chaparro was amazed at how his students' lives mirrored his own upbringing. It prompted him to reflect on an important question: How can society set up disadvantaged students for better success?
"I didn't know it at the time, but that's what got me interested in the work I do now," he said.
Now, Chaparro is an Executive MBA student at the Kellogg School of Management while also serving as executive director at Braven, a nonprofit working in five states to drive upward economic mobility for first-generation college students. Its mission, Chaparro said, is to help first-gen students graduate from college and find a successful career path.
"These are first-gen students who have technically done everything they're supposed to do," Chaparro said. "They've gone to college and received a degree, but they still have a tough time entering the workforce in a strong manner — to no fault of their own."
This is where Braven helps. The nonprofit runs a semester-long leadership career accelerator that equips students with the skills, mindsets, experiences and networks needed to find a strong first job. Braven offers mock interviews and teaches students to tell their personal stories, craft an elevator pitch and write cover letters. Students also learn how to give and receive difficult feedback.
"These are all things that you talk about at dinner if you're growing up in middle-class or high-income households," Chaparro said. "But if you're growing up in a low-income community, they're not familiar to you."
Braven continues to support students six months after graduation, ensuring they're on a strong career path. Chaparro said the numbers show that Braven's system works: While 54 percent of all students nationally and 45 percent of students of color from public universities nationally land a strong first job within six months of graduating from college, 61 percent of the most recent class of Braven Fellows achieved this milestone.
A day in the life of Jonathan Chaparro
7:30 a.m.: Wakes up, looks at his calendar, drinks some coffee and scans the news and Slack for anything pressing.
9 a.m.: Begins the day's first meetings, which may be with a university provost or with senior leaders at potential employer partners for the Braven talent pipeline.
12:30 p.m.: A working lunch/conference call with the Braven leadership team. On days when he's working from home, Chaparro takes his cockapoo, Lincoln, out for a walk. "I try to carve out some intentional time to chill with him for a of couple minutes." After the lunch and walk, he'll have calls until …
5 p.m.: A workout class, followed by a meeting with his study group from Kellogg.
7 p.m.: An additional scan of the day's emails. Is there anything vital that needs a response? Otherwise, time to focus on any Kellogg readings or assignments.
7:45 p.m.: Break for dinner.
10:30 p.m.: Netflix, one last scan of Slack, then sleep.
Chaparro feels driven to continue his mission by the success of Braven's students. One of the first students Chaparro worked with was a hard-working young woman with a bright personality. In her senior year of college, she was having trouble figuring out her career path. Chaparro said that Braven's staff worked to expose her to different career opportunities. "She's now building her career in the tech space, which is an area she had never known about," Chaparro said. "That, to me, speaks to the power of the work that we're doing, as well as the power of networking and social capital."
Chaparro believes that getting an education at Kellogg will allow him to make the impact he hopes to make at Braven: helping the organization expand to be a national institution on scale with the Peace Corps and Teach For America.
"I still deeply believe in the power of education to fuel upward mobility," Chaparro said. "Part of the reason why I'm in the Executive MBA Program is because I want to leverage my education to continue to grow professionally."
For Chaparro, impact means using education to help people grow.
"That's why Braven exists," he said. "To help ensure that as many students as possible are putting their education to work and landing jobs that will put them on a path toward achieving the American promise."
More in this series