Start of Main Content
Connections run deep in new student-alumni mentorship program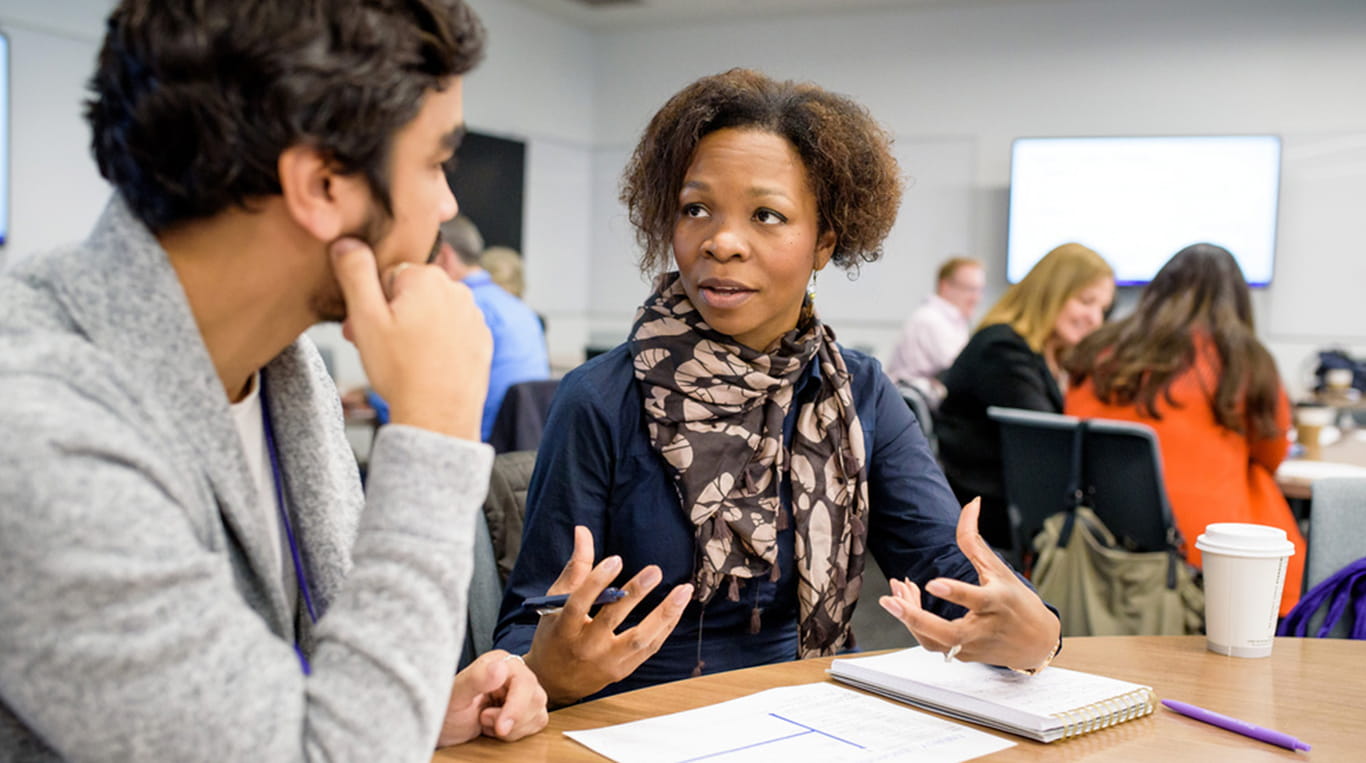 Kellogg alumni are already known for their "pay-it-forward" mentality and their enthusiasm for supporting current students. But a new program is helping those relationships flourish, connecting current students with graduates for a formal, 12-week virtual mentorship experience.
The program began in 2020 as a way to connect the Kellogg community virtually in the midst of the isolation that accompanied the onset of the COVID-19 pandemic. Even in 2022, as the world opens back up to travel and in-person connections, the program is still thriving and receiving high marks from students and alumni.
"The Kellogg Alumni Mentorship Program went far beyond my expectations," said Pinyu Kuo '22 a MMM student who has used the program to connect with two different mentors. The first, an alumnus in the Netherlands, helped her as she struggled to weigh internship offers.
My mentor challenged me, saying, 'From your personal reflection, I can tell that you want to do innovative work that creates impact. Will Offer X provide that opportunity? I also think Offer Y isn't respecting and valuing you enough, so I wouldn't take that job either.'"
After landing her dream job in Seattle, Kuo was paired with another mentor, a Kellogg graduate in the city who previously worked her new employer. "My mentor gave me great career advice on how to identify good teams to work for within my future company," she explained. "He also gave me some life hacks for Seattle. In the end, he even invited me to have dinner with his family once I relocated and offered to help me settle in.&rdquo
When participants start the mentorship program, both Kellogg alumni and students set up profiles in the online platform. Students are given three matches, and they can then reach out to one of the suggested alumni, or search for anyone else on the platform based on their own criteria such as company or industry.
The mentor relationship is set up to last 12 weeks, with the goal that the pair focus on a specific challenge or opportunity. This model takes into consideration that different mentors are helpful with different issues. The schedule has been a win-win: alumni enjoy the manageable commitment, while students are free to connect with up to four different Kellogg-facilitated mentors in a year.
The online platform helps facilitate connections by interest rather than geography — a big benefit of the program, said Linda Feeney, director of Kellogg Alumni Engagement. "We don't have to be limited to where people are living, and that enables the relationship to be focused on the issue, for example, building a career in a specific industry."
Hadley Brooke '22, a Two-Year MBA student, decided to participate in the program to expand her network within the private equity space, and was thrilled to match with an alumnus who previously came to campus to speak at a luncheon event.
"Having a mentor has helped me learn about all the different paths one can take in their career," said Brooke. "It has also made me realize how important it is to give back as an alum and participate in these programs. I plan to pay that generosity forward to be helpful if I can be to current students in the future."
Because the program is online, Kellogg staff can quickly update and modify program features and communications including training and resource documents, to better serve both audiences during their program.
"The alumni database is designed so that you can make connections quickly and then be given a prescribed road map over a quarter-long period," Brooke agreed. "It's incredibly helpful since it takes much of the legwork out of the mentorship process – that becomes essential when usually both the student and alum are incredibly busy but still want to participate in mentorship programs."
The new mentorship program is just one small part of the incredible breadth of the Kellogg alumni community and its dedication to supporting prospective and current students. Both Brooke and Kuo emphasized that the advice and generosity of the Kellogg alumni community was a profound influence on their decision to attend business school here.
I am impressed that the Kellogg alumni community always goes above and beyond," says Kuo. "They not only care about my career, but they also deeply care about me as a person."