Start of Main Content
Fighting for better tech for kids
"We're a team of parents, educators, techies and entrepreneurs who have seen how big tech has left the family behind. … We're fighting for the right kind of technology that is built for families," says Michelle Ross '19.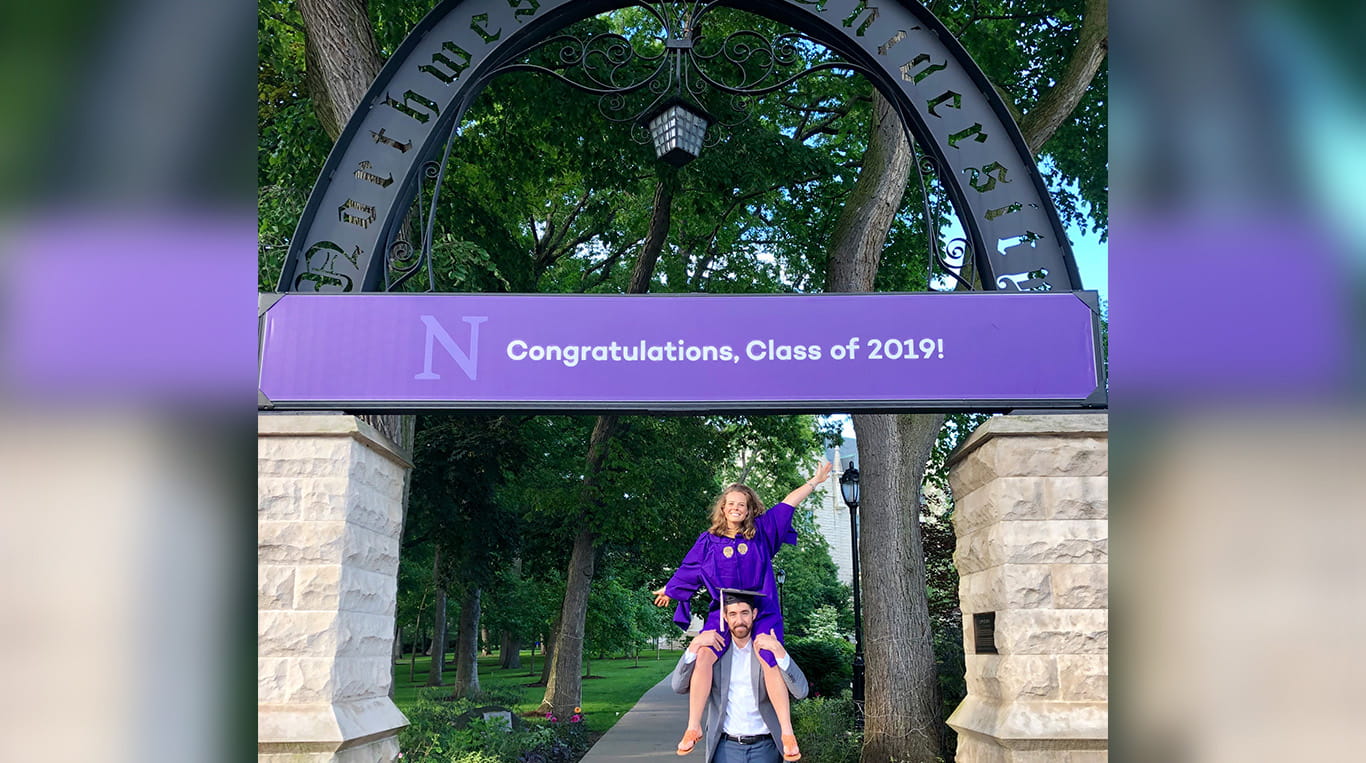 Michelle Ross '19 (2Y) is the co-founder and COO of COSMO Technologies, a Denver-based family tech startup on a mission to keep kids safe in the digital world.
After your time at Kellogg, what led you to co-found a tech startup?
My first real exposure to the journey of entrepreneurship came from my Zell Fellow classmates at Kellogg. Inspired by them, I took New Venture Discovery. This class changed my entire course. Simulating the experience of taking an idea through prototyping, feedback, iteration, user interviews and pitching/fundraising made me so excited about working for a startup one day. Armed with new skills, I interned at a Chicago-based VC during my second year.
Shortly after graduation, an old friend called to pitch an idea — a family-safe OS for kids' devices, like phones and smartwatches. I loved the idea. My time as a 7th grade teacher exposed me to the best and worst of smart-tech in the hands of kids. The prospect of building products that could truly be good for kids with an intentional commitment to a child's developing mental, physical and social needs sounded like such an exciting product category.
For the first six months, my co-founder and I gave ourselves a crash-course in software, hardware, sales channels, and funding. We launched a kids 4G GPS smartwatch on Amazon on Black Friday. Our entire inventory sold out in 10 days — making our first holiday season of shipping, customer service and product support a wild adventure that we'll never forget!
"Family Tech" seems like a somewhat new space. What's your pitch for your company and what makes this space most interesting right now?
The rhetoric on tech is changing. From the Congressional hearings about Facebook, to Biden's State of the Union, to the CDC talking about a youth mental health crisis, we've seen an uprising of people demanding more of technology companies when it comes to kids. Parents and society at large want tech companies to take responsibility for the underlying business models that facilitate these digital worlds. Increasingly, we're all realizing that when it comes to digital connections, humans have been used as the product. This isn't great for adults, but when it comes to kids, it's unacceptable. Someone must step in and protect them from entering a pipeline of sophisticated algorithms that monetize their attention and manipulate their development, beginning at increasingly younger ages.
The story of family tech is at the heart of the COSMO story. We're a team of parents, educators, techies and entrepreneurs who have seen how big tech has left the family behind. Family tech isn't about fighting against technology or innovation; technology is here to stay. We're fighting for the right kind of technology that is built for families. We think that family needs and wellbeing should be primary in design, service offerings, ownership and privacy.
For us, this has been very practical. For our kids' smartwatch, we started by asking ourselves "what should a kid's device be like?" Then we consulted parents, kids and security experts. The result is our flagship JrTrack Kids Smartwatch: With calling, text messaging, GPS tracking, and protection from non-approved contacts or social media, it's designed to be worry-free connection for kids. Simply put, it has everything they need, and just as important, nothing they don't.
What's an important lesson you've learned in the past year that you would share with other aspiring startup founders?
At Kellogg, I was surrounded by so many inspiring, smart, driven people. Being a new startup founder can feel isolating at times! But I would encourage any founder to lean into the network they've built, accept help from anyone willing to hear their story, and then fearlessly put something into the market.
What makes you most excited about the future of COSMO? How do you see the company growing and making a difference?
It is fun to be part of a new customer category. So much of a company's success is related to timing and it feels like we're in the middle of a family tech boom. Families are looking for solutions like ours and as young as our product is, there are limited options in the market. In our first year of operation, we hit so many fun milestones — 16K customers, $2M in revenue, first-time hires in every department, and a $750K angel round.
But when I think about the future, my excitement extends far beyond those tangibles. What we really did was access hard to reach knowledge about parent, child and family psychology. That knowledge is forming the basis of our company's vision going forward.
What about your time at Kellogg prepared you for being a founder and the work you do today?
Before Kellogg, I lacked most of the fundamental skills to build and run a company. I studied political science in undergrad and had a non-traditional journey to business school. Kellogg's core classes caught me up on the basics — accounting, finance, operations, quantitative modeling, pricing strategy and go-to-market planning. My VC internship gave me the confidence to realize that I could become an entrepreneur. Finally, Kellogg's emphasis on team and community set an expectation for my hopes around company culture. To that end, we've hired one of my classmates as our product manager and a Northwestern undergrad as our business operations analyst. Northwestern's culture is a strong part of our company's roots!