Start of Main Content
Celebrating the Power of Storytelling this Black History Month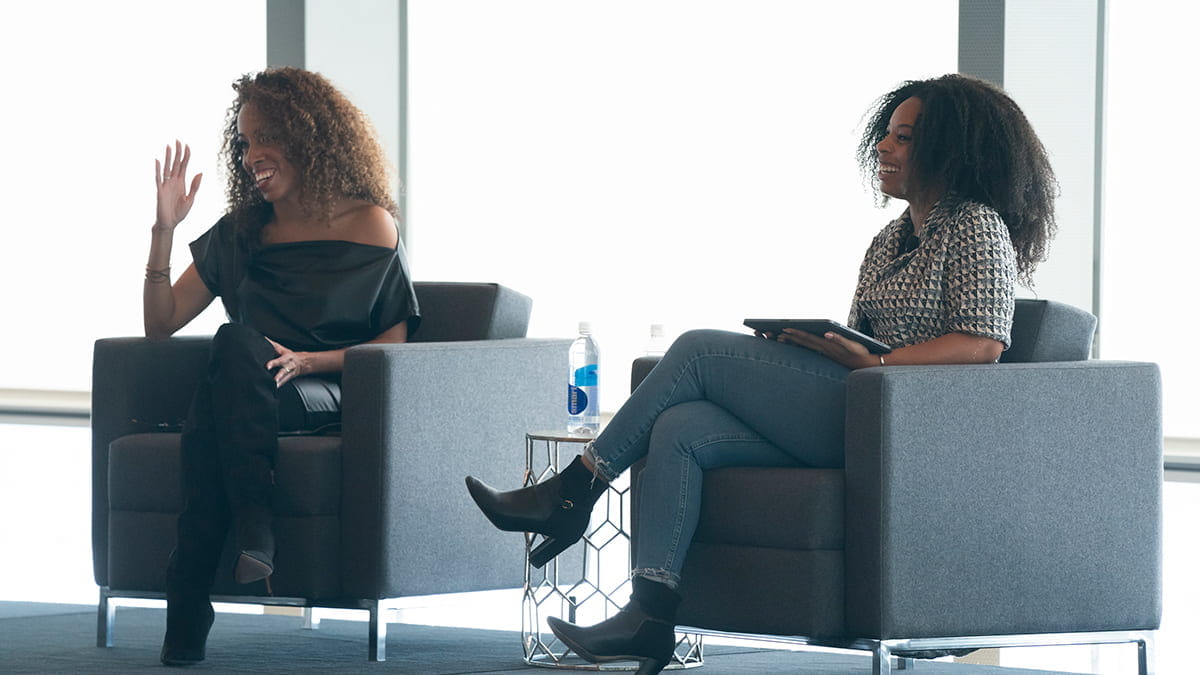 Keyaira Lock (2Y, 2023) reflects how her passion for storytelling has always focused on spaces where cultural equity is lacking. Keyaira shares how she helped develop a theme for this year's Black History Month that honors, inspires and celebrates Black culture.
Culture Rules Everything Around Me. This play on Wu-Tang's 1994 classic "C. R.E.A.M." is my crowning ode to culture, the thing that fascinates me most. Changing the 'C.' from 'cash' to 'culture' is my witty attempt to celebrate the song's effortless ability to capture the cultural zeitgeist of the '90s while simultaneously forging a cultural shift towards storytelling lyricism. Interestingly enough, my mother's repetitive play of the song in her 88′ Ciera Cutlass is how I'd come to learn every verse, every innuendo. I didn't know it then, but as a single teenage mother raising a daughter into generational poverty in one of America's most racially segregated cities, my mother acutely identified with their visceral representation of the urban Black lived experience. As they welcomed listeners into their Staten Island world as nine impoverished, kung-fu loving misfits from NYC's neglected borough, every listen connected their pain, insignificance, and ambition to hers.
Much of "C. R.E.A.M."'s lyrical significance is rooted in the legacy of African oral tradition. Just as my late Great-Great-Grandma Tillie mandated my weekly, post-church schooling of our ancestral history, her elders required the same to ensure their posterity was raised to become dutiful storytellers of their own. For my mother, it was becoming The Hip-Hop Therapist™ by using Hip-Hop music and culture to understand, heal, and unite; for me, it was becoming a Cultural Strategist by illuminating ethnographic stories of cultures within spaces where cultural equity was lacking most. Whether I was producing sketch comedy shows that reflected the cultural values I lived by or curating Blackbirds activations that amplified the Black tech stories shaping Black history today, my ability to connect my passion with purpose followed a fundamental framework: culture would be the strategy, insights would be the method, and storytelling would be the execution. This framework led me to my proudest career achievement: pioneering a global Cultural Strategy Initiative that would directly lead to Cultural Context workshops, Twitter's first inclusive brand strategy offering.
Considering that a new racial majority is forming in America, I decided to elevate my Cultural Strategy ambitions to make what's good for customers, good for brands. Thus, business school became the next step in my journey. While at Kellogg, I began developing a proprietary Cultural Intelligence Toolkit to equip brands with the proper customer intimacy tools to effectively solve the unmet needs of the internal and external customers they seek to serve. When elected as the Black Management Association's (BMA) Black History Month Chair, I leaped at this perfect opportunity to put my toolkit to work to develop a theme that profoundly honors our pride, encapsulates our energy, and celebrates our culture. Working with a team of seven BMA members, I led them through an iterative creative process to identify a theme that does just that: The Black Effect. We believe the Black Effect is the Black community's unique ability to consistently transform our adversity into creativity. The name appellation was inspired by the song "Black Effect" by The Carters, which shaped our foundational knowledge. However, we were eager to dive deeper to thoughtfully guide Kellogg through an explorative journey that detailed why the Black Effect exists and how we've collectively been able to leverage this ability throughout history.
As I reflect on this past month, I'm proud of the eight interactive events we curated to encourage those to recognize the Black Effect, inspire those to activate their Black Effect, and celebrate those who embody the Black Effect. My personal favorite was the inaugural Black Effect Forum, which welcomed the broader Kellogg community to learn what the Black Effect is, why it exists, and what it has looked like throughout modern history. When picking the inaugural honoree, I came across a LinkedIn post from alumna Lizette Williams ('07), whose hot pink dress became a debate on what true professionalism looks like. The more I dug into Lizette's story, the more I knew she was the perfect person to celebrate as our honoree. The Black Effect requires you to be a disruptor, and Lizette has been making industry waves for over fifteen years. She not only understood the Black Effect in culture and branding but has also translated the Black Effect's ability to converge brands, culture, and digital business success. Now she's unapologetically leveraging her Black Effect within the marketing and advertising industry to influence thousands of global brands to drive consumer-centric growth strategies focused on cultural relevancy on a worldwide scale.
I had the unique privilege of moderating a fireside chat with Lizette at the Black Effect Forum. However, I had no idea the impact she'd have on my life. As she dropped countless gems, including the extreme importance of genuinely honoring the consumer and their unique, nuanced stories, I came to a powerful revelation: our stories are our power. Storytelling is scientifically proven to change attitudes and behaviors and should be considered the single most powerful tool in a leader's toolkit. By adding in cultural intelligence to develop a deep level of customer intimacy, we can all follow in Lizette's footsteps to empower brands to make sure Culture Rules Everything Around Marketing.