Start of Main Content
'Endless' Learning Opportunities in the Business of Healthcare Case Competition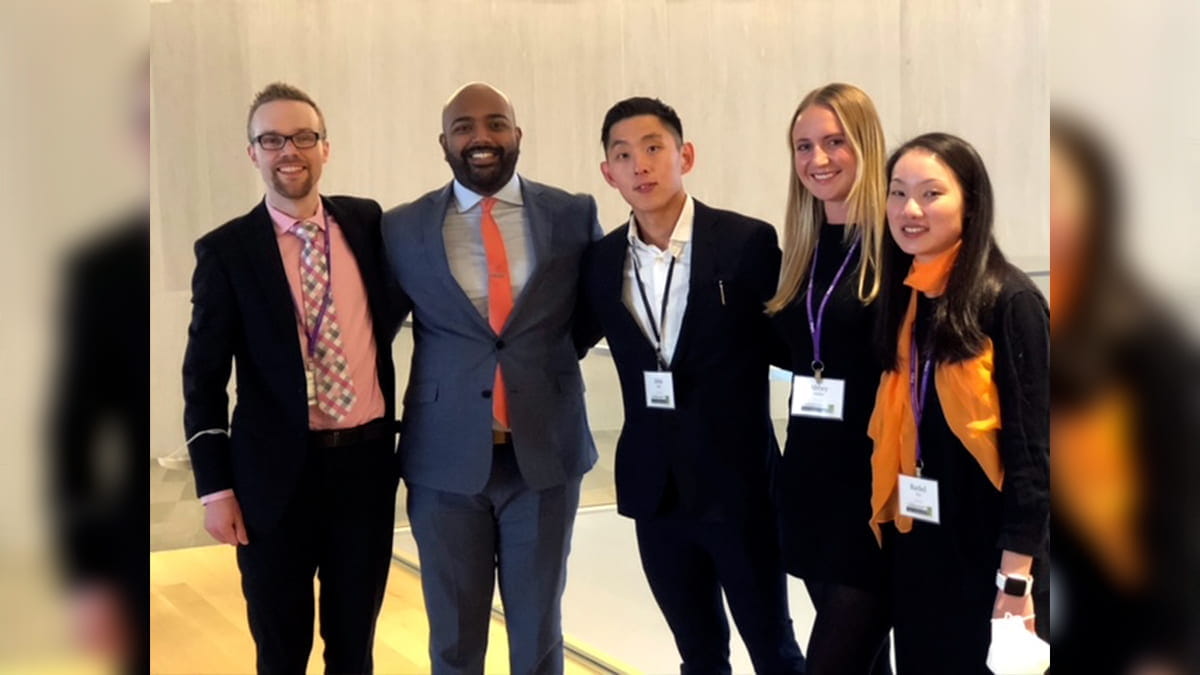 Last month, a group of Evening & Weekend MBA students won second place at the annual Business of Healthcare Conference case competition at Kellogg, an event that draws teams of MBA students from some of the top business schools in the world. We caught up with teammates Abbey Austin, Forrest Yeakley, Rachel Yen, Swarun Kulasakeran and John Kim (pictured above, all E&W 2023) to learn about what it was like preparing for this highly competitive event.
We started our Kellogg experience in fall 2021, and we are all proud members of the "Legends of the Fall" cohort, hence our team name, "Legends Care." We represent diverse backgrounds and organizations, and some of us were new to healthcare, which made this case competition even more exciting and challenging. We admit, we saw ourselves as a ragtag team, but our diversity of thought, and the combination of our backgrounds and skills proved to be incredibly valuable for us.
The business case for this competition tasked us with assessing the market for Leqvio, a new cholesterol-lowering medication from Novartis. Our job was to learn from prior failures in this drug category and develop an innovative new strategy to market and position the drug with the healthcare community and patients alike, to achieve the outsized potential of this drug. It forced us to really think outside the box and go beyond our individual comfort zones. We also had to provide a realistic economic outlook for this drug based on the strategy we developed. This was a challenging case study that could have real world implications, and we quickly found out that we had a lot of work to do.
When our team captain John assembled our group, his primary goal was to develop a well-balanced perspective that combined our knowledge on the different component parts of the complex healthcare system with an ability to look at the existing paradigm with a fresh set of eyes. Each member of the team brought something special and unique, from marketing strategy to clinical experience. We were excited to work together and tap into one another's expertise.
We were lucky enough to have Forrest, a physician at Oak Street Health, as a part of the team. He shared his medical insights to help us understand the clinical and administrative implications of our strategic recommendations. Abbey, who works in consumer marketing at Capital One, is new to healthcare. She helped us create a clear and compelling marketing narrative that would be easily understandable, while also creating a presentation that would resonate with our audience. Swarun provided us with great insights into healthcare brand strategy based on his work in medtech commercialization at Sprig, a marketing consultancy. Rachel led the way in providing valuable analytical insights based on her work as a revenue cycle consultant at Epic, an electronic medical records company.
The process of coming together as a team was simple because of the personal relationships we had already established as members of the same Kellogg cohort. We believed in each other and trusted each other, based on all the time we had spent together. Our presentation went through several rounds of iterations in a short time, and we all had to balance professional, personal and academic obligations to participate in this case competition. But, we came together when it was time to deliver. The hard work paid off, and it was a huge honor to come in second in an intense field of 64 teams who applied to compete.
These kinds of outside-the-classroom opportunities are so special because they force you to think differently. They force you to show up. They force you to adapt quickly and flex different muscles. Plus, they allow you to meet new people both inside and outside of your school. This experience is one that we would recommend to any part-time students looking to grow their skillset and network in a certain field. The Business of Healthcare Conference also had an incredible sponsor, Moderna, and we found it so interesting to learn about the company and how it looks to grow over the next five to ten years. After all, if we as leaders in healthcare don't have a pulse on what is happening outside our organizations, how can we expect to stay competitive?
During the preparation and competition, we learned a great deal about the U.S. healthcare system, innovation, marketing and leadership. That was part of the reason we chose to participate in this competition, but also why we chose to attend Kellogg to begin with: the learning opportunities are endless.