Start of Main Content
Celebrating Valentine's Day with Sasha and Brian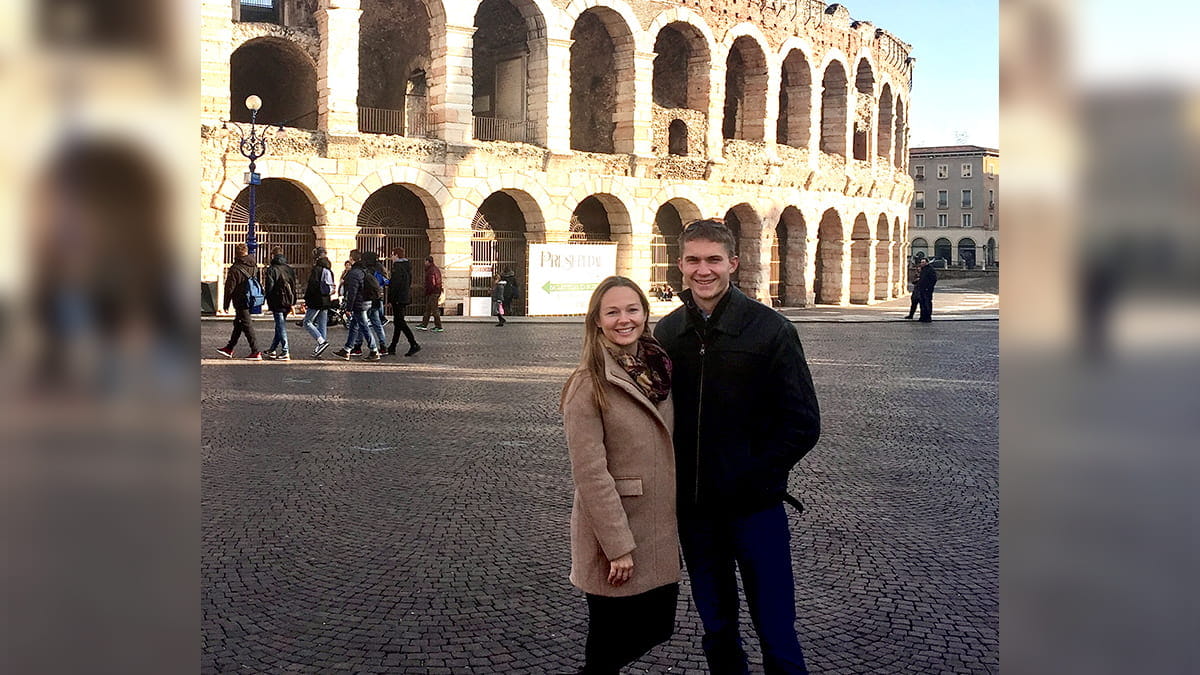 Happy Valentine's Day! In this series, we talked with Kellogg couples from around the globe who came to Kellogg with their significant other.
By Sasha Sibilla and Brian Costelloe (both 2Y 2022)
How did you meet?
We met during the first year of college at the University of Virginia. We were both enrolled in Navy ROTC, a student training program for future Naval officers. While we had a lot in common, we both had our journeys to follow throughout college. During senior year, that's when we really got to know each other better and quickly made up for lost time! After graduation, we commissioned into the Navy and were fortunate enough to join ships based out of San Diego, California.
What was it like applying to business school together?
We were both excited and nervous about applying to business school together. Our Naval service commitment was coming to an end, so the timing was right for both of us to go back to school. While we were thankful that most business schools allow you to note if you are applying with a partner, we didn't know if or how that would affect our application outcomes. In the Navy, we spent a lot of time apart, so we had decided that regardless of the outcomes, we wouldn't do business school long distance. Luckily, we didn't have to make any difficult decisions and happily accepted our Kellogg offers together!
What's a favorite Evanston date you've had?
Our favorite Evanston thing to do is take walks along Lake Michigan. Sometimes that will include a stop at Patisserie Coralie for a coffee and croissant! If we are feeling lazy, we love getting takeout from Kabul House. The food is amazing!
How do you support one another throughout your Kellogg experience?
There are lots of benefits of going to school together. Between recruiting, academics and extracurriculars, business school can definitely be a hectic, challenging  experience. Knowing that we both truly understand the experience helps us empathize with each other and be a source of comfort when one of us is going through a tough moment. We've discovered that we each have different strengths and weaknesses within the context of business school. We can help each other out and be effective sounding boards when one of us is struggling with a problem or decision.
The most important piece has been honesty and openness. Business school requires a lot of tough decisions and constant communication, from prioritizing time to post-business school job location. Open dialogue has been the key to feeling like we are on the same page. Finally, it has been important to have fun together throughout the experience! We love to host dinners at our apartment with friends. This quarter we are on exchange together in Milan, Italy, which has been an incredible experience so far! We are looking forward to our last quarter at Kellogg and moving to Los Angeles after graduation.